A virtual event for Family Law Attorneys interested in learning about Family Collaborative Law and how it can benefit their practice.
About this event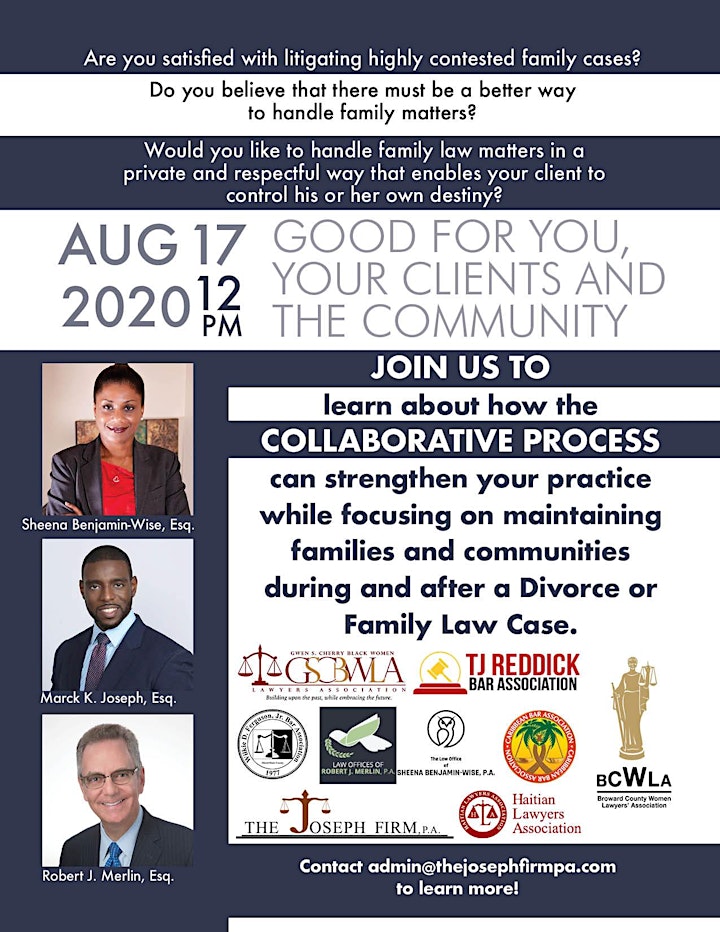 Family Collaborative Law: Good For You, Your Clients And The Community is presented by several acclaimed Florida attorneys. This event is tailored to help firms enhance their relationships with their clients and their overall community by discussing practices and tips one can include in order to have a smooth transition in any divorce or family law case.
Join Marck K. Joseph Esq., Sheena Benjamin-Wise, Esq., and Robert J. Merlin, Esp. as they host this virtual one-hour event. Expect to receive professional insight and advice for your next case, opportunities to have your family and material questions answered, along with receiving assistance on how you can strengthen your collaborative process.
Get your questions ready! This virtual event will be hosted on August 17 and begin at 12PM via Zoom.
Please note, this is a FREE even but you must RSVP to receive the appropriate link in order to attend.
Follow The Joseph Firm on Instagram to stay up to date with this event @thejosephfirmpa!