Bored with your usual exercise routine? Want to burn off some energy with your family in a new, engaging way? This workout is for you!
About this event
Family Circus Workout is part of The Food Bank of Western Massachusetts' series of virtual fitness classes to help Will Bike 4 Food participants reach their individual cycling goals.
Please register for Will Bike 4 Food before signing up for this class at willbike4food.org.
About the Class
This fast-paced half hour class is designed for parents and children* to do together, although you definitely don't need to bring a kid along to have fun and work up a sweat.
We'll begin with some scarf juggling basics, then play a movement-based warm-up game, challenge ourselves with some exercise intervals while learning fun circus trivia, and finish with a brief cool-down and stretching. You don't need much to join in, just enough space for all participants to lie down on the floor, a cushioned surface to work on such as carpeting or a yoga mat, and 2-3 juggling 'scarves' per participant (you don't need to buy anything special–bandanas, cloth napkins, washcloths, and even tissues will work just fine.) We'll see you at the circus!
*Designed for adults and children ages 6-10, but older and younger children are welcome to participate as well.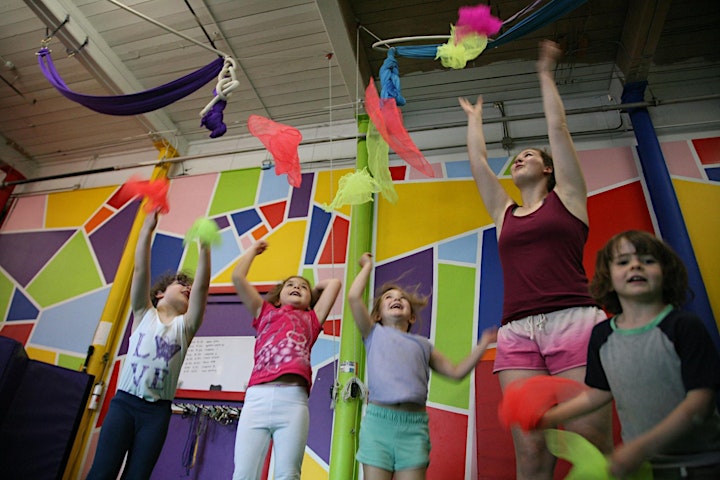 About the SHOW
SHOW Circus Studio is more than just circus. The studio is a safe space that fosters creativity, builds confidence, and promotes lifelong fitness. Our instructors are dedicated professionals, from a variety of disciplines, inspired by their passion for circus arts. We aim to provide high-quality instruction for people of all ages, body types, and skill levels in a non-competitive environment. Circus for Fun. Circus for Life.
Learn more at www.showcircusstudio.com

About Will Bike 4 Food
Will Bike 4 Food is a cycling event to raise funds for The Food Bank of Western Massachusetts and awareness about food insecurity in our region. Now in its 10th year, this event has brought thousands of dedicated community members and businesses together to pedal towards a hunger-free future.
This year's event is more accessible than ever. Set a goal that is challenging for you, then ride wherever and however you want! We help you train to reach your goal with virtual fitness classes and workshops. You help us by asking your friends, family, and co-workers to contribute to your personalized fundraising page. Together, we can support our neighbors facing hunger during this time of increased need.