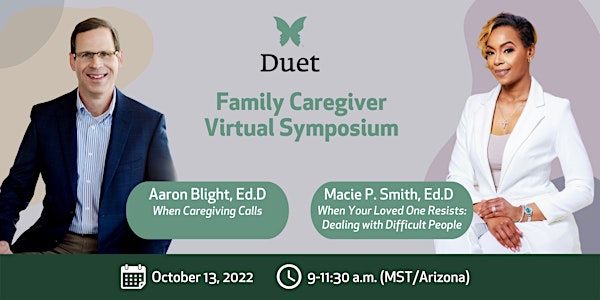 Family Caregiver Virtual Symposium
This symposium is designed to help you build your resilience and gain practical tips and tools to help you along your caregiving journey.
Refund Policy
Contact the organizer to request a refund.
Eventbrite's fee is nonrefundable.
About this event
Duet: Partners In Health & Aging is excited to bring to you our annual family caregiver symposium. This virtual symposium is free of charge for family caregivers.
Our Speakers
Aaron Blight, Ed.D
Topic: When Caregiving Calls
Dr. Aaron Blight is an international speaker and consultant on caregiving, aging, and healthcare. His discussion will highlight how caring for a loved one changes a caregiver's identity: their view of self, their relationships with others, and their place in society. Using his personal and professional expertise, concepts from his book, When Caregiving Calls, and research in the field of caregiving, Dr. Blight will offer caregivers a framework for processing their experience and developing the resilience needed to continue supporting their loved ones. Learn more about Dr. Blight.
Macie P. Smith, Ed.D
Topic: Dealing With Difficult People When Your Loved One Resists
Award winning educator, author, writer, and television personality, Dr. Macie P. Smith has received national and international recognition for her work on dementia, Alzheimer's disease, and family caregiving. Dr. Smith will draw on more than 20 years of professional experience as well as concepts from her book, A Dementia Caregiver's Guide to Care, to address the resistance many caregivers face from their loved ones. Participants will learn tips and tools to better understand the meaning of resistance, the reasons behind it, and how to identify strategies to address it. Learn more about Dr. Smith.
Moderator
Jayme West
KTAR 92.3 FM, Arizona's Morning News
Participants will have an opportunity to submit questions during the presentation to be answered by Dr. Blight and Dr. Smith.
Respite care reimbursement
Available to Arizona residents on a first-come-first-served basis per a generous grant from the Arizona Caregiver Coalition. To determine if you qualify, please call Duet and ask for Deanne Poulos at (602) 274-5022, ext. 115, or email poulos@duetaz.org.
How to Join the Event
The virtual event will take place via Zoom. All registrants will receive an email from "Duet AZ Virtual Family Caregiver Event" immediately after registering and a reminder the day of the event that will contain the link to join the event. This link should not be shared with others, it is unique to you.
About Us
Duet is a nonprofit organization with a mission to promote health and well-being through it's vitally needed services to homebound adults, family caregivers, faith communities, and grandfamilies. Duet's vision is a community where every person ages with compassion, dignity, and hope. This event is offered free-of-charge to family caregivers thanks to the generosity of the community. All donations are greatly appreciated and tax-deductible as allowed by law. If you are a family caregiver, Duet is here for you. Learn More
Duet's Meaning & Hope Institute is here to empower all dementia family caregivers to better care for themselves, especially those who are isolated and under-served, through access to a community of support and vital resources. Join the movement of hope at meaningandhope.org
Thank you to our Silver Sponsor:

Thank you to our Copper Sponsors:

Sponsorship Opportunities
Additional sponsorships are available. For more information, please contact George Burson at (602) 274-5022, or email burson@duetaz.org.