Family, Career, or Sanity: Take Your Pick with Eleanor Tabi Haller Jorden
Description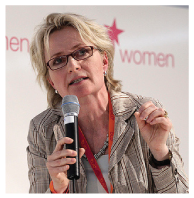 Eleanor Tabi Haller-Jorden is the president and CEO of The Paradigm Forum GmbH (TPF), a global consultancy and think tank operating at the intersection of social justice and workplace innovation. TPF works with forward-thinking corporate, governmental, and academic partners to translate strategy, communication, and experience-based learning into positive organizational change. Previously, Haller-Jorden held the position of senior vice president global learning strategies at Catalyst, where she designed cutting-edge initiatives to promote organizational inclusion and innovation in diverse cultural contexts.
Under her direction, CE launched a series of high-level events, including CE Regional Learning Hubs, CE Regional Symposia, and the European rollout of the Catalyst CEO Summit. Prior to Catalyst, Haller-Jorden founded The Paradigm Group, an international consultancy noted for its research capabilities and programs in workplace design and cross-cultural management. She has held the positions of officer at J.P. Morgan, lead partner at HNC Consulting, executive director at The Learning Labs, and founder of the Public Policy Centre in Philadelphia.
She is a strategic advisor to EDGE Strategy AG and an executive in residence at both Emma Willard School and The Center for Women's Entrepreneurial Leadership at Babson College. Haller-Jorden has been appointed to two initiatives founded by former Secretary of State Hillary Clinton: the Vital Voices Global Partnership as a global ambassador; and the Women in Public Service Project as a faculty member during the 2013 Summer Institute Peacebuilding and Development. She has been named a European Thought Leader by the IBM Global Innovation Outlook initiative.
Haller-Jorden attended Princeton University as an advanced standing scholar and Bryn Mawr College, where she earned her BA magna cum laude in history. She was named a Sage Fellow in Design & Environmental Analysis at Cornell University. She earned her MSc in industrial relations from the London School of Economics and Political Science.