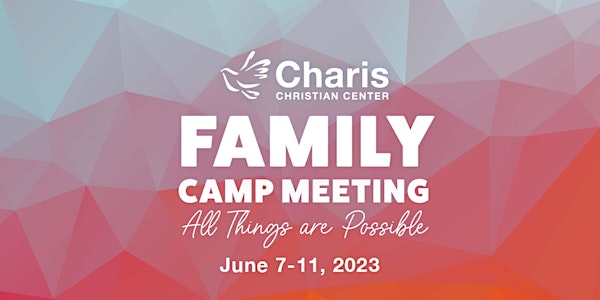 Family Camp Meeting 2023
All Things Are Possible
When and where
Location
Charis Christian Center 10285 Federal Drive Colorado Springs, CO 80908
About this event
3 days 15 hours

Mobile eTicket
Family Camp Meeting 2023
at Charis Christian Center
God has more for you and your family! The Family Camp Meeting at Charis Christian Center is a free event where your family will encounter the love of Jesus Christ, the tangible presence of God, and the move of the Holy Spirit. This event will not be just another Sunday church service. Prepare to have your traditions challenged as each member of your family personally encounters the goodness of the Holy Spirit. Expect supernatural breakthrough that accelerates your family into God's good plan and promises including, hearing God's specific direction for your lives, healing in your emotions and bodies, increase in your finances, and inexpressible joy!
The Word of God works and is followed by signs and wonders. At the Family Camp Meeting you will hear God's Word shared through speakers who have proven God's Word.
Acts 2:17-18 "And in the last days it shall be, God declares, that I will pour out my Spirit on all flesh, and your sons and your daughters shall prophesy, and your young men shall see visions, and your old men shall dream dreams; even on my male servants and female servants in those days I will pour out my Spirit, and they shall prophesy."
Special Youth & Children's Events
During each morning session, Kids age 4 through 5th grade, can participate in their own Charis Kids services. Children will climb aboard the Rocky Mountain Express as they discover their identity in Jesus.
In the evenings, Youth (6th - 12th grade) will hold special Encounter Jesus services with pizza, and games!
Nursery and Charis Kids, for children aged 0 through 5th grade, will be available during all evening services and on Sunday.
Nursery (0-3 years) - Evening Sessions
Charis Kids (4 years - 5th grade) - All Sessions
Charis Youth (6th - 12th grade) - Evening Sessions
Speakers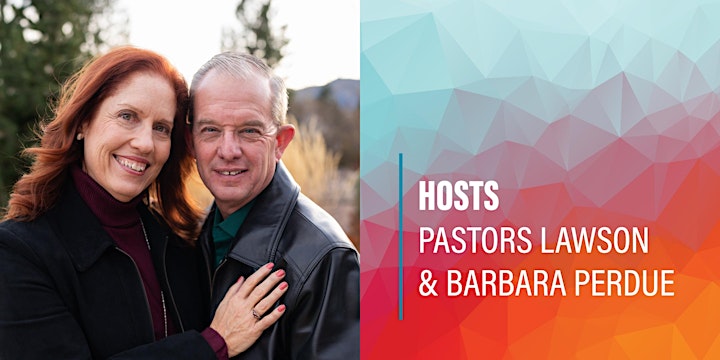 Pastors Lawson & Barbara Perdue
"Jesus brought His blood and there is nothing we can do to improve on what He has done." - Pastor Lawson Perdue
Lawson and Barbara Perdue are the senior pastors of Charis Christian Center in Colorado Springs, Colorado. Pastor Lawson was spirit-filled and called to preach in 1978 through the ministry of Andrew Wommack. He received his bachelor's degree from Dr. Lester Sumrall's World Harvest Bible College.
Lawson and Barbara stepped into full-time ministry in 1988. For the past 30 years they have been actively involved in church planting, teaching in Bible schools, establishing new ministries, and missions.
Pastor Lawson teaches the Bible in a practical way focusing on grace and faith. Barbara teaches on a regular basis as well, encouraging believers to lay hold on all the promises of God. They have three sons who have all grown up to love God, their families, and be successful in their callings.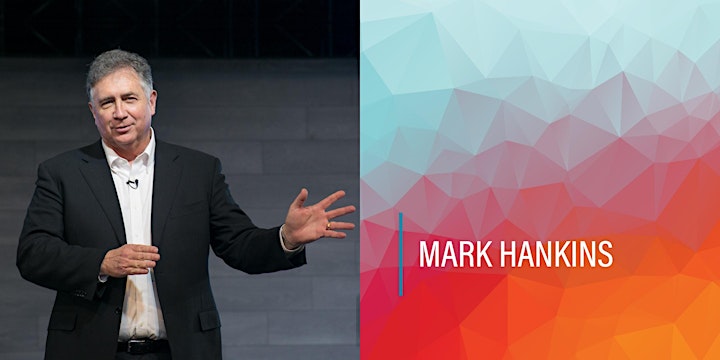 Mark Hankins
International Speaker & Author
"Jesus loved the hell out of me" - Mark Hankins
Mark and his wife, Trina, launched Mark Hankins Ministries to take the Spirit of Faith, the Message of who the believer is in Christ & the work of the Holy Spirit to EVERY generation and to EVERY nation!
Mark and Trina are accomplishing this vision by ministering through television, radio, events, and resources. You can learn more about Mark Hankins Ministries online.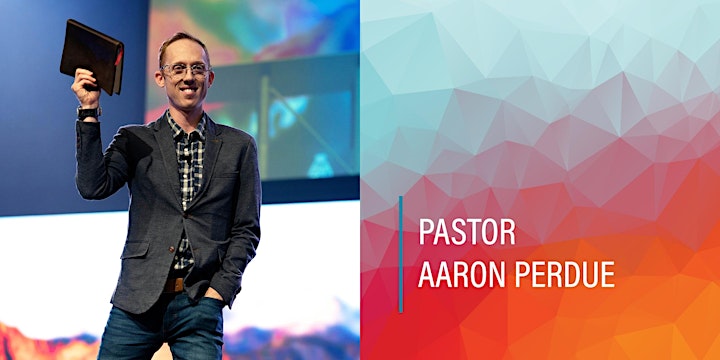 Pastor Aaron Perdue
"When you know that Jesus owns it all, things get pretty simple" - Dr. Aaron Perdue
Dr. Aaron Perdue is the Associate Pastor of Charis Christian Center in Colorado Springs, Colorado. As a teacher, he emphasizes a practical application of the Word to empower others to reach their full potential in life. In addition to teaching, he oversees the small group ministry and helps with administration. Aaron has performed as a classical musician throughout the world and holds degrees from Carnegie Mellon University and Rice University. His desire is to see the church body flourish and impact the world with the gospel. Aaron, his wife Heather, their son Fisher, and their daughter Ada enjoy taking adventures throughout the beautiful state of Colorado.