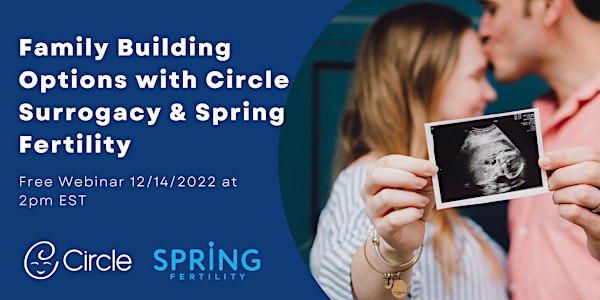 Family Building Options with Circle Surrogacy & Spring Fertility
Join experts from Circle Surrogacy and Spring Fertility on 12/14/22 at 2pm ET for a 30-min conversation about family building options.
About this event
Family Building Options with Circle Surrogacy & Spring Fertility
When doing your research on IVF and surrogacy to grow your family, the information gathering can at times be quite overwhelming. We encourage you to join Circle Surrogacy & Egg Donation and guest speaker Dr. Catha Fischer, Medical Director of Spring Fertility for 30-minutes as we have a simple conversation on family building. We'll break it all down for you in simple terms and discuss the pieces that you really need to know.
Discussion will include:
Infertility overview - understanding the IVF process step-by-step
When to use third-party reproduction/surrogacy/egg donation
Surrogacy process
and more
Open Q&A with our speakers that the end of the presentation.
We understand that date/times don't always work for everyone. As long as you register, you'll receive a copy of the recording.
About our guest speaker:
Dr. Catha Fischer, Medical Director (New York Location), Spring Fertility. Dr. Fischer is a board certified Reproductive Endocrinologist as well as a board certified Obstetrician and Gynecologist. Most recently, Dr. Fischer was practicing at one of the highest volume practices in the country. Dr. Fischer graduated with honors from Washington University in St. Louis before attending the Icahn School of Medicine at Mount Sinai. She completed her residency at Yale-New Haven Hospital. Dr. Fischer then went on to complete her fellowship in Reproductive Endocrinology and Infertility at Columbia University Medical Center-New York Presbyterian Hospital.
Reserve your spot today! Registration is FREE. Once registered, you'll receive instructions on how to join.
About Circle Surrogacy and Spring Fertility
Circle Surrogacy & Egg Donation: Circle Surrogacy & Egg Donation was founded on the belief that everyone should have the opportunity to be a parent. To this day, that belief is at the core of everything we do. For over 27 years, we've helped straight and LGBTQ+ couples and singles fulfill their dreams of parenthood. We are a full-service agency, headquartered in Boston, with an office in Los Angeles, London, New York City, Raleigh, San Francisco, and Washington, DC. Circle has a 99.3% success rate, which is the highest in the industry and has brought over 2,700 babies (and counting!) into the world. We have a devoted team comprised of experts in the field, combined with those who have personal experiences such as former egg donors, surrogates, and parents through surrogacy, IVF, and adoption. Our innovative offerings include one all-inclusive cost that covers unlimited transfers and any complications that may arise during your journey. Our mission is to go above and beyond to grow families around the world by connecting, guiding, and supporting intended parents, surrogates, and egg donors on one of life's most extraordinary journeys. Together, we make parenthood possible.
Spring Fertility: Spring was founded in 2016 with the goal of delivering best-in-class clinical IVF outcomes, while also providing the most supportive, individualized patient experience anywhere. Over the last five years, they've grown from a single clinic in San Francisco, to a network that includes 6 clinic locations serviced by three state-of-the-art laboratories throughout the Bay Area, and now New York City. Spring was founded on the belief that everyone deserves to have a family if they want one. They believe that a "one size fits all" approach doesn't work in fertility care and opened their doors to provide patients with care that focuses on them. The Spring team is passionate, dedicated team of leading physicians and scientists, but they're also spouses and parents and have been patients too.