Description
A major cross-artform event exploring age, diversity and inclusion in family arts.
Ticket Price £130 + VAT
10am Registration & Coffee at St George's Bristol, event 10.30am-5.30pm
Over 30 speakers confirmed so far for this major cross-artform event exploring age, diversity and inclusion in family arts.
Chief Executive of Arts Council England, Darren Henley will join us to welcome arts professionals from across the UK to learn and share best practice in working with families.
Including speakers from a wide range of organisations including Arnolfini, Town Hall Symphony Hall Birmingham, Z-arts, and Yorkshire Sculpture Park.

Schedule
10am Registration and coffee
10.30am Morning sessions: Bristol's arts-based approaches to inclusion and diversity
Deputy Mayor of Bristol Cllr Estella Tincknell will speak on the role of arts in diverse and socio-economically disparate cities.
Bristol Family Arts Network, organisers of the large-scale Bristol Family Arts Festival, on diversity and inclusion at the heart of Bristol's cultural provision. Keynote from Clare Karslake from Arnolfini, Roseanna Dias from Watershed, and Amy Harrison from The Architecture Centre.
UK & international perspectives on welcoming older people as part of the family experience from Kate Organ, expert on arts and ageing and former consultant for Baring Foundation, Heidi Wiley from Art of Aging (European Theatre Convention), and Gabbi Mesters from European initiative Long Live Arts. Chaired by Charlotte Jones from Independent Theatre Council.
12.50pm Lunch provided at St George's Bristol
2pm Breakout sessions
**Sign up for prefered breakout sessions has now closed and certain sessions are fully booked. We ask new bookers to attend the Diversity or Workplace sessions, which will take place St St George's.**

Working with older people and families: panel session with Emma Robinson from Age Cymru and its Gwanwyn Festival, Jill Rezzano from New Vic Stoke and its Ages and Stages programme, and Fergus Early from Green Candle Dance Company, and Susan Langford MBE, Director of Magic Me. Chaired by Kate Organ.
Marketing to families: a panel session with Sharna Jackson, Children's Content Creator, Sara Lock the Associate Editor of CultureHive, Kate Mroczkowski from Spektrix as well as marketing teams from leading UK family arts organisations, discussing innovative approaches to reaching families.
Engaging more diverse family audiences: panel session with Liz O'Neill from Z-arts, Emma Spencer from Yorkshire Sculpture Park, Rachel Clarke from Knowle West Media Centre, Nikki Locke head of East Durham Creates, and Rowan Hoban, Director of Wild Rumpus and Just So Festival. Chaired by Susan Whiddington, Director of Mousetrap Theatre Projects.
A family-friendly workplace: how family-friendly is the arts sector to its employees? Panel session with Anna Ehnold-Danailov and Cassie Raine, co-founders of Parents in Performing Arts (PIPA), and Nicola Smith, Founder of We Are Resident, who provide international residency opportunities for parents working as artists. Chaired by Cassie Chadderton, Head of UK Theatre.
Afternoon breakout sessions are supported by Theatre Development Trust, the charitable arm of Society of London Theatre.
3.30pm Afternoon sessions: approaches to access, research findings and future activity
Approaches to access: panel session including Chris Proctor, programme manager for Town Hall Symphony Hall Birmingham, Karen Townsend from ATG, Victoria Grant from Manchester Museums, Kirsty Hoyle, Director of Include Arts, and Deepa Shastri from Stagetext.
Keynote: Leo Sharrock, Director of Data Platforms at The Audience Agency and Jonathon Blackburn, Senior Policy and Research Officer at Arts Council England, present findings from new research on family audiences and participation.
Darren Henley, Chief Executive of Arts Council England, on the past, present and future of family arts and its importance to Arts Council England's strategic plan.
Family Arts Campaign Manager Jenny Daly on new initiatives and ways to engage with the Family Arts Campaign.
5.30-6.30pm Networking drinks reception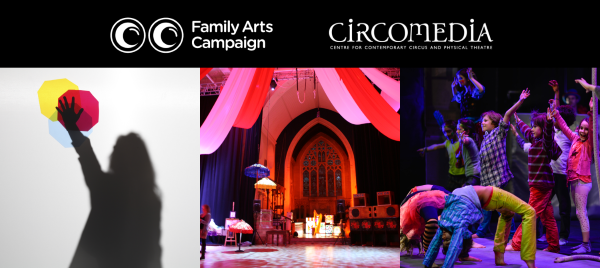 Tuesday 14th March 5.30pm, Circomedia, Portland Square, Bristol
All conference delegates are invited to a pre-conference celebration and networking event on the evening preceding the conference. As spaces are limited, we ask that you please book your place in advance if you would like to attend this event.
"So many interesting things: hearing about a range of offers for families was very useful."

"It allowed time to think and understand how families perceive our offer – lots of food for thought."

"I will keep this inspiration with me when looking at my own upcoming collaborations."

– Delegates, 2015 Family Arts Conference


Looking forward to the conference? Let us know @familyarts1 and hashtag #FAconf
The Family Arts Conference is sponsored by Spektrix and Supercool.
Family Arts Campaign is supported using public funding from Arts Council England.
FAQs for the Family Arts Conference
Can I pay by invoice? Yes. You can select this option from the drop-down menu in the payments section.
Is my ticket transferrable? Yes. We are happy for you to send a colleague in your place but please do let us know in good time (using the 'Contact the Organisers' form on the Eventbrite website).
Do I have to bring my printed ticket to the event? Yes. Please print your tickets at home and bring it with you to this event.
What is our refund policy? A full refund will be offered to anyone who cancels ten working days or more before the event. Where less than ten working days is given full fees will be due and no refund will be issued.
Who will have access to my data? The Family Arts Campaign will not sell, trade or rent your personal information to others. Your details will be shared with the Independent Theatre Council (ITC) for the sole purpose of contacting you with the key information about this event; they will be added to the Family Arts Campaign's database in order to keep you up to date with the campaign's future activity.
NB re access/dietary requirements: We will do our best to fully cater to access and dietary requirements however we ask that you book your place prior to Monday 6th March to give us time to make appropriate arrangements.
Please read the Family Arts Campaign's terms and conditions before booking.