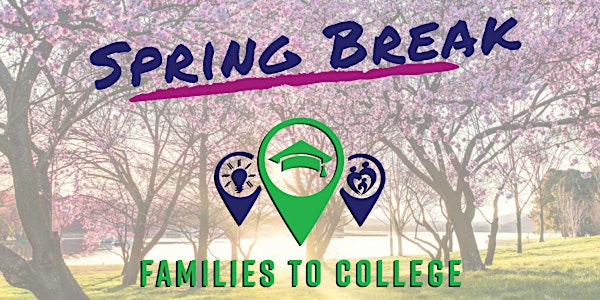 Families to College Spring Break 2018
When and where
Location
40 E Commerce St Bridgeton, NJ 08302
Description
Families engaged in the Families to College program are invited to take part in the following events throughout the time that Bridgeton Schools are on Spring Break. This is a chance for families to bond and learn new things about one another. There is something for everyone in this week so don't miss out!
MONDAY APRIL 2 - BOWLING NIGHT
Spend time bowling with your family the day after Easter! Pizza and wings, included. A shuttle will leave the Campus Center starting at 5:30 PM or you can meet the group there.
WEDNESDAY APRIL 4 - FAMILY TRIP TO PHILADELPHIA
Visit LaSalle University and Philadelphia Academy of the Fine Arts. Round trip transportation, lunch and afternoon snack provided. Tour both colleges, do an art activity and take in the sights and sounds of the city with your family!
THURSDAY APRIL 5 - FAMILY ARTS & MOVIE NIGHT
Come with your family to create something beautiful for your home! After, have dinner and make your own ice cream sundae before watch a FUN movie with your family!
ALL EVENTS ARE FREE AND FOR THE WHOLE FAMILY
Please remember to register/RSVP for each event/trip seperately.
FAQs
How much does it cost to attend the events on Monday and Thursday and the trip on Wednesday?
All FTC Spring Break 2018 events and trips are free.
If I arrive at the FTC Campus Center at 5:55 p.m. on Monday, will I be able to catch the shuttle?
The shuttle will run until everyone who is registered and needs a ride is at the bowling alley.
Do I need a permission slip if i am attending with a parent or guardian?
No, but please still RSVP here.
Can anyone in my family attend?
Yes. Bring your aunt and uncle and grandparents, too. No pets though, sorry.
Will the Campus Center be open for regular hours during Spring Break?
No the Campus Center will be closed for regular hours from March 30 at 6 p.m. until April 9 at 2:30 p.m. (when Quarter 2 will begin)
What should I bring and how should I prepare for the trip on Wednesday?
Eat breakfast.
Wear appropriate attire for visiting a college and for the weather conditions the day of the trip.
Entertainment for the bus ride.
What is the deadline to register?
Please register/RSVP by Monday April 2.
Other questions? Email Connor Kealey at ckealey@appelfarm.org or call 856-358-2472.