Description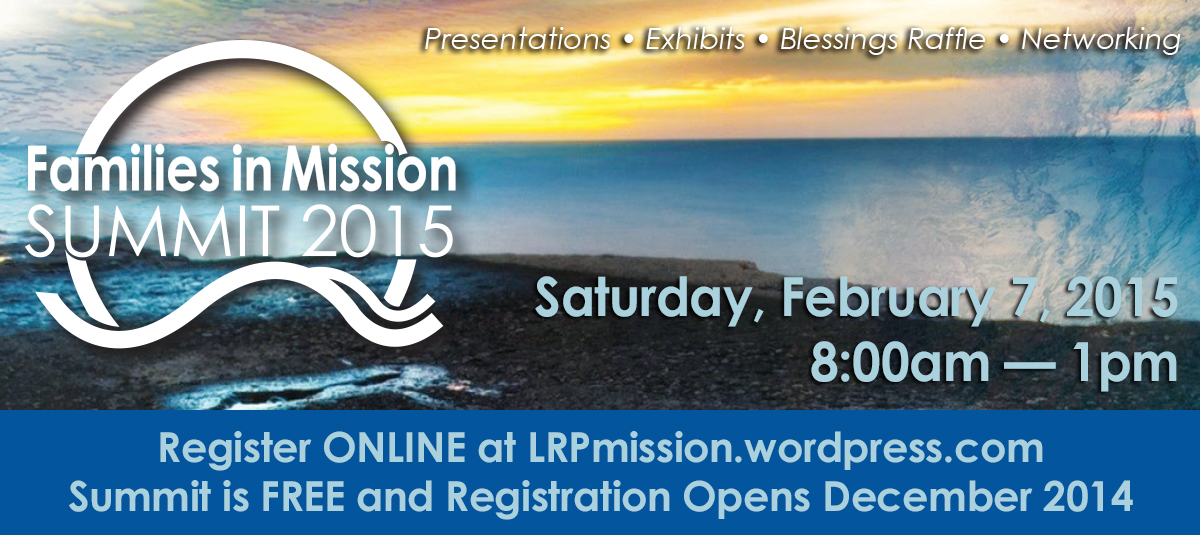 Families in Mission: Summit 2015
Presbytery of Los Ranchos
Saturday, February 7, from 8:00 AM to 1:00 PM (PST)
Place: First Presbyterian Church, Garden Grove
11832 Euclid, Garden Grove
Come dressed comfortably to Move and Groove!
Keynote Speaker is Dave Scott (Fuller) on Children in Mission.
Breakout sessions and speakers include: 1) Donna Ogle & Kelly Rider: Artful Paper Play; 2) Jennifer Colon & Allison Becker: Firness and the Arts in Outreach and Mission; 3) Emad Samir: Women in the Middle East; 4) Carrie Miles: Understanding and Healing Broken Family Patterns in Historically Non-Christian Countries; 5) Winston Presnall: Leading and Wandering in the Justice Wilderness; 6) Rachel Yates: Young Adult Volunteers; 7) David Fredell: I am Little, I am Learning, Help me Grow; 8) Elmarie Parker: Syria-Lebanon Network; and 9) Lance Allen & Kristina Sachs: Compassion, Peace and Justice in the OC and Beyond.
Worship with Buds of Hope (New Hope) and Drum Circle led by Sandy Wooldridge (Yorba Linda)
Free door raffle with gorgeous prizes. ~30 Exciting Exhibits/Exhibitors include opportunities for community service and worldwide mission. Continental Breakfast. Networking.
Call Bonita Carr (714-956-3691 X122).
For more information, including the program schedule, visit http://lrpmission.wordpress.com/