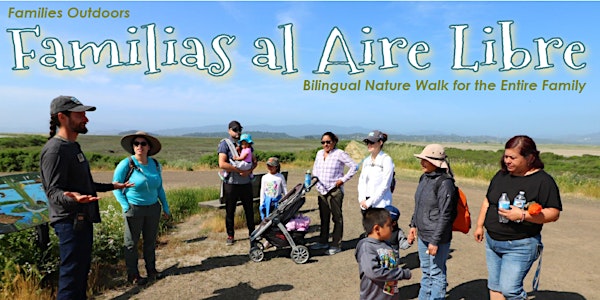 Multiple Dates
Familias al Aire Libre / Families Outdoors winter 2021
Join us for a bilingual family nature walk!
About this event
Familias Al Aire Libre / Families Outdoors
Bilingual Nature Walk for the Entire Family
FREE
10am–2pm
January 22 - Bodega Head/Sonoma Coast
February 26 - Laguna de Santa Rosa
Join us for a bilingual family nature walk! Each month, we visit a different park with nature guides. Fun for all families! Transportation available.
Meet at 10am at 822 5th St. Santa Rosa, and we'll caravan to the park together. Bring a picnic lunch and water.
Register in advance or just show up!
For more information, contact Ingrid: 707.596.6092 | ingrid@sonomalandtrust.org
There is no charge for these events, which are made possible by the voters of Sonoma County who fund the work of Ag + Open Space with a quarter-cent sales tax.
¡Acompáñenos para una caminata bilingüe para toda la familia! Cada mes visitaremos diferentes parques con guías que nos permiten ver la naturaleza decerca. ¡Es divertido para todas las edades!
Transportación: Los juntamos en Santa Rosa para ir en rumbo al parque en caravana. El transporte está disponible.
Para más información contacte a Mirella Ramos: (707) 324-3525 | mirella@sonomalandtrust.org
No hay cargo por estos eventos. Son posibles gracias a los votantes del condado de Sonoma que financian el trabajo de Ag + Open Space con un impuesto de un cuarto de centavo a las ventas.
Organizer of Familias al Aire Libre / Families Outdoors winter 2021
Sonoma Land Trust
Sonoma Land Trust is a local, non-governmental, nonprofit organization funded largely by membership contributions. The Land Trust works closely with private landowners, Sonoma Ag + Open Space and other public agencies at all levels of government, nonprofit partners and foundations. Sonoma Land Trust is a member of the California Council of Land Trusts and is accredited by the national Land Trust Accreditation Commission. Since 1976, Sonoma Land Trust has protected nearly 56,000 acres of beautiful, productive and environmentally significant land in and around Sonoma County.
Sonoma County Ag + Open Space
Established by visionary voters in 1990, Sonoma County Ag + Open Space permanently protects the diverse agricultural, natural resource, and scenic open space lands of Sonoma County for future generations.