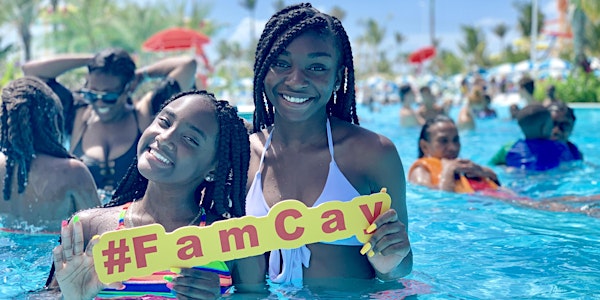 FAMCAY 2023
"FAMCAY 2023" 5 NIGHT OVERNIGHT BERMUDA
Date and time
June 15 · 12pm - June 20 · 9am EDT
Location
Cape Liberty Cruise Port 4 Port Terminal Boulevard Bayonne, NJ 07002
About this event
 DELL WAY TRAVEL
presents:
"FAMCAY 2023"
SUMMER VACATION CRUISE
JUNE 15 - 20, 2023
5 NIGHT BERMUDA - OVER NIGHT STAY
From ship to the shore, the Ultimate Friends & Family Themed Vacation Cruise awaits you.
Sailing from: Bayonne, NJ - (NYC Area)
Destination: Kings Wharf, BERMUDA
Aboard: Royal Caribbean's Liberty of the Seas
If high-speed white-knuckle rides are your kind of adventure, you've come to the right ship. Liberty of the Seas® is loaded with cruise activities and slides that maximize the thrills. Like the adrenaline amping Tidal Wave℠, the first boomerang style slide at sea, and The Perfect Storm℠ dueling water slides. Even the littlest thrill seekers can get in on the action with mini slides at Splashaway Bay℠.DISCOVER A FUN-FILLED PARADISE FULL OF PINK SAND BEACHES WITH A CRUISE TO BERMUDA.
Set sail from Bayonne, NJ and travel through the Atlantic seas to an island oasis with this cruise to Bermuda.
THIS IS THE REGISTRATION PAGE . 
SECURE YOUR CABIN AND RATE BY MAKING A DEPOSIT TODAY. 
AN INVOICE WILL BE SENT WITHIN 48-72 HRS AFTER MAKING YOUR INITIAL DEPOSIT.
YOUR INVOICE WILL INCLUDE THE PRICE OF THE CABIN CATEGORY SELECTED, THE AMOUNT PAID AND THE BALANCE DUE. ONLY ONE INVOICE PER CABIN IS SENT TO THE LEADER OF THE CABIN. 
PLEASE NOTE : CHILDREN 16 AND OLDER REQUIRE VALID ID AND A BIRTH CERTIFICATE IF A PASSPORT IS NOT AVAILABLE.
Easy Payment Plan
FIRST PAYMENT DUE : DEC 16TH
SECOND PAYMENT DUE : JAN 12TH
THIRD PAYMENT DUE : FEB 2ND
FINAL PAYMENT DUE : MARCH 4TH
PRICE INCLUDES:
YOUR FAMCAY FUNPASS & CRUISE BOOKING INCLUDES:
Ship Accommodations
T-Shirt / Tote Bag for each guest.
Family Scavenger Hunt
Family Dance Party .
Most meals onboard
Some beverages onboard
Most entertainment onboard
*Funpass will be added to your invoice for an additional $25 per person (BLACK FRIDAY OFFER). Reg price is $50 per person.
PRICE DOES NOT INCLUDE :
Gratuity - There will be a $16 daily grauitiy charge added to your account.
Roundtrip flights - You will need to book flights NJ/NYC area.
Transportation to and from airport to cruise terminal. Taxi's are readily available at airport and cruise terminal or you can purchase transportation thru Royal Carribean on your cruise planner.
Alcoholic beverages, soft drinks, specialty drinks, are not included in price but are available for purchase.
Cancellation Policy:
* By applying the online deposit to your reservation you acknowledged that you downloaded, read & accepted the terms and conditions. You also understand the money is non-refundable as paid and non-transferable. Travel insurance is strongly recommended. 
* All parties must be booked in a room for a reservation to process so for example, if you have a double room, you are not booked until we receive a deposit from your roommate, as well.
* A valid passport OR original birth certificate along with a driver's license are required to board the ship. This only applies to US citizens. NON US Citizens are required to present a Passport and Green card.
* All itineraries, times, ports, appearances, entertainment, locations, etc. are subject to change without notice.
* For your security, we do not auto-charge payments or keep credit card information on file once each payment is processed. 
TERMS AND CONDITIONS
The FAMCAY CRUISE is non-refundable once purchased. There are no refunds for cancellations, regardless of the reason. The payment of your deposit and subsequent payments for Fammlay cruise confirms that you accept and agree to these Terms & Conditions including our Cancellation Policy. 
PAYMENT SCHEDULE & PAYMENT PLANS
There is a payment plan available! The date you make your reservation will ultimately determine your total deposit due at the time of booking and the subsequent payment dates.  
$50 per person deposit is due at the time of booking for all double occupancy cabins. $100 is due for single occupancy cabins.
$200 per person deposit is due at the time of booking for triple & quad cabins. Monthly payments of $150 per person is due on a specific date each month. 
Please note : Your cabin and price will not be secured until each occupant makes a full deposit.
Your monthly payment will NOT automatically charged to your credit card on the first of each month. It is your responsibility to know your due dates; payment reminders will be sent. If you need to make any changes to your payment plan dates, please email Samanthajoe@dellwaytravel.com
PAY IN FULL
You may pay in full at the time of booking. No additional payments will be needed, unless you later modify your reservation by upgrading/changing your stateroom or by adding additional cabin mates. 
Late Payments & Reinstatement Fees 
If you are behind on 1 or more payments, your invoice will be cancelled and any promos associated with your booking will be forfeited. 
A reinstatement fee of $25.00 per person will be added to your reservation if your booking is cancelled and then reinstated. If your reservation is still unpaid by the next payment due date, your reservation will automatically be cancelled without refund.
Cabin Occupancy Changes
Rates are based on the number of people in your cabin. Changes in occupancy will result in a rate increase or decrease depending on the type of change. Please be advised, if all occupants do not register for the cruise, the price of your cabin will be adjusted according to the number of occupants who have paid their deposit. 
Cabins are subject to availability. Rates subject to change until everyone places a deposit!!
Your cabin number is subject to change without notice at the discretion of the cruise line and/or Dell Way Travel. 
Name Changes
Your name, as listed on your travel documents, must exactly match your name as listed on your Cruise documents.
All guest name changes can be made up until FINAL PAYMENT. (if allowed by the cruise line), and will be assessed the following administrative fees per name change:
$50.00 per person, per change for name changes after final payment date of MARCH 2023 (if both parties cancel, name change is not allowed, it will be considered a FULL Cancellation").
$100.00 per person, per change for name changes after JUNE 1st, 2023. 
DELL WAY TRAVEL CANCELLATION POLICIES:
ALL DEPOSITS AND PAYMENTS ARE NON-REFUNDABLE AND NON TRANSFERRABLE! There are NO exceptions to our cancellation policies. We strongly recommend the purchase of travel insurance!
ALL payments (including your pre-sale deposit) are non-refundable.
Cancelling your FAMCAY Cruise reservation:
All cancellation requests must be submitted in writing. Please email Samantha @ Samanthajoe@dellwaytravel.com to cancel your reservation. 
Dell Way Travel inc group cancellation and payment policies supersede that of Royal Caribbean Cruise Line and any Royal Caribbean Cruise Line staff information or website payment and cancellation terms are invalid.
PASSPORT & LEGAL DOCUMENTATION
Although a Passport is NOT required,Royal Caribbean Cruise Line and Dell Way Travel Inc strongly recommend that all of our guests travel with a passport (valid for at least six months beyond the completion of travel). Having a valid passport will enable you to fly from the U.S. to a foreign port in the event you miss your scheduled embarkation, or to fly back to the U.S. should you need to disembark the ship mid-cruise for any reason.
The Western Hemisphere Travel Initiative (WHTI) stipulates the following information with regards to closed-loop cruises, which are sailings that originate and terminate in the same U.S. Port. Please note that this information could change at any time without notice. 
U.S. Citizens (including children) taking closed-loop cruises will be able to enter or depart the country with either a valid U.S. Passport - or - Proof of citizenship, such as an original or certified copy of his or her birth certificate (or a Consular report of Birth Abroad, or a Certificate of Naturalization), along with government issued photo identification, such as a State issued driver's license.
U.S. Alien Residents need a valid Alien Resident Card.
Non-U.S. Citizens: You will need a valid passport and, in some cases, a visa. If you live in the U.S., you will also need the original copy of your Alien Registration Card (ARC or "Green Card") and any other documentation the countries on your itinerary require due to your alien status.
If you are not a U.S. Citizen, please contact U.S. Immigrations at 1-800-375-5283 to be sure your identification will be satisfactory for both entry into the U.S., and for the cruise. 
Citizens from the Visa Waiver Program countries will require a machine-readable passport valid for the duration of their voyage. 
For more information or to obtain a passport application, visit www.travel.state.gov. 
All guests must present the required documentation at embarkation. Guests without the required documentation will be denied boarding and no refund will be issued. Please understand that Royal Caribbean Cruise Line will strictly enforce this requirement to be in compliance with this important U.S. Government mandate.
Dell Way Travel and the other Released Parties (as herein defined) assume no responsibility for advising you of immigration requirements. Non-U.S. citizens, including resident aliens, must contact the appropriate consulates, embassies and/or immigration office(s) to inquire about necessary documentation for the Cruise's ports of call. 
It is YOUR responsibility to make sure you have the proper documents to board the ship. Dell Way Travel and Royal Caribbean Cruise Lines are not responsible for denied boarding due to insufficient documents.
GRATUITIES
Royal Caribbean will add a daily automatic gratuity to every guest's onboard SeaPass account.  The automatic daily gratuity will be applied onboard for all individual and group bookings that have not prepaid gratuities prior to boarding their cruise.  Prepaid guests will not be impacted by this automatic process and will not see additional charges on their folio account.
Gratuities:
$16.00 USD per person/per day -  for Standard Staterooms (JS and below)
The daily gratuity will be shared among Dining Services Staff, Stateroom Attendants and Other Housekeeping Services Personnel.
Many of the guests wish to reward exceptional service during their cruise by providing additional gratuities. Guests may do so by providing an additional gratuity on their SeaPass onboard account or with a cash gratuity at their discretion. 
TYPOGRAPHICAL ERRORS 
In the event a category/item is listed at an incorrect price or with incorrect information due to typographical error or error in pricing, Dell Way Travel Inc shall have the right to refuse or cancel any orders placed for category/item listed at the incorrect price. Dell Way Travel Inc shall have the right to refuse or cancel any such orders whether or not the order has been confirmed and your credit card charged. If your credit card has already been charged for the purchase and your order is canceled, Dell Way Travel inc shall immediately issue a credit to your credit card account in the amount of the charge.
CANCELLATION OF FAMCAY  CRUISE BY ROYAL CARIBBEAN CRUISE LINE
In the event of COVID-19, strike, lockouts, riots or stoppage of labor from whatever causes, or for any other reason whatsoever beyond the control of Dell Way Travel inc or Royal Caribbean Cruise Line, Royal Caribbean Cruise Line in its sole discretion may cancel, advance, or postpone any scheduled sailing or call at any port and may (but is not obligated to) substitute another vessel, and neither Royal Caribbean Cruise Line nor Dell Way Travel inc shall be liable for any loss whatsoever to passengers by reason of such cancellation, advancement, postponement, or substitution. Thereupon, Royal Caribbean Cruise Lines shall return to you, if the Cruise is completely canceled, your cabin fare, prepaid gratuities, cruise line transfers and related taxes and fees, or, if the Cruise is partially canceled, a proportionate part thereof. Under such circumstances Dell Way Travel inc shall have no further liability for damages or compensation of any kind. Please note that the availability of any refund for travel insurance and/or other travel products (airfare, hotel, car rental), even if purchased in conjunction with the Cruise, will be determined in accordance with the applicable cancellation policies for such other products or services. 
RIGHT TO CHANGE ITINERARY
Royal Caribbean Cruise Line reserve the right, at any time, to change the cruise itinerary whenever advisable or necessary. In this case, Dell Way Travel inc and/or Royal Caribbean Cruise Line will NOT be responsible for any loss or expenses caused by reason of such changes or abandonment. Refunds will NOT be made to passengers who elect not to complete the cruise for any reason or cause whatsoever.
SAFETY WHILE IN PORTS OF CALL AND ONBOARD
You assume sole responsibility for your own safety onboard and in any port of call. Dell Way Travel does not guarantee your safety at any time. You may find information about the scheduled ports of call through the U.S. Department of State, Centers for Disease Control and Prevention and other governmental and tourist organizations. Dell Way Travel inc and the other Released Parties assume no responsibility for gathering and/or disseminating any such information. You acknowledge that all shore excursions and tours, however conducted, airline flights and ground transportation, and any ship physician, nurse and on board concessions (including, without limitation, gift shops, spa, beauty salon, fitness center, golf and art programs, and video/snorkel concession) are operated by independent contractors. Dell Way Travel inc neither supervises nor controls their actions, nor makes any representation, whether express or implied, as to their suitability. These services are provided only as a convenience for you, and you are free to use or not use them. You agree that Dell Way Travel inc assumes no responsibility, does not guarantee performance and in no event shall be liable for any negligent or intentional acts or omissions, loss, damage, injury or delay to you and/or your property in connection with these services. You use them at your own risk. 
REFUSAL OF PASSAGE
Dell Way Travel inc acts only as sales and marketing agent for the purpose of booking travel arrangements on Royal Caribbean Cruise Line and various airlines. Dell Way Travel inc expressly disclaims any responsibility for personal injury, property damage, loss, delay, inconvenience, or other matters due to negligence, wrongful acts, errors or omissions on the part of any third party, or any supplier of services of goods or of agents selected by you or your travel agent. 
Participation on the Cruise may be denied to any person who, in Dell Way Travel inc or Royal Caribbean Cruise Line sole discretion: 
(1) is or becomes in such a condition as to be unfit to travel; 
(2) is dangerous or obnoxious to others; or 
(3) is inadmissible under the laws of any country of debarkation. 
In addition, Dell Way Travel and Royal Caribbean Cruise Line reserve the right to refuse passage, disembark or confine to a stateroom any person whose physical or mental condition or behavior they consider, in their sole discretion, to constitute a risk to the person's own well-being or that of any other person. Dell Way Travel inc shall have no liability to any such person or any third party arising out of any such decision. Any costs resulting from Dell Way Travel and/or Royal Caribbean Cruise Line' decision, including, without limitation, costs of lodging and transportation, shall be the responsibility solely of the person. 
Please read Royal Caribbean's Code of conduct for their guests 
https://www.royalcaribbean.com/content/dam/royal/resources/pdf/guest-conduct-policy.pdf
DECISIONS OF ROYAL CARIBBEAN CRUISE LINE
You will receive Royal Caribbean Cruise Line Standard Contract of Passage Terms and Conditions (the "Royal Caribbean Cruise Line PASSENGER CONTRACT") with your Cruise ticket. The Royal Caribbean Cruise Line Contract constitutes your agreement with Royal Caribbean Cruise Line. The Royal Caribbean Cruise Line Contract provide that Royal Caribbean Cruise Line may exercise its rights in a variety of matters, including, without limitation: Its right to alter the ship's course, ports of call, and itinerary, activity and shore excursions, for reasons set forth therein. DELL-WAY TRAVEL INC shall not be liable to you or any third party for any claim or cause of action arising, directly or indirectly, in whole or in part, out of Royal Caribbean Cruise Line's exercise of any of its rights as provided in the Royal Caribbean Cruise Line Terms. Without limiting the foregoing, the Released Parties such as DELL-WAY TRAVEL INC shall not be liable to any Cruise passenger for a full or partial refund of any Cruise fare, or for any lodging or transportation expenses, as a result of Royal Caribbean Cruise Line's exercise of its contractual rights.
LIQUOR & BEVERAGE POLICY
Guests are not permitted to bring alcoholic beverages onboard; with the exception of embarkation day when guests are permitted to bring onboard with them up to two (2) bottles of wine (which are subject to a corkage fee) per stateroom.  Security may inspect containers (including water bottles, soda bottles, mouthwash, canteens, etc.) at any time and will dispose of alcohol concealed in such containers.  Alcoholic beverages that are purchased from onboard shops or in ports of call (which must be presented to security upon re-boarding), will be secured by ship's personnel.  Alcohol secured by ship's personnel will be returned to guests just prior to the conclusion of their cruise vacation.  Guests who are under the permitted drinking age will not have alcohol returned to them.
- Guests may bring onboard small quantities of non-alcoholic beverages only in a carry-on or hand luggage. Checking in non-alcoholic beverages is no longer permitted.
- Non-alcoholic beverages brought onboard may not exceed 12 standard (17 oz) cans, bottles or cartons per stateroom. 
- Distilled water or specialized beverages such as, milk for medical purposes, dietary or infant use, are permitted.
- Our policy regarding alcoholic beverages remains the same. Guests may bring 2 bottles of wine or champagne (standard 750 ml size) per stateroom onboard, only on embarkation  day. If guests bring more than the allotted 2 bottles, they will be stored by the ship and delivered to guest staterooms on the last day of the sailing (or on the last day of the last  
- All wine and champagne bottles will be inspected at embarkation, and if they appear to be open or tampered with, they will not be permitted onboard.
- A corkscrew will be provided for guests to open their wine and champagne bottles in their stateroom. If opened or consumed in any bar or dining area, a corkage fee will be applied.
- Luggage containing beverages will not be delivered to guest staterooms. Guests will need to retrieve their bag from a secondary security check once the ship has set sail.
- At every port of call, our staff will inspect all open containers and dispose of any containing alcohol.
- Alcoholic bottles that are purchased in ports-of-call or onboard, or brought onboard on embarkation, will be stored by the ship and delivered to guest staterooms on the last day of  the sailing. 
ZERO TOLERANCE DRUG POLICY
Dell Way Travel inc and Royal Caribbean Cruise Line, have a zero tolerance policy regarding the use, possession, purchase or distribution of illegal controlled substances. Any violation of this policy will result in disembarkation from the vessel as well as the individuals being turned over to the local law enforcement officials for appropriate legal action. In such cases Dell Way Travel inc and Royal Caribbean Cruise Line shall not be liable
About the organizer
Dell-Way travel is a full service travel agency providing you with the absolute best experience w/ great value everytime you travel. Specializing in cruises and group travel!
  Check my website at www.dellwaytravel.com
ALL MAJOR CRUISES:
Carnival, Norwegian, Royal Caribbean, Celebrity, Disney, Princess, and Cunard.
GROUP TRAVEL
for any occasion: Wedding, Bachelor Parties, Just the Ladies or Only the Fellas trip.
SPECIAL WEEKEND GETAWAYS:
Memorial Day, Labor Day, All-Star Weekend, Superbowl Weekend.
Kendell Middleton
DELL-WAY TRAVEL
"Specializing in Cruises and Group Travel"
P: 914-375-7106