"FAMCAY 2015" FAMILY VACATION CARNIVAL NYC CRUISE

Thursday, July 23, 2015 at 4:00 PM

-

Monday, July 27, 2015 at 8:00 AM (EDT)
Event Details
 DELL WAY TRAVEL
PRESENTS: 
"FAMCAY 2015"
FAMILY SUMMER CRUISE VACATION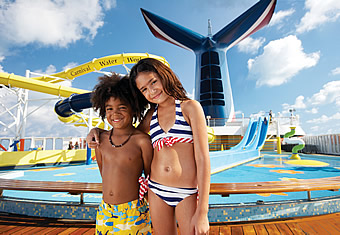 4 NIGHT CRUISE SAILING FROM NEW YORK CITY TO NEW ENGLAND/CANADA  aboard 
The Beautiful CARNIVAL SPLENDOR
Date
 
Port 
Arrive
Depart 
23-JULY

 

NYC CRUISE TERMINAL

 

4:00 PM

24-JULY

 

FUNDAY AT SEA

 

 

25-JULY

 

CANADA

8:00 AM

6:00PM 

26-JULY

 

FUNDAY AT SEA

 

 

27-JULY

 

NYC CRUISE TERMINAL

8:00 AM

 
 JOIN US AS WE SAIL AWAY FROM THE COMFORT OF OUR BACKYARD  IN NYC 

ACTIVITIES FOR EVERYONE!
"FUN FOR ALL" - ALL FOR FUN!
CAMP CARNIVAL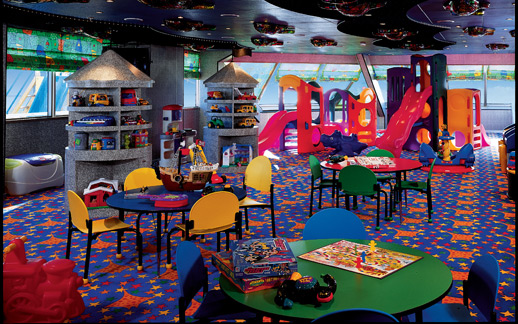 It's everything they love about summer camp and their favorite babysitter, all in one! Camp Carnival offers tons of activities designed for children in three different age groups: 2 to 5 years, 6 to 8 years, and 9 to 11 years. Our counselors, each with education or childcare experience, are on the clock making sure everyone in the small groups of kids are having fun. When it's mealtime, kids get their own menus, with faves like mac & cheese, chicken nuggets, and more. And when the sun goes down, we offer Night Owls (fees apply) so kids get to stay up late having fun, while their parents also enjoy themselves well into the night.
SEUSS AT SEA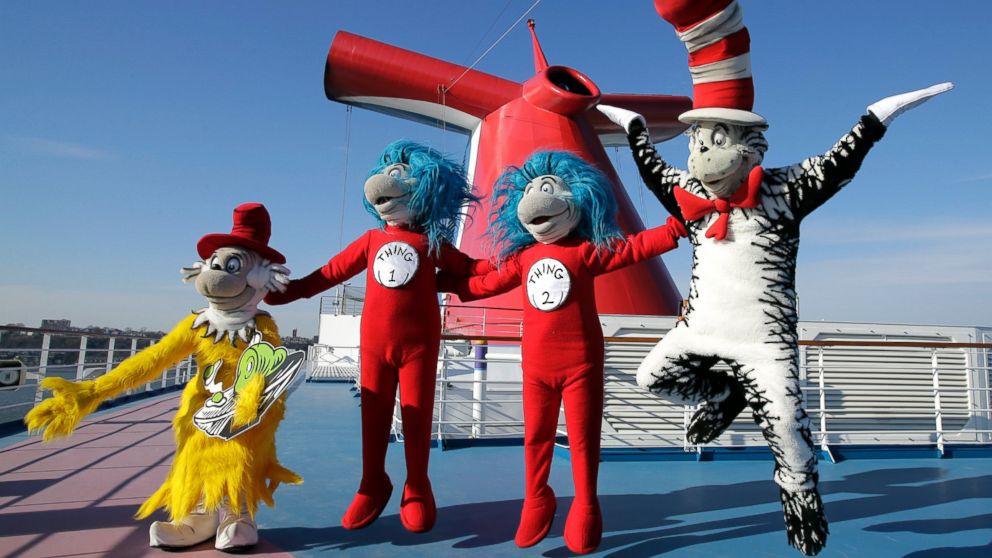 From the whimsical and always wonderful world of Dr. Seuss comes Cats in Hats, Fish Red and Blue, and both kinds of Things — 1 and 2. And they're all coming to a Carnival cruise near you as the world of Dr. Seuss leaps off the page and onto Seuss at Sea.
Dr. Seuss's timeless stories are the kind kids memorize, and this is the kind of cruise you'll remember for a lifetime. The whole family will still enjoy all the classic Carnival activities, but the littlest ones, and their families, will also enjoy an all-new, extra-special experience as the fantastical world of Dr. Seuss comes to life around them.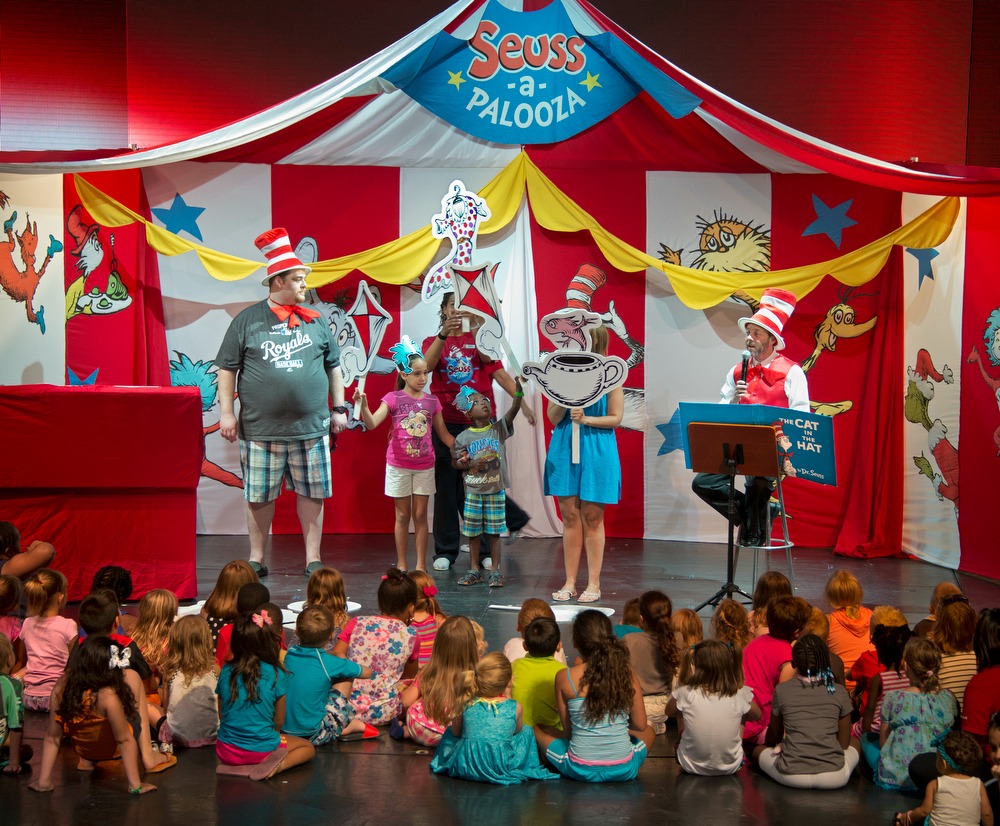 Enjoy a special onboard character parade, interactive story time, arts & crafts activities, character breakfast and more, featuring their favorite Dr. Seuss characters. Seuss at Sea truly brings your child's favorite books to life.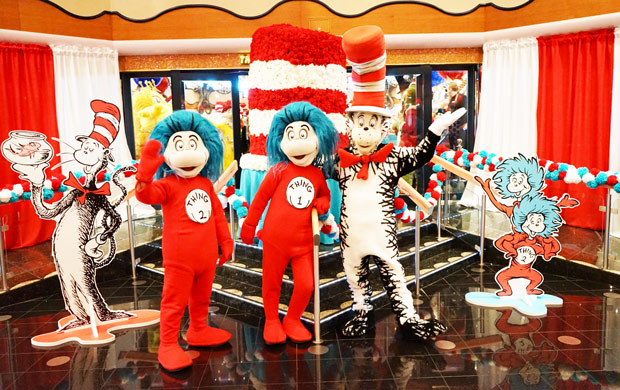 CIRCLE "C"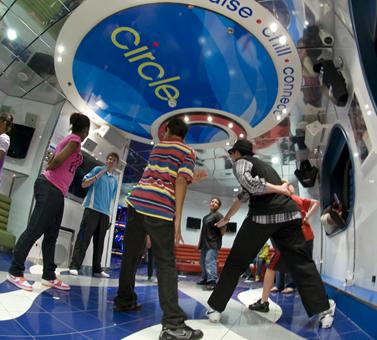 What does the "C" in Circle "C" stand for? Well, "chill," "connect" and "cool," just to name a few. It's where young teens ages 12 to 14 go to hang out, meet new friends, and enjoy some pretty awesome activities like dance parties, games, outdoor movies and more, in the special Circle "C" area or around the ship. It's all supervised by friendly and fun-loving counselors who want your young teens to have the best vacation ever.
CLUB O2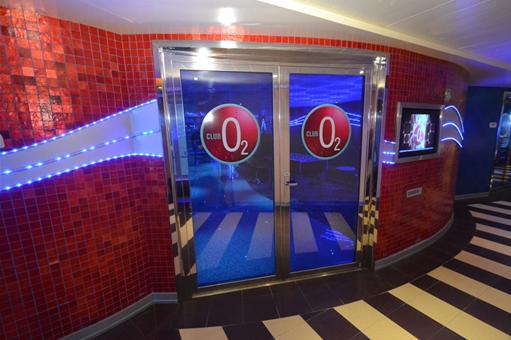 Your parents deserve a nice vacation… but then again, so do you. So let's let them go do their thing while you do yours. Where to? Club O2. Hang out and do stuff like watch movies, listen to music from this decade, play sports and video games, join karaoke jam sessions… maybe even have a pool party or two, all with other high schoolers ages of 15 to 17. We even set up teen-only shore excursions so you can enjoy the sights at our beautiful ports with your new friends.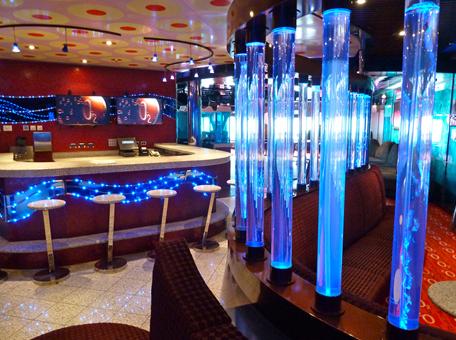 WATERWORKS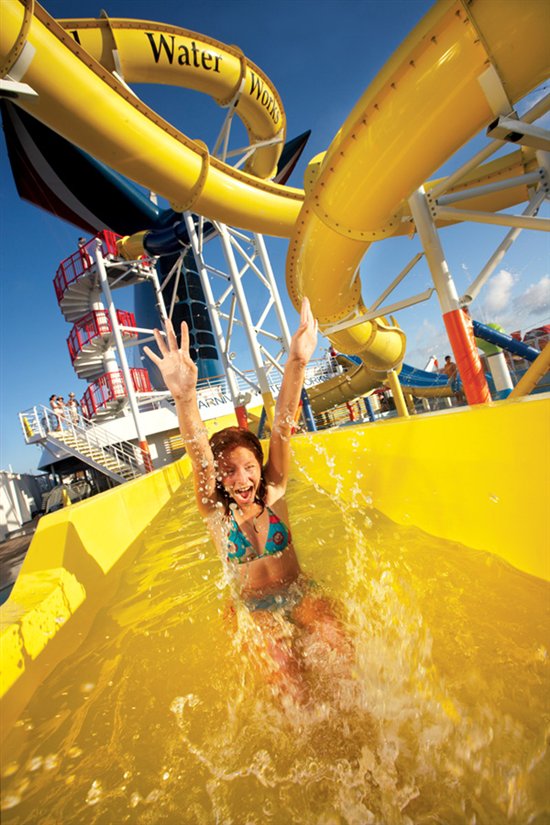 Wanna splish — and splash — the day away? Head on over to WaterWorks, Carnival's onboard waterpark. First up, there's the Twister Waterslide, hundreds of feet of spiraling awesomeness that starts you off high in the air and gets you down low with one of the fastest, wettest rides you'll find anywhere. Select ships have side-by-side racing slides, which make serious competition seriously fun. Wear your speed suit for Speedway Splash, which features hundreds of feet of racing action, plus special lighting effects you'll experience on the road to victory. DrainPipe ends with one major swirl of a finish, while PowerDrencher takes soaking seriously — imagine the biggest bucket of water you've ever seen, raining down on you from above. And this isn't just kids' stuff — the young at heart are encouraged to zoom and splash around too! (WaterWorks configurations vary by ship.)
BROADWAY SHOWS
When was the last time you got up and danced… at the theater? Playlist Productions takes tunes you know and puts them live on stage, transforming them into full blown musical productions featuring pro singers and dancers rocking the house. Enjoy the spicy sounds of Latin Nights, or the know-them-anywhere favorites of Divas. Don't forget Motor City — which will have you dancing in your seat — or even The Brits!, a swingin' revue of your across-the-pond favourites. Rounding out the lineup is the anything-but-square, arena-shaking Epic Rock, plus the funky, sophisticated... and not at all exclusive Studio VIP, where everyone's welcome!
DIVE-IN MOVIES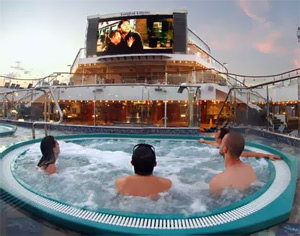 Ready to see stars? Park yourself in front of the big screen — the really big screen — and settle in for a night at the cinema… under some real stars. From the comfort of your poolside lounge chair, or even the pool itself, you'll enjoy the most recent blockbuster movies from categories like Comedy, Action & Adventure and Date Night. And don't think that being in the middle of the sea means going without the usual comforts. There's not only popcorn — who could forget that? — but blankets! So lounge around, snuggle up and try to remember the last time you truly enjoyed a night at the movies.
ENDLESS ADULT FUN!
-SPORTS BAR
-CASINO (SLOTS & TABLE GAMES)
-PUNCHLINER COMEDY CLUB
-SPA & FITNESS CENTER
-BARS & NIGHT CLUBS
-KARAOKE
-SERENITY, ADULT ONLY RETREAT
 PLUS WE WILL HAVE FUN THEME EVENTS!!!!
THE "PREPPY FAMILY AFFAIR"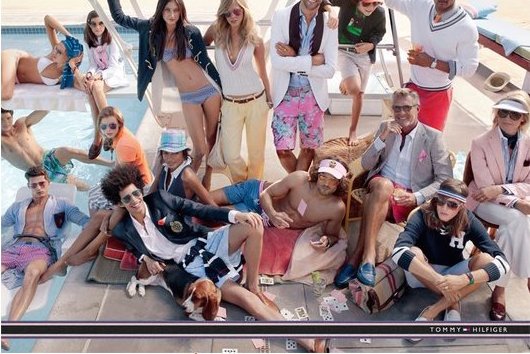 TWIN DAY
-KIDS, COUPLES, SIBLINGS, FATHER & SON, MOM & DAUGHTER, ETC CAN DRESS ALIKE FOR A DAY. NO RULES, JUST KEEP IT FUN, KEEP IT CREATIVE.
CAPTAINS DINNER
CRUISE ELEGANCE: FOR 1 NIGHT A FORMAL DRESS CODE WILL BE REQUIRED AT DINNER. KEEP IT SHARP, CLEAN AND SEXY.
CRAZY, SILLY, WHACKY WIG DAY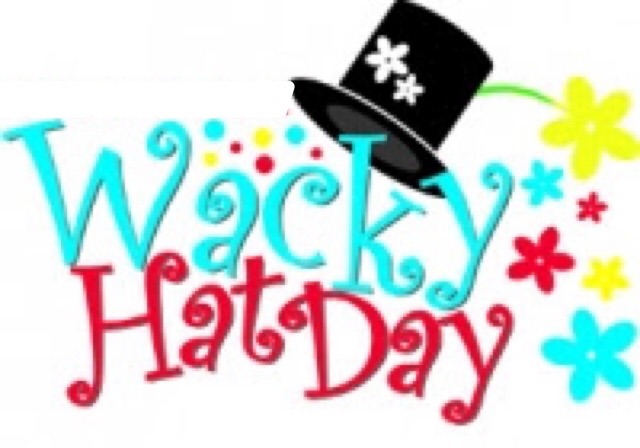 CABINS & PRICES
INTERIOR
| | | | | |
| --- | --- | --- | --- | --- |
| INSIDE | QUAD   | TRIPLE   | DOUBLE   | SINGLE   |
| price per person    |  $495 |  $535 |  $565 |  $1240 |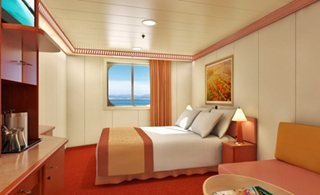 | | | | | |
| --- | --- | --- | --- | --- |
| OCEAN VIEW | QUAD   | TRIPLE   | DOUBLE   | SINGLE   |
| price per person    |  $630 |  $650 |  $665 |  $1130 |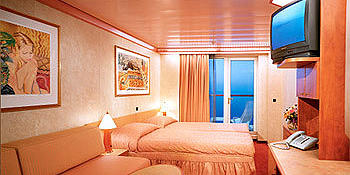 | | | | | |
| --- | --- | --- | --- | --- |
| BALCONY | QUAD   | TRIPLE   | DOUBLE   | SINGLE   |
| price per person    |  $700 |  $750 |  $775 |  $1500 |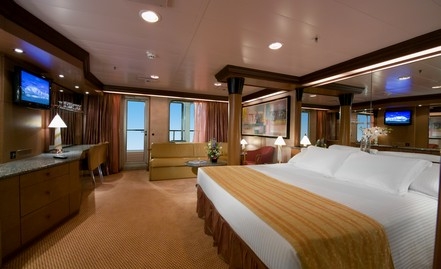 CONTACT US FOR SUITE PRICES
 INFORMATION FOR CANADA WILL BE ADDED SOON...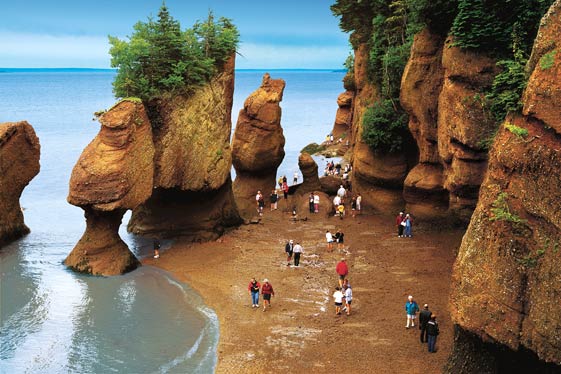 CRUISE PACKAGE INCLUDES:
-Themed Events
All parties, dining, and shows listed in addition to all amenities
and entertainment offered by Carnival Cruise Lines.
-2 Tote Bag for every room
-1 Bottle of wine for every room
*All taxes and Fees
WHATS NOT INCLUDED:
*Airfare
*Transportation to and from the cruise port/airport
*Gratuities on Cruise (about $12 per day per person)
*Travel Insurance. Optional but STRONGLY recommended
**PAYMENTS ARE NON REFUNDABLE AND NON TRANSFERABLE WITHOUT THE PURCHASE
OF TRAVEL INSURANCE**
PAYMENT
A non-refundable deposit of $50 per person ($200.00 per person for suites) is due with your application.
Additional minimum monthly payments of $100.00 per person ($150.00 per person for suites) are required every 30 days until paid in full.
You must make the minimum monthly payments.A Late fee of $5.00 will be applied monthly to all Late payments. In addition, for all cabin categories, any remaining balance must be received no later than 12/01/13. 
 TERMS AND CONDITIONS
Prices listed are per person and include taxes and fees. Airfare is not included.
Single occupancy is 200% of the per-person price, plus taxes & fees.
Gratuities of $15 per person, per day are not included. 
Carnival Cruise Line reserves the right to effect a fuel surcharge if a rise in the market price of oil necessitates a supplement. There is no fuel surcharge currently in place.
Taxes, fuel surcharges, port charges and all fees are subject to change..

Currently, only proof of citizenship (Birth Certificate, Green Card) and a government issued photo ID is required to cruise to the ports on our schedule. However, passports are HIGHLY RECOMMENDED to take this cruise, due to the nature of the itinerary. Without a passport, you will not be permitted to fly into or depart some of the islands by air if necessary, even in case of an emergency.
Check out 
THE 6TH ANNUAL
PARADISE ISLAND CRUISE
6 DAYS / 6 ISLANDS
SAILING FROM THE PORT OF SAN JUAN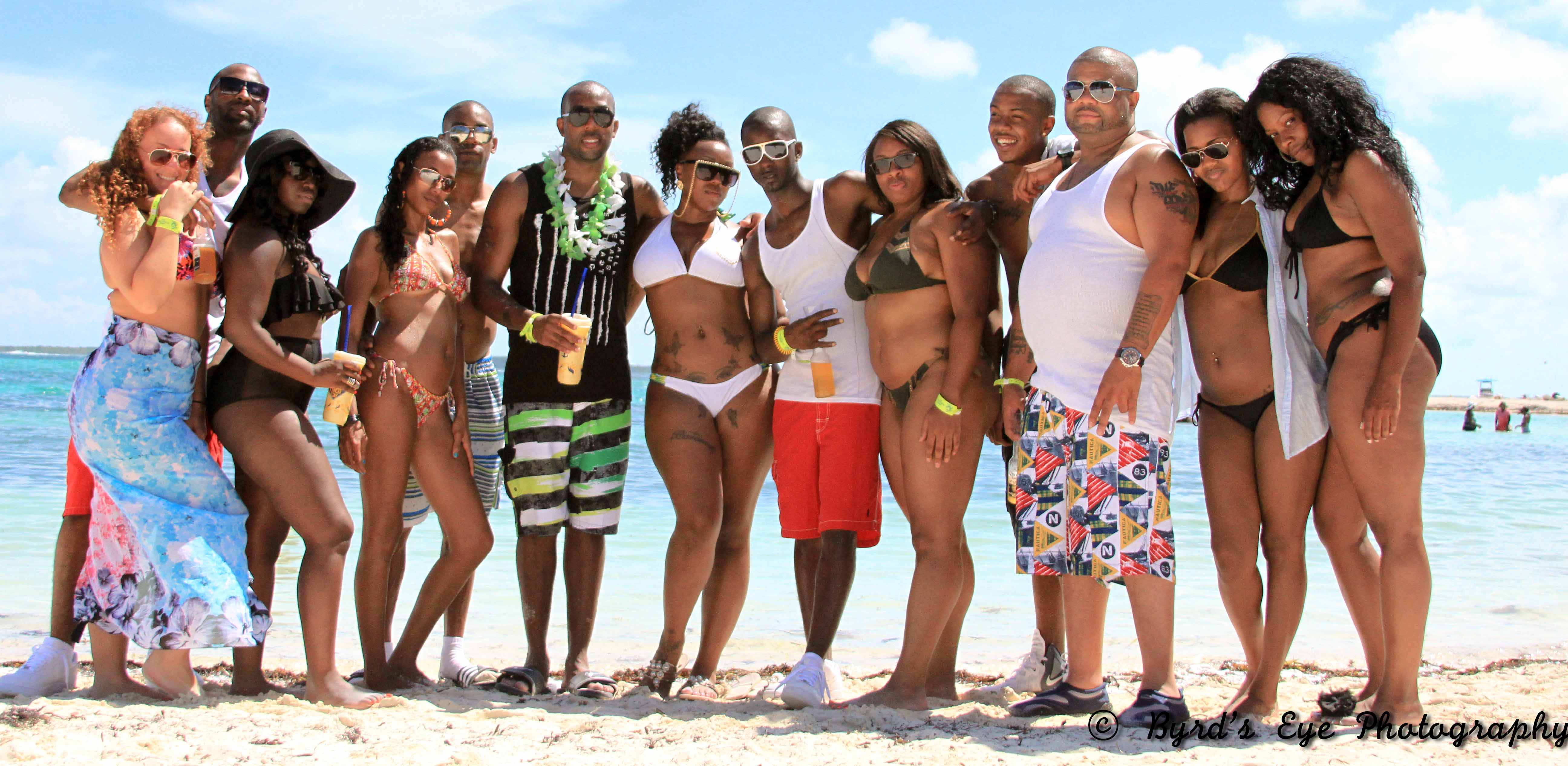 DELL-WAY TRAVEL DISCLAIMER
Dell-Way Travel (DWT), will not be responsible for any accidents involving bodily injury or death, property damage, charges of libel, slander, arrest, detention or imprisonment incurred while traveling during an event sponsored and/or booked by Dell-Way Travel. By attending this event, you agree to not hold Dell-Way Travel (or any DWT entity), responsible for any errors or omissions relating to this event.
FAQs
 Is a Passport required?
U.S. Citizens
Carnival highly recommends all guests travel with a passport.  Although a passport is not required for U.S. citizens taking cruises that begin and end in the same or a different U.S. port, travelling with a passport may help to expedite your CBP clearance upon return to the U.S.  Additionally, passports are required in the event you need to fly from the U.S. to a foreign port should you miss your scheduled port of embarkation, or need to fly back to the U.S. for emergency reasons.
The Western Hemisphere Travel Initiative (WHTI) allows U.S. citizens (including children) sailing on cruises that begin and end in the same U.S. port to travel with one of the WHTI compliant documents, listed below.  Additionally, the same document requirements apply when taking a cruise that begins and ends in a different U.S. port.
•Passport Card
•Original or suitable quality copy of a Birth Certificate (Issued by a government agency: state/county/city) and a government issued photo ID if 16 years of age and older.
•Original Certificate of Naturalization
•Trusted Traveler Program Membership Card,  e.g., Nexus Card, Sentri Card or Fast Card
•Enhanced Tribal Card    
•A Consular Report of Birth Abroad
• Enhanced Driver's License (EDL) – only acceptable at land and sea ports of entry.  It cannot be used for air travel outside the U.S.  The word 'Enhanced' must appear on the driver's license. The following five states currently issue an EDL:     Michigan, Minnesota, New York, Vermont and Washington.
 Copies of U.S. passports and naturalization papers, hospital and baptismal certificates are not WHTI compliant documents, therefore, are NOT acceptable.
Birth certificates from Puerto Rico issued prior to July 1, 2010 are not valid forms of proof of citizenship that is accepted by U.S. Customs and Border Protection. Guests from Puerto Rico either need to present a WHTI-compliant document or a government-issued photo identification with a validated birth certificate issued after July 1, 2010
In addition to proof of citizenship, a non-expired government-issued photo I.D is required of all guests 16 years of age and older. The following are acceptable: 
•Driver's License 
•Driver's Permit 
•School/Student I.D (acceptable ONLY for guests under 19 years of age) 
•Government-Issued identification card (city/state/federal) 
Sailings from Hawaii and Transpacific Cruises
U.S. citizens must have a valid passport. 
Is my deposit and subsequent payment refundable/transferrable?
Deposits are Non Refundable and Non Transferable with or without insurance. Subsequent payments are refundable with the purchase of Travel Insurance. 
Is there luggage restrictions?
In order to maintain a safe and secure environment, Carnival prohibits guests from bringing certain items on board, i.e., weapons, candles, irons, alcohol, or other dangerous goods.  According to our policy, Carnival conducts security scanning of all baggage and if prohibited items are found, they will be removed and stored on board for safekeeping until the end of the voyage.  The retained item(s) will be available for collection in onboard designated location on the morning of debarkation. Unsealed liquids that are prohibited will be discarded, as well as any unclaimed items left after the voyage, and no compensation will be given in either case.   For additional information, please refer to the terms and conditions of your cruise ticket contract. 
Guests, 21 years of age and older, may bring one bottle (750ml) of wine or champagne, per person, only in their carry-on luggage.
Guests are encouraged to limit their checked luggage to two suitcases per person, with each suitcase not to weigh more than 50 pounds (22.68 Kilograms) and not exceed 16"H x 24"W (40.64 cm x 60.96 cm);  there are no length restrictions.  Please attach your Carnival Cruise Lines luggage tags PRIOR to leaving home and make sure that they are still on your bags when checking in with us. In many ports, guests have the option of carrying luggage on board at embarkation and off the ship at the end of the cruise as long as it does not exceed 16"H x 24"W (no length restrictions).  This is an advantage you may want to consider as it will allow for quicker easier access to your bags.  Please note that Carnival assumes no responsibility for carry-on luggage.
Are there restrictions on what we can bring aboard?
RESTRICTED ITEMS – SAFETY AND SECURITY POLICY
In order to maintain a safe and secure environment, Carnival prohibits bringing certain items onboard.  Additionally, we reserve the right to confiscate (and destroy) any articles that in our discretion are considered dangerous or pose a risk or inconvenience to the safety and security of the ship, or our guests, and no compensation will be provided.   
Confiscated Items   
• Alcohol (hard liquor)/sealed, unopened bottles
• Beer/sealed, unopened bottles/cans
• Wine or champagne/sealed, unopened bottles - beyond the allowable limit of one bottle (750 ml. size) per adult 21 years of age (brought on at embarkation time only in their carry-on luggage)  
• Clothing irons and steamers (all Carnival ships offer laundry facilities with irons and ironing boards. Fleet-wide valet laundry service is also available for a nominal fee.)
• Electrical and household appliances, i.e. coffee makers, hot plates, toasters, etc. (See Exceptions)
• Heating Pads
• Hookah
Exceptions: 
• Personal grooming devices such as hair dryers, flat irons, curling irons, and shavers, are allowed on board when used with proper caution.  However, if such devices are determined to pose a hazard, they will be removed and returned the last day of the cruise prior to debark.
• Electronics such as laptops, cameras, cellular phones, etc. are allowed on board when used with proper caution.
• Electrical devices such as fans, power strips, multi plug box outlets/adaptors, and extension cords are allowed on board when used with proper caution.  However, if such devises are determined to pose a hazard, they will be removed and returned the last day of the cruise prior to debark.  
Can I sail with my infant?
Minimum age for sailing is 6 months, with the exceptions of Transatlantic, Hawaii and South American cruises, which are 12 months.
This policy is in place due to the infant's vulnerable health. While at sea or in port the availability of medical care may be limited or delayed. Early infant care, in particular may require specialized diagnostic facilities and/or treatment that are not obtainable during the cruise on board the ship or ashore in ports of call.
When & Where

MANHATTAN CRUISE TERMINAL
711 12TH AVE
NEW YORK, NY


Thursday, July 23, 2015 at 4:00 PM

-

Monday, July 27, 2015 at 8:00 AM (EDT)
Add to my calendar
Organizer
DELL WAY TRAVEL
Dell-Way travel is a full service travel agency providing you with the absolute best experience w/ great value everytime you travel. Specializing in cruises and group travel!
  Check my website at www.dellwaytravel.com
ALL MAJOR CRUISES:
Carnival, Norwegian, Royal Caribbean, Celebrity, Disney, Princess, and Cunard.
GROUP TRAVEL
for any occasion: Wedding, Bachelor Parties, Just the Ladies or Only the Fellas trip.
SPECIAL WEEKEND GETAWAYS:
Memorial Day, Labor Day, All-Star Weekend, Superbowl Weekend.
Kendell Middleton
DELL-WAY TRAVEL
"Specializing in Cruises and Group Travel"
P: 914-375-7106
"FAMCAY 2015" FAMILY VACATION CARNIVAL NYC CRUISE