Sudwerk Brewery Beer Dinner
About this event
Come to Fallon's to try the award winning Sudwerk Brewery beer ine up. This 4 course meal will be paired with the Sud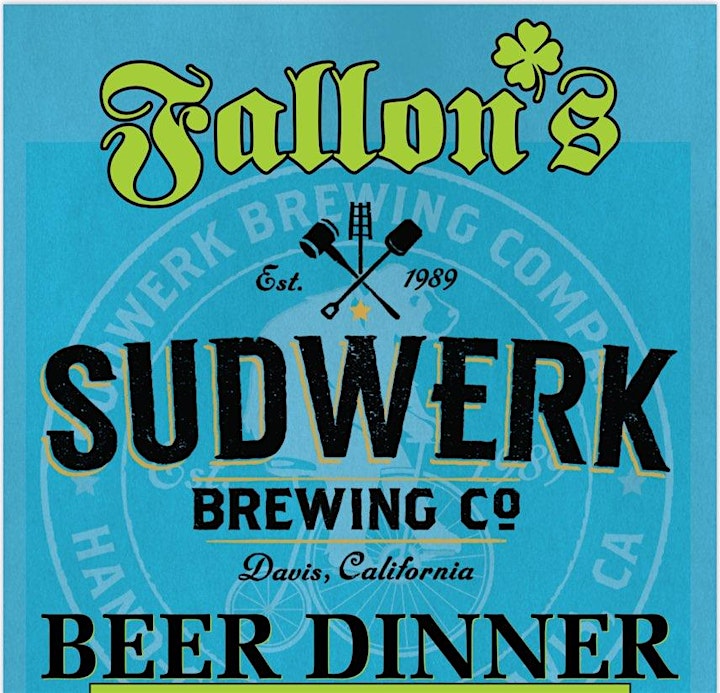 Come join us for the award-winning Sudwerk brewery beer dinner! This event is going to be a four-course meal that features four of Sudwerks award-winning lagers, pilsners, IPA's and ales!
Picture
Marzen Amber Lager
Choice hops and five different specialty malts are combined to produce this rich, amber and copper-toned lager. Sweeter in flavor than Sudwerk's other core offerings, the Marzen has a full robust character with a smooth, zen-like finish.
Picture
The People's Pilsner
A Northern German-style Pilsner brewed in Davis, CA. This beer is brewed entirely with Weyermann Pilsner malt, true to the style. A special blend of Bavarian Hallertauer and Tettnang hops are used during brewing, adding to the clean finish. Winner of the coveted "Brewers Choice" award for 25 consecutive years and counting.
Picture
Solar Haze
Hazy IPA
Available NOW
Beer Stats
ABV: 4.3%
IBU: 10
MALTS: Wheat & Pale
YEAST: Barbarian Ale Strain
HOPS: Citra, Galaxy & El dorado