Falling Walls Lab Jeddah - University of Business and Technology
Sales Have Ended
Registrations are closed
Please apply on falling-walls.com/lab/apply.
Sales Have Ended
Registrations are closed
Please apply on falling-walls.com/lab/apply.
Description
Dear all
We would like to call your attention to an innovative scientific format for aspiring researchers – the Falling Walls Lab. The Lab is a platform for excellent academics, entrepreneurs and professionals from all disciplines who get the opportunity to present their research work, business model, innovative project or idea with peers and a distinguished jury from academia and business. Each participant has 3-minute time on stage.
The Falling Walls Lab Jeddah is hosted by University of Business and Technology (UBT) and takes place on 21st of September 2017 at UBT- Dhahban. Applications can be made through the website www.falling-walls.com/lab. The Application Deadline closes by 15th of August 2017.
The most intriguing presenter qualifies directly for the Falling Walls Lab Finale in Berlin. The Falling Walls Foundation covers the accommodation for the 8-9 November in Berlin. Also, all participants of the Finale receive a ticket for the Falling Walls Conference.
To spread the news of the Falling Walls Lab Jeddah- UBT to the most excellent candidates, we would greatly appreciate if you could forward our call for applications to emerging researchers and professionals within the networks of your institution.
Please apply through : falling-walls.com/lab/apply.
If you have any questions do not hesitate to contact rcc@ubt.edu.sa or b.elzein@ubt.edu.sa or the Falling Walls Foundation (lab@falling-walls.com).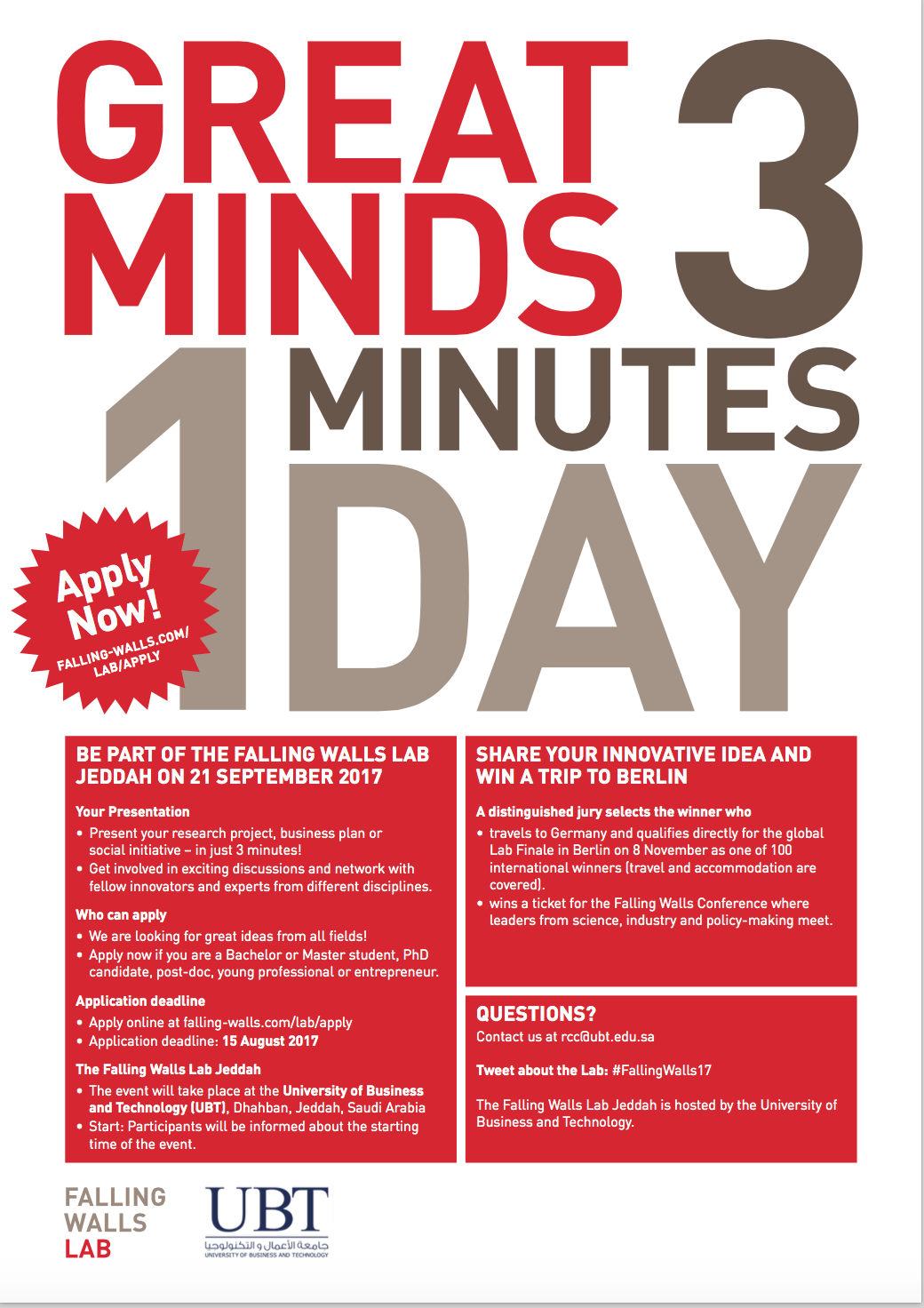 Kind regards,