Description
Sign up here for this FREE book signing event held at
Whole Foods Market (Marlboro)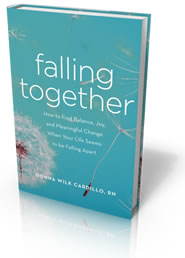 There are times in life that shake us to our very foundations. We wish for things to get better, fast. But the truth is that moments of "falling apart" are also our most powerful catalysts for growth and change.
2017 is a good time to find out what is meaningful to you. You may find peace and joy in the most unexpected places and it's time to discover where that is.

Join me for a night to discuss my book and how it may help you find balance & joy especially if your world seems to be falling apart.
- Donna Cardillo