Description
SERIES SUMMARY
A collective moment to pause and talk about things that matter

EVENT SUMMARY
Just in time for autumn, we're making time to talk about how to transition our summer beauty rituals and wardrobe routines for the upcoming season. Come and sit down with AJ Woodworth, founder of The Glamoury and Fashion Stylist Elim Chu as they share how they mindfully navigate changing skin and clothing needs.

Ticket proceeds benefit The Cinderella Project, a Vancouver based charity providing support for students who have overcome incredible obstacles to reach the achievement of graduation.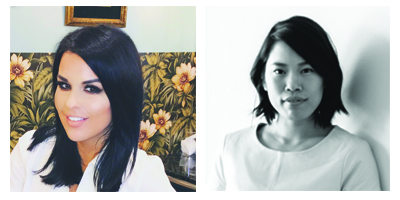 SPEAKERS
AJ Woodworth
AJ Woodworth was first inspired to start her business, The Glamoury, when she recognized an opportunity in the beauty market years ago. AJ, named British Columbia Country Music Awards' Female Artist of the Year three years in a row (2011 - 2013), struggled to find a Vancouver salon with flexible hours, a focus on both hair and makeup, and exceptional customer experience.

Launched May 6, 2016, The Glamory offers luxury makeup and hair services with an unparalleled commitment to quality. Woodworth drew on her own personal experience with hair and makeup - both as a consumer and then as a musician - when creating the concept for The Glamoury. Woodworth found that all too often the makeup experience can be too open, especially in a makeup or department store, so she focused on creating a sense of privacy. Above all, The Glamoury offers women a private sanctuary when having hair and makeup
services done.
Instagram: @theglamoury

Elim Chu
Elim is a freelance Fashion Stylist and Consultant, positioning to shift the world into mindful clothing choices. Before devoting her work fulltime to freelance styling and elevating conscious choosing, she served as Brand Stylist at lululemon – a company founded on empowerment and authenticity. In addition to working as a stylist, Elim is a connector and maven advocating women led businesses and brands.
Instagram: @elim_chu

HOSTS
Barbora Samieian
Barbora is the Owner and Life Force at Field & Social, salad bowl resto du jour on the sunny corner of Dunsmuir and Homer. Barbora is passionate about bringing people together over quality food and conversation.
Instagram: @fieldandsocial

Barb Mackenzie
Barb is the Owner and Founder of Little Dream Bird. Her company has been offering blackout stroller covers for parents who sleep train since 2013. As a Boss Mom of three, she is intimately in tune with all the things left unsaid between women - a sentiment she is leading to redefine within her community.
Instagram: @littledreambird