About this Event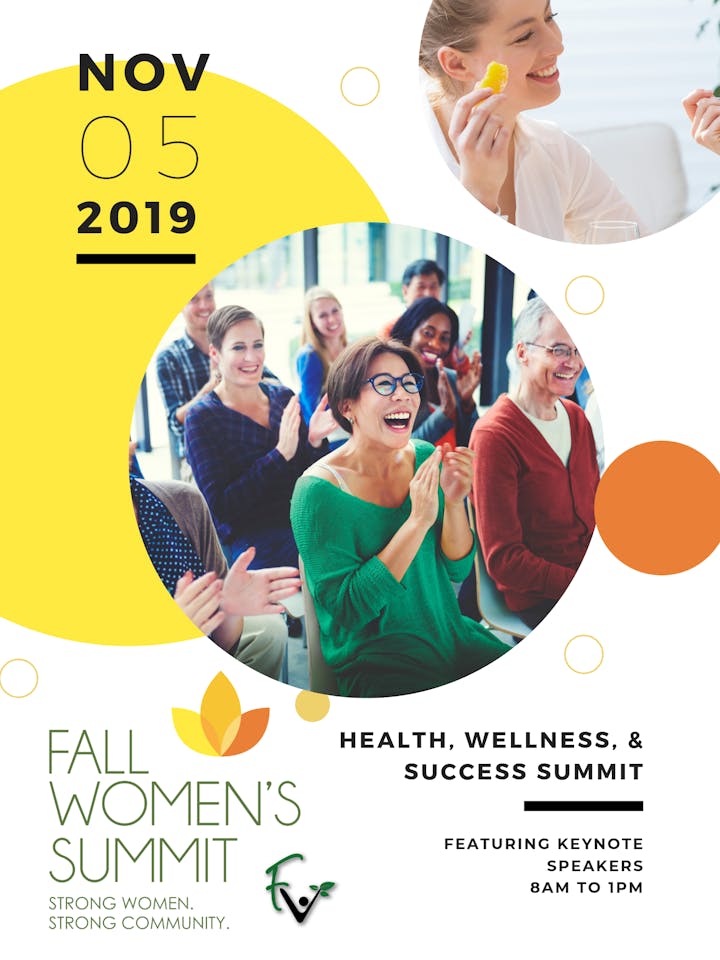 Health + Wellness + Success
Strong Women. Strong Community.
The Fuquay-Varina Chamber of Commerce is pleased to introduce a new event to our annual lineup! | Fall Women's Summit
Hear from our Keynote Speakers, and other presenters:
Morning Keynote Speaker: The News & Observer President & Publisher, Sara Glines
Afternoon Keynote Speaker: Fuquay-Varina Memes!
Lunch will be provided by Panera Bread, included in your admission!
Multiple seminars on a wide range of issues impacting you.
The WakeMed Health Lives Here! Bus will be available outside for onsite evaluations.
Come when you can, leave when you like!
To stay up to date on our latest schedule of presenters and announcements, visit our website: Fall Women's Summit
3 Breakout Sessions with Multiple Presentations Offered, Including:
Healthy is the New Wealthy - Essential tips for successful weight loss, to live at your best, and de-stress for success. | Tiffany Lowe-Payne, Stress Expert & Obesity Medicine Specialist, WakeMed Bariatric Surgery & Medical Weight Loss
Starting a Homebased Business & Resources for Women-owned Businesses | Roberta McCullough, The Women's Business Center of North Carolina, Sponsored by ClubWorx
Busy Mom's Workout - Secrets to getting fit when you have limited "me time". | Kathy Kreis, RN-BSN, Diabetes Educator, Health Coach, Certified Diabetes Prevention & Lifestyle Coach, ClubWorx
Personal Safety with Chief Laura - Important safety tips, town crime statistics, Q&A, and what's behind the #9pmRoutine on social media. | Police Chief Laura Fahnestock, Fuquay-Varina Police
Laughing Without Leaks - Understanding Pelvic Health. | Katherine Armstrong, Urogynecologist, WakeMed Urogynecology
Smart Women. Smart Retirement - Strategies to Live & Finish Rich. | Valerie Seymour, Investment Advisor Representative, Quest 10 Wealth Builders, Inc.
Chicks Empowered - What I learned about friendship, entrepreneurship, and GRIT from chickens in rural Zambia. | Bethany Morgan, Founder & Ex. Dir, Love Abounds & Chikondi Coffee
Outsmarting the Scammers - For savvy and proactive women seeking ways to spot scammers, as well as protect themselves and their loved ones. | Katie Wall, Financial Advisor, Edward Jones
Body Language & Voice Training - An interactive exploration of how to properly use our voice & body language to effectively convey information in our everyday lives. | Anna Powell, Broker, Century 21 Triangle Group
If the Shoe Fits, Wear It! - A practical guide to brand management. | Olivia Scott, Owner, Promotional Partners, Inc.
Travel Odyssey - A journey to top destinations & resorts for family, solo, multi-generational, empty-nester travel, plus packing & planning tips. | Jayne Chambers, Owner, TravelRight
Let's Get Social – Using social media to help build business, people and communities. | Tracy Watson, Owner & Realtor, Go Watson Realty
How to Get Organized - Tips on freeing yourself from the clutter that's weighing you down. | Lisa Menees, Professional Organizer, SOS by Lisa
Plus more to be announced soon!