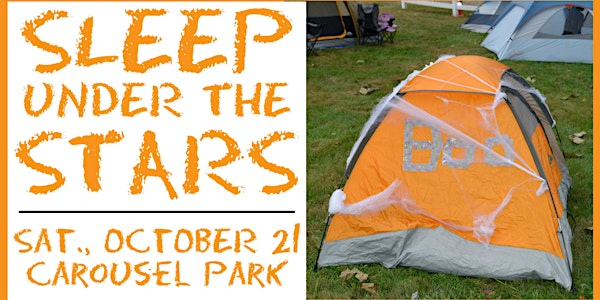 Fall Sleep Under the Stars (register as individual or family)
Location
Carousel Park
3700 Limestone Road
Wilmington, DE 19808
Description
Pre-registration has ended. You can register when you get there.
EVENT SCHEDULE:
10am- 7pm Camper Check In
12pm-6pm Outdoor Games (freestyle)
12pm- 6pm Moon Bounces
12pm-2pm Dance Instruction with HDC
1pm-8pm Food Trucks
1pm K-9 Demonstration
2pm Mounted Demonstration
2pm-9pm Hayrides
2pm- 8pm Photo Booth
DJ/Music Entertainment, By Mr. Joyner Entertainment
2pm-5pm Bubble Soccer
2pm-6pm Board Games
Crafts- Pumpkin Decorating, Scarecrow making
Imagination Playground & Bubble Art with Delaware Children's Museum
Hula Hoops with Lois
2:30pm Hula HoopInstruction
3pm-6pm Monster Mash Dance Party
Calling all the Monsters Dance Contest
4pm-6pm Grandpop Bubbles- Bubble Festival
5pm – 11pm Bonfires
5pm- 9pm Mobile Cloud Game Truck
Giant Games
6:00pm Costume Contest & Tent Decorating Contest
6:15pm County Executive Matthew Myer
Remarks, Costume Contest Winner Announcements
6:30pm- 7:30pm Tent to Tent Trick or Treating
8pm– 10pm Movie Under the Stars
11pm Quiet Time
Rules
Our goal is to make Sleep Under the Stars a safe and fun event for everyone. To make this possible we ask that you follow these simple rules.

No personal campfires, charcoal grills, generators, or heaters.

We will tend the campfires and keep them going. you are welcome to bring a small propane grill, your cooler, and you may roast marshmallows and hot dogs at the campfire. For your safety, generators and heaters are not permitted.

No pets. We know you love your pets and that they are part of the family, but this is just not the appropriate event for them. To keep them safe, and for the safety of your fellow campers, please leave them at home.

No alcohol or drugs

This is a family event, and the use of alcohol and drugs is prohibited in all New Castle County parks. Persons violating this rule will be handled by our Department of Public Safety.

No Weapons. The possession of weapons and firearms are prohibited in New Castle County parks.

Be Kind. The Golden Rule. Treat everyone the way you would like to be treated.