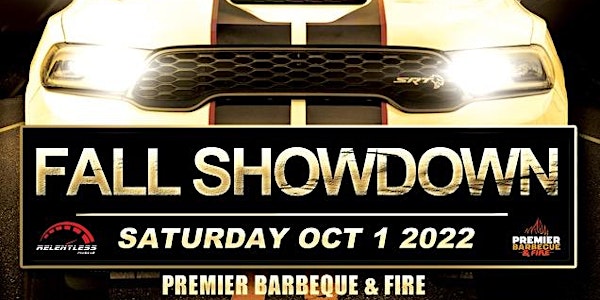 Fall Showdown Presented by Relentless Muscle and Premier BBQ and Fire
Location
8420 W Desert Inn Rd
8420 West Desert Inn Road
Las Vegas, NV 89117
Relentless Muscle and Premier BBQ and Fire are hosting a car show for all makes and models to benefit local families during the holidays.
About this event
Join Relentless Muscle Car Club Inc. for the Fall Showdown hosted by Premier BBQ and Fire. This show will be raising funds to provide Las Vegas valley families meals during the holiday season. We feel it is important to give a helping hand to those who need it in our local community during a time that can be especially difficult. To accomplish this task we have paired up with Boys Town Nevada to help provide support through their great program.
Our show is family friendly, pet friendly and free for all spectators.
This show will be open to ALL MAKES AND MODELS. This includes cars, trucks, motorcycles and whatever else you can come up with that you think is worthy of showing for a good cause. There will be vendors onsite, raffles, a DJ, food specials, and more..
Pre-registration is $30, day of $50 (if it doesnt sell out like the last show)
Vendor spaces are available below for $150. This includes space to set up a standard size canopy. Please contact relentlessmusclelv@gmail.com for any questions or concerns.
This show will feature a fun category: Best Shitbox
This class will be restricted to 15 cars total that you must submit a photograph of and be approved for. Once your photo is approved, you'll receive a code to register for this category. DO NOT register your shitbox until you receive an approval email! When submitting your photos, be sure to show off a few angles and include some details about your beloved shitbox. If you register under another class, you cannot compete in this category. This is intended to be a light hearted and fun category to bring a few smiles to faces so dont take it too personal! Submit photos to relentlessmusclelv@gmail.com
Dj: DJ GeeMix
Vendors to include:
LasVegasCarMeets.com
One Up Acrylix
Reflectionz Detail
California Lighting
Gateway Classic Cars
Balazo's Tacos
Radical E-Bikes
Brew and Bougie
Bang! Energy
Liquid Death water
Able Baker Brewing
and more
Classes:
Best of Show (Car)
Best of Show (Truck/SUV)
Best Lowrider
Best Classic
Best Engine
Best Paint
Best Wrap/Use of Vinyl
Best Domestic (top 3)
Best Euro (top 3)
Best Import (top 3)
Best EV (top 3)
Best Shitbox (top 2)
Outstanding Vehicle Awards
Relentless Pick
Premier BBQ Pick
and more to be announced.
If you would like to make a donation for raffle prizes or towards our cause, please reach out to relentlessmusclelv@gmail.com
**Classes submit to change based on registration
**Show is rain or shine