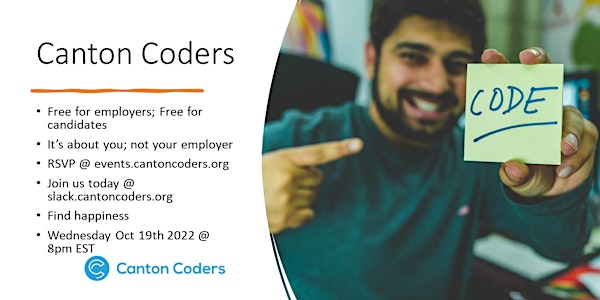 Fall Remote Coding Career Fair (Online)
Come for the pageantry, maybe leave with a job, or realize your job is okay.
About this event
At Canton Coders, we're about the coder, not the employer - but we all got bills! And of course, this is free for everyone including employers. We do this for free for everyone, because it's the right thing to do. While we don't endorse any employer or candidate, we think that people that participate in this giving community are normally great matches.
We'll change it up this time. It's going to be a talent show. Each potential employer will have 4 minutes to pitch the entire audience on why the candidates would work there. Once that's over, the potential employers will slide into their own breakout room, and the candidate will self select into those interesting rooms. Here is where you'll figure out how to continue the conversations outside of the Canton Coder Community.
Before the event, the employers will list their open roles either by person/location or actual job descriptions.
Role Persona : New & Growing, Seasoned, Leaders, Other
Location : Remote/Location
Employment Type : Contract, Placement, Contract to Hire, Corp to Corp, Full Time, Part-time, Internship
Disclaimer: By participating you accept our terms and conditions of our privacy policy and terms of use. Trademarks are property of their respective owners, used by permission. Participation by employers or candidates is not an endorsement by Community of Coders Inc. dba Canton Coders. All parties should do their due diligence on their own.