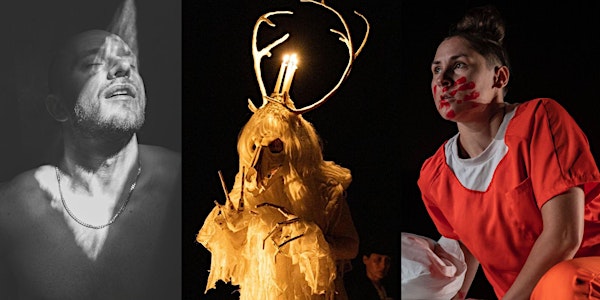 Fall Performance Series
A series of three weekends of three different performances at Double Edge
When and where
Location
Double Edge Theatre 948 Conway Road Ashfield, MA 01330
About this event
PLEASE BE ADVISED: Due to the themes and subject matter explored in Something Else and Rainbow Exodus, these performances are not recommended for people under the age of 15.
CONTENT ADVISORY:
Rainbow Exodus includes content about sexual abuse. The performance contains leaves, dirt, and strobe light effects. Performed in Polish with English surtitles.
Lightning includes minor fog effects and thrown dirt.
LIGHTNING (November 4th - 6th, 2022)
Layering large puppetry, shadow, and song, Lightning takes place at the collision point between the worlds of our internal and external experiences.
We look at our past and tell the birth story of the inner monsters we both need and deny. Co-created with the DE Company, Lightning is directed by DE Design Director/Ensemble Jeremy Louise Eaton.
Before Lighting, there will be a pre-performance musical offering of My Soul is in Command: a tragi-comic musical creep show. This work-in-progress is conceived, written, and performed by DE Company Member Robert Carlton, with guidance from DE Co-Artistic Director Jennifer Johnson.
SOMETHING ELSE (November 11th & 12th, 2022)
Something Else is a solo performance written and performed by DE Company Member Tomantha Sylvester and directed by DE Co-Artistic Director Jennifer Johnson. We follow Lucy, an incarcerated Native American woman on death row, as she seeks connection in her final moments. Following each performance, there will be a reading with members of the Anishinaabe Theater Exchange of their piece How We Go Missing.
The phenomenon of Missing and Murdered Indigenous Relatives has reached pandemic levels in the United States, Mexico, and Canada. The systemic wiping out of Indigenous lives in North and South America through colonial violence, state sanctioned terrorism, and even lateral violence is barely a blip on the radar screen of the average citizen. How We Go Missing examines the impact on those left behind, Indigenous sisterhood, and some of the ways in which Native women, in particular, go missing both physically and through erasure.
Performed by: Carolyn Dunn (Muskogee Creek/Cherokee/Tunica-Choctaw-Biloxi, Los Angeles, CA/Oklahoma City, OK), Colleen Medicine (Anishinaabe/ Ojibwe, Carp Lake, MI), Rebecca Podleski (Anishinaabe/ Zhiibaahaasing First Nation, Brimley, MI) Micaela Iron Shell-Dominguez (Rosebud Sioux Tribe, Lakota/ Xicana, Denver CO), and Tomantha Sylvester (Anishinaabe/ Ojibwe, Sault Ste. Marie, MI/ Ashfield, MA).
Directed by: Sarah D' Angelo (Mohawk, Rhode Island)
Written by: Carolyn Dunn and Tomantha Sylvester
Co-Produced by the Ohketeau Cultural Center and the Anishinaabe Theater Exchange
RAINBOW EXODUS (November 18th - 20th, 2022)
Rainbow Exodus is a solo performance created and performed by Karol Matuszak and directed by DE Co-Artistic Director Travis Coe. Rainbow Exodus is one man's journey to escape the confines of his conservative upbringing in Poland where people are increasingly hostile towards the LGBTQ+ community. Following each performance, there will be a respondency with Barbara Lanciers, Director of the Trust for Mutual Understanding, and Harold Steward, Executive Director and Cultural Strategist of The Theater Offensive.
Ticket Prices:
General Admission: $40
Student / Senior: $37
Child: $25
Alumni: $30
Hilltown Adult: $38
Hilltown Student / Senior: $35
Ticket Package (1 ticket for each weekend): $90
Please note: tickets are non-transferable and non-refundable. Please call the box office for assistance with ticket packages.