About this Event
ABOUT:
**WE HAVE RESCHEDULED OUR SPRING OCD CONFERENCE TO FRIDAY, OCTOBER 9TH DUE TO THE SAFETY CONCERNS REGARDING THE CONORAVIRUS. SOME OF THIS INFORMATION MAY CHANGE AS WE PROGRESS CLOSER TO THE EVENT. IF YOU HAVE ANY QUESTIONS, PLEASE EMAIL INFO@PEACEOFMIND.COM**
This one day conference will focus on OCD treatment strategies featuring world-renowned OCD experts. Mental health professionals will have an opportunity to learn specific intervention tactics while receiving continuing education credit (CEU's). Individuals and loved ones affected by OCD are invited to attend the afternoon sessions, which will feature an interactive ERP workshop led by Dr. Jonathan Grayson.
Schedule:
8:00am-8:30am – CEU & General Admission Sign-in and Registration and Networking
8:30am-9:30am -- "Lessons Learned from Short-Term Intensive Treatment for OCD and how to apply them to your practice" by Chad Brandt, Ph.D.
9:30am-10:30am – "Integrating Acceptance and Commitment Therapy (ACT) into your OCD Practice" by Angela Smith, Ph.D. and Jennifer Sy, Ph.D.
10:30am-10:40am -- BREAK
10:40 am-12:10pm – "Taboo Intrusive Thoughts Treatment Strategies" by Jonathan Grayson, Ph.D.
12:10pm-1:00pm – LUNCH BREAK
12:10pm-6:00pm - General Admission Sign-in and Registration
1:00pm-2:30pm -- "OCD Medication Updates" by Michael Jenike, M.D.
2:30pm-3:30pm -- "It's All in my Head: Battling Mental Rituals" by Ginny Fullerton, Ph.D.
3:30pm-4:30pm -- "Motivation for Treatment Success" by Elizabeth McIngvale, Ph.D.
4:30pm-4:40pm – BREAK
4:40pm-6:00pm – "ERP Workshop" by Jonathan Grayson, Ph.D.
6:00pm-7:00pm – OCD Expert Q&A – Jonathan Grayson, Ph.D., Michael Jenike, M.D., and Elizabeth McIngvale, Ph.D.
CEUs:
$100 for CEUs. You will receive 7.0 Texas Psychological Association (TPA) Professional Development (PD) credit. The Board of Licensed Professional Counselors and the Texas State Board of Examiners of Social Workers Examiners also recognize TPA Professional Development Credit.
Tickets:
General Admission
General Admission will include admission into the conference. This ticket is intended for individuals and loved ones affected by OCD or those wanting to learn more about OCD. Snacks will be available during the event. This ticket does not include lunch. This ticket is at no cost, donations are encouraged.
General Admission with Lunch -- $20.00
General Admission will include admission into the conference and lunch. This ticket is intended for individuals and loved ones affected by OCD or those wanting to learn more about OCD.
Professional Admission -- $100.00
Professional Admission is intended for mental health professionals. Ticket will include the opportunity to receive 7.0 CEU Credits (including 1 Ethics Credit) and lunch.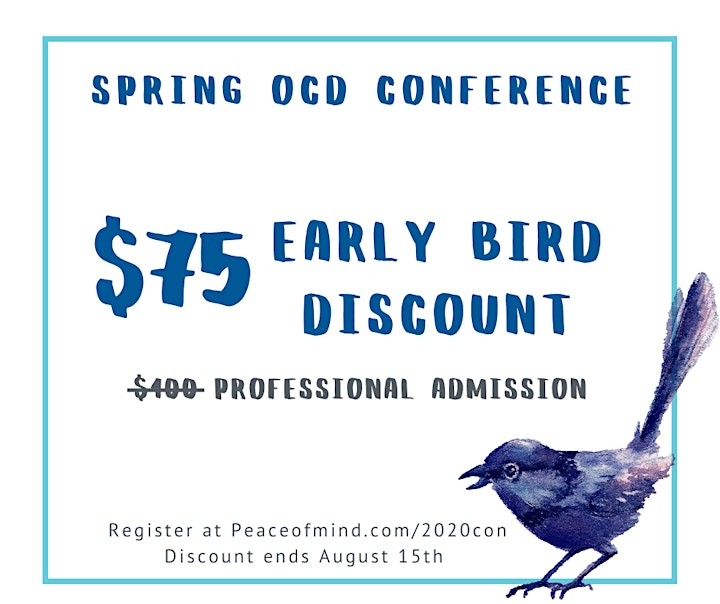 Keynote Speakers:
Jonathan Grayson, Ph.D.
Jonathan B. Grayson, Ph.D. is a licensed psychologist (PSY26643), director of the Grayson Center and Adjunct Clinical Assistant Professor of Psychiatry & the Behavioral Sciences at the University of Southern California where he lectures and supervises residents. Dr Grayson has been specializing in the treatment of obsessive compulsive disorder (OCD) for more than 40 years and is a nationally recognized expert and author of Freedom from Obsessive Compulsive Disorder: a Personalized Recovery Program for Living with Uncertainty, a self-help guide for sufferers. In 2010, the International OCD Foundation awarded Dr. Grayson the Patty Perkins Lifetime Achievement Award for his devotion and contributions to the treatment of those with OCD. In October of 2010, the Association of Behavioral and Cognitive Therapies gave his book, Freedom from Obsessive Compulsive Disorder, the Self Help Book of Merit Award, recognizing his book as providing sufferers with the highest level of information about the best practices treatment for OCD. Dr. Grayson has presented workshops and written numerous articles and book chapters for both professional and lay audiences, including two manual/ videotape sets made for the International OCD Foundation (The GOAL Handbook: Running a Successful Support Group for OCD and How to Recognize and Respond to Obsessive-Compulsive Disorder in School Age Children). His work and expertise has been featured in national media including, People Magazine, The Oprah Winfrey Show and Nightline. He serves on both the Scientific Advisory Board and the Speakers Bureau of the International OCD Foundation. In 1981, along with Gayle Frankel (the former president of the Philadelphia Affiliate of the OC Foundation), he started the first support group in the country for OCD. In 2015, helped to form and donate his time to a free GOAL support group in LA. Finally, he has the distinction of being the first and possibly the only professional to run a yearly OCD camping trip.
Michael Jenike, M.D.
Dr. Michael Jenike is the founder of the Obsessive Compulsive Disorder Institute at McLean Hospital and the Obsessive Compulsive Disorders Clinic and Research Unit at Massachusetts General Hospital. He is also a professor of psychiatry at Harvard Medical School. Dr. Jenike is recognized as a world-renowned researcher, having published over 200 articles on obsessive compulsive disorder, geriatric psychopharmacology, and neuroimaging in psychiatric disorders. He is currently the principal investigator of an OCD longitudinal family study that seeks to examine the clinical, genetic, imaging and neurocognitive areas of this disorder. His research and clinical interests involve the development, assessment and treatment of OCD and Alzheimer's Disease.
PLATINUM SPONSORS:
Sponsorship Information:
The Spring OCD Conference will offer your business or organization the opportunity to network among world-renowned experts, mental health professionals, individuals with OCD, and their loved ones. Our attendees will have easy access to the exhibitor tables throughout the event maximizing your visibility and interaction time. Along with the exhibit booth opportunity, we are offering a wide variety of advertising and brand awareness through our website and social media platforms.