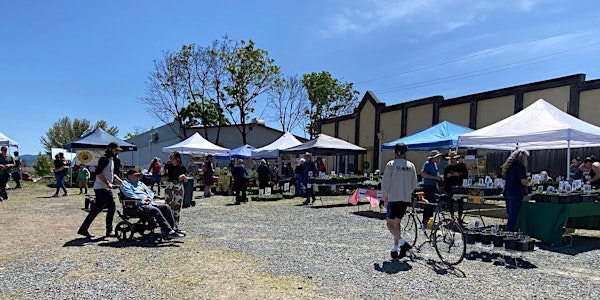 Fall Native Plant Sale
Join us for our Fall Native Plant sale for the Pollinators!
When and where
Location
The Pollination Place 312 Main Street Phoenix, OR 97535
About this event
Join us for our Fall Native Plant Sale for the Pollinators!
Location: Parking lot behind The Pollination Place, 312 N. Main St., Phoenix (corner of 4th St.)
UPDATE as of 10/2/22:
With FIVE vendors - Klamath Siskiyou Native Seeds, Jackson County Master Gardeners, Klamath Native Plant Nursery, and White Oak Farm (new!) (replacing The Freshwater Trust), along with Pollinator Project Rogue Valley - there will be plenty of native plants for everyone and for every growing condition! See below for descriptions of each of the vendors.
NOTE: Due to a family emergency, Dry Earth Nursery will NOT be able to attend, but plans to be present again at our 2023 spring sale.
The preliminary lists of plants (subject to change) are available from each of the FIVE vendors here. Please review these lists, research and identify those plants that best fit your landscaping needs, and pre-select the ones you wish to purchase. We are expecting a crowd, as usual, and the vendors will be busy!
* Please expect the first hour or two to be VERY crowded!
* Parking is very limited at the sale site. You will find parking on Main Street, along neighborhood streets, and in the Umpqua Bank and Civic Center lots. Be prepared to walk a block or two
*Vendors are not able to accept payments for other vendors - please pay for plants in the space they are in.
* Not all vendors take credit cards. If paying in cash, small bills are always appreciated.
* If possible, please bring boxes, bins, baskets, or other containers to carry your plants.
* Restroom facilities will not be available.
* Helpful volunteers will be available to help with plant selection and to load out large purchases.
* Vehicles will be able to access the area for pick up after purchase, but bringing a cart to transport your purchases back to your car is a good idea.
* Pollinator Project Rogue Valley will have merchandise for sale (native plant books, bumble bee books, yard signs) and donations are always appreciated!
Klamath-Siskiyou Native Seeds (KSNS) provides native seeds and plants from locally collected native plant seeds within the Klamath-Siskiyou region of northwest California and southwest Oregon. Offering a wide variety of species from various habitat types throughout the region, KSNS helps you increase native plants and pollinators on your land and in your garden. KSNS will have a wide selection of potted native plants ready for fall planting! Or shop for native seeds online at https://klamathsiskiyouseeds.com/shop/. KSNS seed packets are shipped to you via USPS from our off-grid homestead at the headwaters of the Applegate River. Happy fall planting for the pollinators!
Jackson County Master Gardeners Association is affiliated with Oregon Master Gardeners Association through Oregon State University Extension Service. The organization's mission is to learn, practice and teach the art and science of gardening in the Rogue Valley. This Association is organized exclusively for charitable, educational and scientific purposes. In keeping with the Master Gardeners' sustainability goals, JCMGA maintains a native plant nursery on the SOREC campus in Central Point, and teaches classes about the importance of growing native plants in local landscapes to improve biodiversity.
Klamath Native Plant Nursery, located in Ashland, grows a small number of native plant species, offering ferns propagated from spore and drought-tolerant shrubs and trees.
White Oak Farm & Education Center, is a small, non-profit farm-based nursery and education center dedicated to cultivating connections between people and their local ecosystems by pursuing community food security, fostering agricultural and ecological diversity, and teaching the arts of sustainable living.
Pollinator Project Rogue Valley is a volunteer-led Oregon-registered 501(c)(3) nonprofit concerned about the health of our native pollinators and plant communities. We inspire, engage, and educate about the ecological importance of wild pollinator species and the diverse native plant communities essential for their survival. We are committed to the creation and restoration of pesticide-free pollinator corridors throughout the Rogue Valley. We believe everyone can make a difference in 'saving the bees' - simply by planting a native plant pollinator garden!