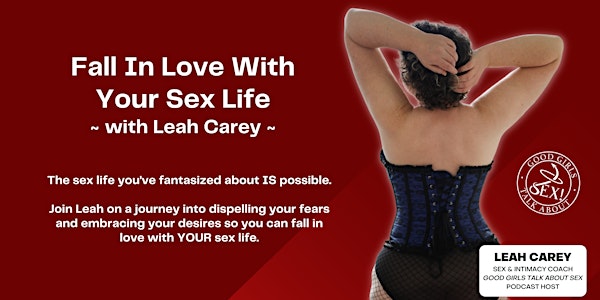 Fall in love with your sex life in 2023 – The Spring Series
All the sex education you DIDN'T get in school!
Refund Policy
Contact the organizer to request a refund.
Eventbrite's fee is nonrefundable.
About this event
91 days 2 hours

Mobile eTicket
Welcome to the sex education you didn't get in school!
The topics for the Spring Series are:
March 26 - Tune in to your turn-ons: What do you actually want?
April 23 - I've never talked to my partner about sex: Starting the conversation
May 28 - We're all from the same planet: Mars & Venus are bullshit
June 25 - Kink 201 BY POPULAR DEMAND!
All classes are at 5 pm Pacific / 8 pm Eastern.
Each class is 90 minutes, plus up to 30 minutes for Q&A.
Registration gets you entry into the live class, plus a replay. You're welcome to send questions in advance if you know you can't be there, and I'll make sure to answer them on the recording.
If you're feeling turned on by the very idea of having these conversations in a safe, supportive, non-judgmental space – register right now while you're still juiced! It's so easy to let your sex life take last priority, so flip the script RIGHT NOW, while you're feeling the energy. Make sex a priority.
Class descriptions
March 26 - Tune in to your turn-ons: What do you actually want?
Have you ever frozen when a sex partner asks, "What do you like?" You're not alone. It can be an intimidating question if you've never taken time to think about what your turn-ons are. You'll leave this class with exercises to help you clear the fog, plus ideas about how and where the keys to your turn-ons might live.
In this class we'll talk about:
Why it can be so difficult to recognize what your turn-ons are,
What we think turn-ons are vs. what they actually are,
What needs to be in place to get in the mood, and
Ways to discover your turn-ons.
This will be great for you if:
Your struggle to understand what you want;
You want to help your partner explore their turn-ons without putting pressure on them;
You want to help destroy the patriarchal myth that women don't really like sex!
April 23 - I've never talked to my partner about sex: Starting the conversation
Have you ever heard someone say, "I wouldn't have to tell them what I wanted if they really loved me!" It's an odd concept from the same well as "happily ever after" and princes waking princesses with a kiss.
No one is a mind reader. You will have better sexual experiences if you are able to express what you want to your partner. This class naturally builds on the March class by learning how to talk about the turn-ons you better understand now.
In this class we'll talk about:
Why it feels so awkward (even dangerous!) to talk with a partner about sex,
Ways to calm your nervous system so it feels less terrifying,
How to approach a conversation about sex with your partner, and
Specific things you can say to help your partner stay excited and engaged.
This will be great for you if:
The idea of talking to your partner about sex is paralyzing;
You try to talk with your partner about sex but the conversations aren't productive;
You want to break down the patriarchal myth that talking about sex is for losers.
May 28 - Mars & Venus are bullshit : We're all from the same planet
We've been told for so long that men and women are from different planets that many people assume it must be true. The problem is that when you think someone is from a different species, you stop trying to communicate with them because you assume it's pointless.
The mythology about Mars and Venus is deeply ingrained, and it's also deeply harmful. So let's pull back the curtain and look at how gender expectations influence our interactions with the world, rather than gender itself.
In this class we'll talk about:
How gender expectations fuck ALL of us up,
The harmful lessons we learned as kids that show up later in our adult bedrooms, and
Ways to bridge the fictitious Mars-Venus divide.
This will be great for you if:
You're from Mars;
You're from Venus;
You just want to go home.
June 25 - Tie Me, Spank Me, Talk Dirty To Me PART 2
In February, we talked about the basics of kink. If you're ready to dip a little further into things like safety, psychology, and the best ways to make sure everyone is having fun, this is the evening for you!
We'll take a deeper look at the foundational aspects of kink including:
consent conversation,
boundaries,
safe words, and
ensuring everyone is enjoying themselves ... even when the game doesn't look fun at all.
This will be great for you if:
you're excited to explore kinky activities with your partner and want to do it safely,
you're considering how to turn your interests into reality, and
you want to help destigmatize the kink community by busting myths with reliable information.
If you missed Part 1 of this class, you can find it here: https://courses.leahcarey.com/courses/tiemespankme
How much does it cost?
Individual sessions: $30
The Spring series: $99
Entire series: $330
There are a limited number of partial scholarships available. Please contact Leah by clicking "Contact" at the bottom of this page to inquire.
If you purchase a ticket to an individual class and decide later to upgrade to one of the bundles, get in touch with me and I'll apply your original purchase price to the bundle.
Tickets for summer and fall classes will go on sale in June or July.
Are these classes for me?
This series is for individuals or couples and is open to all genders, sexualities, etc. You must be at least 18 years of age to attend. You do not need to have a partner or any experience to attend the class.
Bring an open mind and all the questions you haven't had anywhere else to ask!
This is for you if:
you're over 18
you're longing for more satisfaction in your current sex life
you're seeking new adventures with your current partner
you're single and yearning for confidence with potential partners
you're comfortable with conversations that include reference to a variety of sexualities, genders, and relationship structures
This is NOT for you if:
you're hoping to get a lot of one-on-one attention focusing on your particular situation; there will be plenty of time for us to interact, but this is not the place to get private coaching
you're seeking instruction on specific sexual activities – I'm happy to refer you to trusted colleagues who offer these services
Want to see what a class with me is like? Here's a clip from the February 2023 class Why has my libido tanked and what can I do?
I want to attend but I'm not available on Sundays
After each lecture, anyone who has purchased a ticket will have access to an online recording of the session.
FACILITATOR:
Leah Carey is a Sex and Intimacy coach and host of the podcast Good Girls Talk About Sex.
She works with people eager to explore new avenues of their sexuality and fulfill their greatest desires, like: diving back into the dating pool after a long time away, having first-time queer experiences, investigating consensual non-monogamy, or learning how to communicate about kink.
Leah's superpower is radical empathy. When you work with her, she reflects your true sexual nature back to you without judgment, so you can see yourself without shame.
Find her at www.leahcarey.com and @GoodGirlsTalk on social media.
Feedback from clients
"Leah is an AMAZING coach. She was so patient with me. Warm and gentle while guiding me toward a better path. She answered my questions with kindness and expertise. I HIGHLY recommend Leah!!"
"Leah made me feel supported and safe to share my deepest thoughts, fears, and questions around sex. I didn't realize how much I'd been keeping things to myself."
"I have worked with therapists on and off for decades and I feel like I've gotten more out of working with Leah for one month than I have in most of my therapy combined. I'm so grateful!"
"Working with Leah has not only helped my understanding of how I show up to sexual and romantic relationships, but even with platonic relationships and my relationship with myself."
"Learning to communicate well about such intimate things as desire and consent have changed my life and the way I interact with my partner and the broader world."
"Leah's mixture of gentle accountability, curiosity, nonjudgment, and ability to hold space is remarkable. I feel safe, seen, understood, validated, and celebrated in her care."
"You will (finally!) get to talk about and explore your sexual desires, your proclivities, your blind spots and your most intimate sexual needs with someone who is fully present, non-judgmental and deeply wise."