JOHANNESBURG, SOUTH AFRICA
1-3 DEC 2017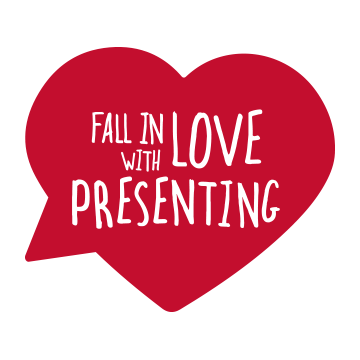 WHEN YOU THINK ABOUT PRESENTING…
Is it your worst nightmare? (or do you get by but you know you're not as effective as you can be?)

Do you freeze up, get sweaty palms or become nervous, anxious and stressed even just thinking about it?

Do you feel put 'on the spot', awkward, insecure, and uncomfortable?

Do you sometimes go blank, or forget your words?

Do you dislike or even hate it, but you have to do it (e.g. for work) or you'd like to enjoy it to get your message out there?
Even if you have important information to share, your audience can't 'get' your message unless you communicate it well and with heart; at best, they'll be politely disinterested; at worst, they'll be bored out of their minds, and forget about you and your presentation as quickly as you can say 'Phew I'm glad that's over!'
Imagine if you could became really good at presenting ... and then fall in love with it; now that would change things quite a bit, don't you think?
"I used to panic, go bright red in my neck and be nauseous from the fear of presenting. I would rewrite my presentations over and over (and over!) again and try to memorise it word for word - only to freeze up and forget most of it. Now I've presented at over 150 events in 15 countries, am regarded as a leader in my field, and absolutely love what I do."  Bennie Naude, International Master Trainer
Imagine…
knowing exactly how to structure any presentation.

feeling confident about presenting.

receiving great feedback from your audience.

how relieved and proud you'd be when you get your message across effectively – enjoying every minute of it.
Imagine falling in love with presenting … truly finding your voice ... and loving it!
This 3-day intensive experience will teach you how to...
get your message across effectively

overcome your fear, anxiety & nervousness about presenting

structure any presentation quickly to cater for all learning styles

truly connect with your audience

feel great about presenting in your own unique way

and more
Event hours

Fri 1 Dec '17:  9am - 9pm (approx)

Sat 2 Dec '17:  9am - 9pm (approx)
Sun 3 Dec '17:  9am - 5pm
Click here for more details, free videos, a preview of the course workbook and payment plans.