CAPE TOWN
18-20 MAY 2018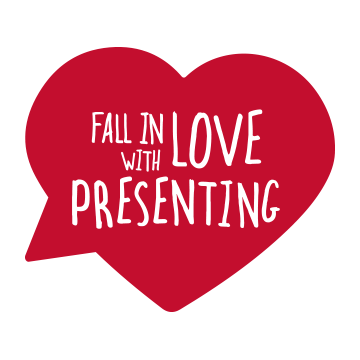 FALL IN LOVE WITH PRESENTING (#FILWP)
Find your voice.
Get noticed for the right reasons.
Share your message in a way that works.
*** THE TRUTH OF IT ***
If your message isn't communicated well, it can't be received well.

Even if you have something important or interesting to share, your audience can't 'get' it unless you communicate it in a way that lands well. At best, they'll be disinterested; at worst, bored out of their minds and forget you and your presentation before they even leave the room.

One of the things that make great leaders great is their ability to communicate well.  To get ahead in business or in a career you have to be noticed for the right reasons, and one of the best ways to do that is to do brilliant presentations.  When people remember your presentations, they remember you.   
*** COMMON ISSUES WITH PRESENTING ***

If you're like most people, presenting pushes your buttons big time and you:
get anxious even when you just think about it
don't know how to put it all together
feel put 'on the spot', awkward, insecure, uncomfortable, or freak out completely!
forget your words, get sweaty palms, freeze up, stutter or blush
If you're in the fortunate minority that already enjoy presenting, perhaps you're thinking that it's time to take your skills to the next level.

Either way, there are two areas that need addressing:
resolving the unpleasant (or paralysing) emotions that prevent you from enjoying it and being more relaxed and spontaneous
finding out exactly what to do and how to do it
*** THE PROBLEM ***

The problem is that you cannot just 'get over' your fear of public speaking because it resides in a different part of your brain. This part is called the limbic brain, and it does not respond to being told to 'calm down' or that 'everything will be OK'.

That's why forcing yourself to 'get out there' to conquer your fear of public speaking is usually a very bad idea:

Firstly, you won't overcome anything by repeatedly re-traumatising yourself - and your audience!

Secondly, when you get anxious, the part of your brain that you need the most to present well, shuts down; now you're even more likely to freeze up, forget your words and feel terrible afterwards.

And thirdly, as you already know, practice does not make perfect; it just makes permanent.


*** THE #FILWP COURSE TEACHES YOU HOW TO ***
overcome your fear, anxiety and nervousness of public speaking
exactly what to do to get your message across effectively
how to put together any presentation in a way that it's easy for you to remember and interesting for your audience
how to present in a way that's natural, spontaneous and inspiring
how to connect with your audience before you even open your mouth and engage them in ways that are easy, fun, and works
get to feel good about yourself presenting, however inexperienced or nervous you are
learn how to avoid the biggest mistake most presenters make and be remembered as a speaker for all the right reasons
*** WHAT'S IN THE MANUAL ***
Getting clear on your WHY (and understanding why without it you might as well stay home)
11 keys to presentation mastery – identify your strengths & areas for growth
Releasing your fear of public speaking from your limbic brain
How to prepare yourself and the venue
Where and how to position yourself, what to do and what to say
How to introduce yourself in a way that builds rapport and connection
Engaging your audience: why it's disastrous when you don't and how it changes everything when you do
3 steps to welcoming your audience towards your best presentations ever
3 ways to enroll your audience in a way that meets them where they are and takes them with you, every step of the way
4 simple steps to structure any presentation which, with practice, allows you to structure any presentation for any duration
The 10 BS (nonsense) rules about answering questions
The single most important thing to understand to get out there presenting to build your business, your brand, your career or your reputation

*** YES IT IS A LOT ***

If it seems like a lot, it is.

That's why FILWP runs over 3 days, and why the days are full.

Day 1 is from 9am - 9pm.
Day 2 is from 9am - 9pm.
Day 3 is from 9am - 5pm.

Then there are the additional (optional) early morning bonus sessions.

This means that that you get to practice your new skills, step-by-step, one step at a time, in a safe environment.

*** WHAT MAKES FALL IN LOVE WITH PRESENTING DIFFERENT ***
It's a brilliantly designed and non-threatening course; it's no boot-camp, you're never put 'on the spot' or forced to do something that you're not ready for; you'll be treated with respect, kindness and patience every step of the way
You can apply your new skills immediately to any presentation, whether you are an entrepreneur or corporate
It offers a safe place to practice; you will only be given skillful feedback
You get to draw on my extensive experience of presenting at over 200 events in 15 countries over almost 20 years
It's a fun, lively, interactive, relaxed and empowering environment where you get to feel GOOD about yourself
Discover what's really behind your fear of public speaking (it's likely not what you think), and shift it the only way you can, by releasing it rather than try to 'cope' with or 'manage' it
*** FOLLOW-UP SUPPORT ***
Free access to an online support group and a community of like-minded people also on the journey to be top-presenters
Free access to '#FILWP Graduate' content: download the latest version of the course workbook any time, free support/mentoring calls and more
#FILWP GETREAL: A personal and up-close on-line experience that focuses on you, your dreams, your blocks ('stuff') and your presentations

*** WHAT TO DO NOW ***

Decide if you want just another run of the mill course or if you're ready to commit to something to actually make a long-lasting difference. Scroll down to book your place.