Fall Harvest Festival at Tradition Square
About this event
Fall Harvest Festival at Tradition Square
FREE Admission! FREE Parking!
An event that you're going to love. Grab your family, and join us!
We will provide an evening of fantastic shopping from local shops, educational resources, giveaways and swag, food and drinks, all while connecting business, family, and friends with our local community.
Over 60 booths of art & craft inspiration and creativity by exhibitors from all Treasure Coast!
Handmade, one-of-a-kind Christmas and holiday gifts! -Paintings, Contemporary & Wood Art, Handmade Clothing, Handmade Soaps, Handmade Jewelry, Metal Art, Shell Art, Handmade Home Decor, Baked Goods, Handmade Candles, Glass Art, just to name a few! Expect the unexpected at the Fall Harvest Festival at Tradition Square! and prepare to be inspired!
Live Music, Kids Zone, Food, Adult Beverages a lot of Fun!!!
Evening Event, Saturday 20th, 2:00 pm to 8:00 pm
All of Our Events are Rain or Shine and we do not offer refunds due to weather inclement.
****There is a one time, a non-refundable charge of (NO exceptions)
****Due Date: All fees must be paid by November 10, 2021, to secure your space. Vendor's applications will be accepted on a first come - first serve basis.
All available spaces have great visibility and great location.
Requirements to become a food vendor at the Fall Harvest Fest. at Tradition Square. are easy;
* Proof of License and Insurance* Please email a copy to localbusinessexpo@gmail.com
Events 4 All Corp. is seeking vendors for our 2nd CHRISTMAS HOLIDAY BAZAAR!
If you are interested or know someone that may be interested, please email LocalBusinessExpo@gmail.com for more information, vendor application, and fees.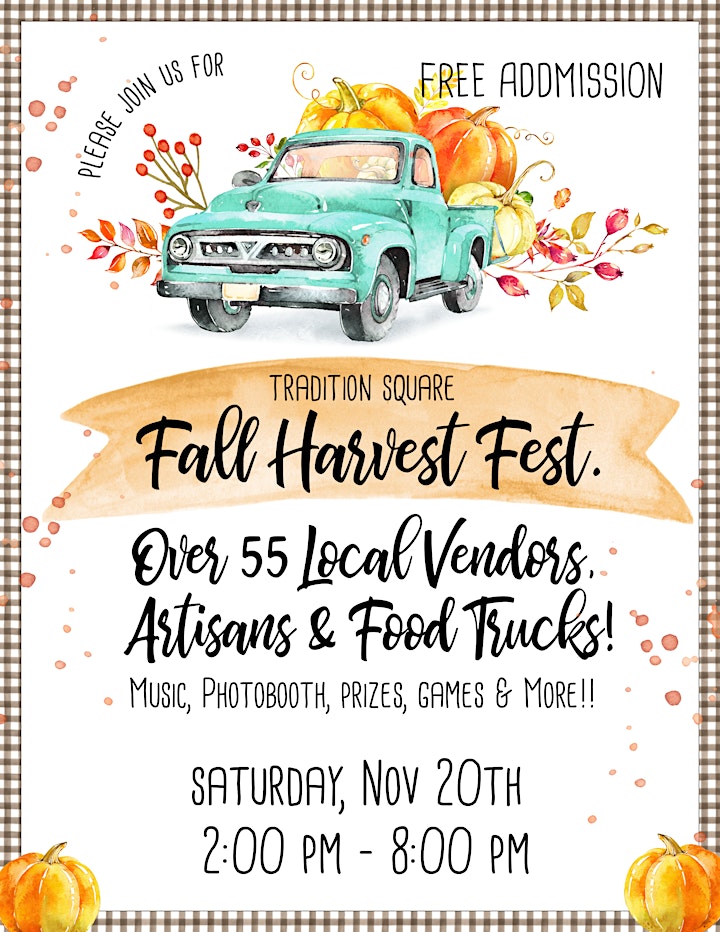 Organizer of FALL HARVEST FEST. at Tradition Square