Description
Join us for our Fall Garden Party at San Francisco's beautiful
Garden for the Environment!
Saturday, September 10th, 4:00pm - 7:00pm
7th Avenue & Lawton Street
This family friendly event will feature
* live bluegrass performed by Nate Jones & the Sloe Sippers
* heirloom apple tasting from our urban orchard
* our cobb oven pizzas made from garden-grown ingredients
* BBQ
* beer tasting from 4 local breweries
* farm stand
Can't attend the event but still want to support the work we do? Make a donation today!
Special thank you to our participating breweries: Social Kitchen & Brewery, Fort Point Beer Company, Fieldwork Brewing Company and Berryessa Brewing Company!
----
Garden for the Environment is San Francisco's garden school, training the next generation of environmental advocates since 1990. We are a 1/2 acre oasis of sustainable gardening, featuring drought tolerant garden design, an urban orchard, and thousands of beautiful plants. Each year, we teach low-cost weekend workshops to the public, train 25 local urban agriculture advocates, and get bring over 900 city kids outside to our urban garden.

We have big plans for the future and need your help! With your support we can rebuild our greenhouse to catch over 3,000 gallons of rainwater each year, expand our educational offerings so that everyone who wants to learn to garden can, and maintain our thousands of plants and over 50 fruit trees.
This is also the 20th anniversary of our renowned Get Up! garden training program. Just about every urban agriculture project in San Francisco was founded (or is currently managed) by a graduate of this program. Learn more here!
----
Thank you to our local supporters!
We love the companies that support urban agriculture and gardening in San Francisco.
Absinthe Brasserie & Bar and Boxing Room, Arizmendi Bakery, Berryess Brewing Company, Bi Rite Market, Cole Hardware, Commonwealth Restaurant, The SF Department of the Environment, Fieldwork Brewing Company, Flowercraft, Flora Grubb Gardens, Fort Point Beer Company, Garden Root Company, Goodscapes, Guerra Quality Meats, Janet Moyer Landscaping, Kaiser Permanente, Lyngso Garden Materials, Nopalito Restaurant, The San Francsico Parks Alliance, The SF Public Utilities Commission, Social Brewery, Sloat Garden Center, The Urban Farmer Store, Whole Foods Market
Are you a local business that wants to support the work we do? Contact us!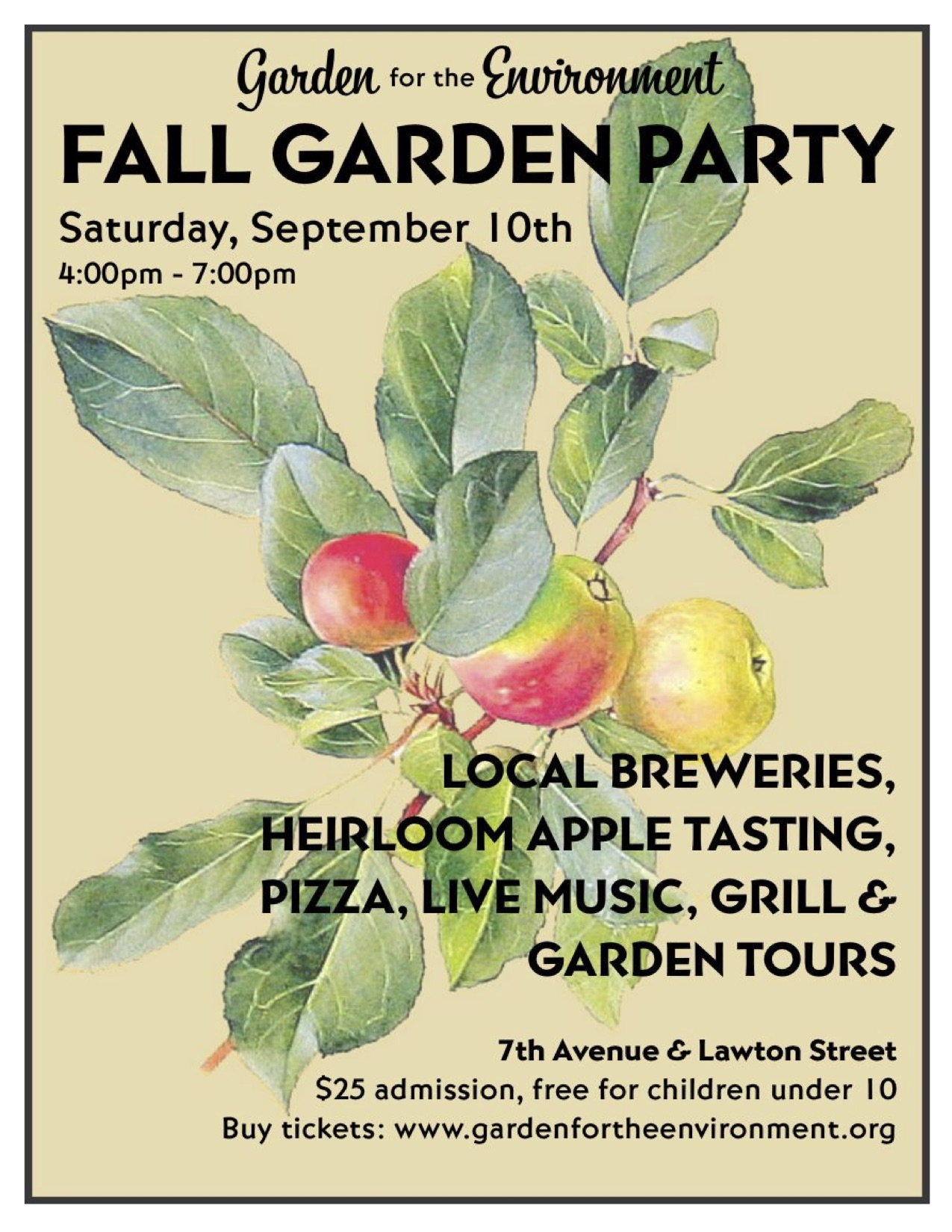 Thank you so much to the talented McKenzie Phelan for designing a beautiful poster for this event!