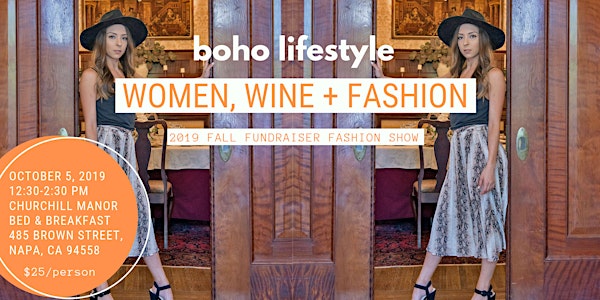 Fall Fundraiser Fashion Show by Boho Lifestyle
Description
History with a modern twist! We invite you to an afternoon Fashion Show at one of Napa's most prestigious estate homes, Churchill Manor. It will be a beautiful day on the rose-lined lawn.
From casual day to sophisticated night looks, members of Napa's community will strut their stuff, showcasing the latest trends. This is a chance to play dress up. Guests may want to sport a hat, shades and maybe, a parasol for this afternoon of high society, sipping wine on the veranda.
Boho Lifestyle loves to support the wonderful community in which we live. This year we're raising funds for NEWS, an organization centered around healing and empowering survivors of domestic abuse.
Bring your daughters, bring your husbands, this is a time of Wine, Women, and Fashion!
Saturday, October 5, 2019
12:30-2:30 pm
Churchill Manor Bed & Breakfast
485 Brown Street, Napa, CA 94558
#fashionshow #fashion #napafashion #ChurchillManor #NEWS #boholifestyle #fashionshowfundraiser
DJ Santos
Wine poured by JAM Cellars and Old Bridge Cellars
Hair by Bloom Salon
Tickets $25 per person
Organizer of Fall Fundraiser Fashion Show by Boho Lifestyle
The events for ZERO Prostate Cancer Napa Valley are hosted by Daughters 4 Dads. These sisters lost their Dad in 2014 on Father's Day at the age of 61 to prostate cancer. Daughters 4 Dads and a committee of passionate volunteers have made it a personal mission to fight against this disease. Since 2014, the Napa run/walk has given over $100,000 to our local community. ZERO provides the run/walk series nationwide, education and patient support programs and grassroots advocacy with a goal to END prostate cancer.
CM Destinations is a Napa-based company that does event planning and consulting. The founder, Christine McMillan has been involved in the planning of the race since 2013. Her family has been affected by prostate cancer from her husband and his family to her mother and father's families. She lost her grandfather, David T. Henderson in 1997 to the disease. She continues to help raise money for research so that her son will have an advantage over the disease.