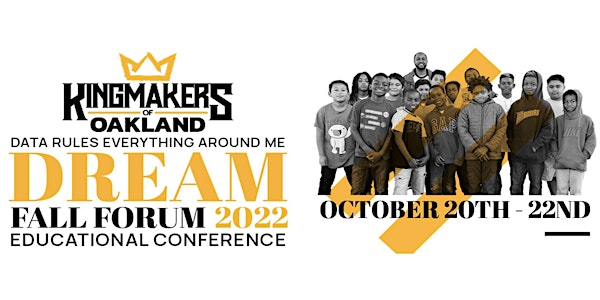 FALL FORUM 2022: DREAM - DATA RULES EVERYTHING AROUND ME
A 3-DAY CONFERENCE TO LEARN DATA-DRIVEN STRATEGIES THAT ENGAGE, ENCOURAGE & EMPOWER BLACK YOUTH. In-Person & Virtual Ticket Options.
When and where
Location
Executive Inn & Suites 1755 Embarcadero Oakland, CA 94606
About this event
Kingmakers of Oakland's Annual
FALL FORUM 2022: DATA RULES EVERYTHING AROUND ME
JOIN US FOR THE EDUCATION CONFERENCE OF THE YEAR!
A 3-DAY CONFERENCE TO LEARN DATA-DRIVEN STRATEGIES THAT ENGAGE, ENCOURAGE & EMPOWER BLACK YOUTH & FAMILIES
We have 50 spots for in-person attendance and unlimited space for virtual attendees.
OCTOBER 20TH (Thursday) 9:00 am - 4:00 pm PT + Evening Reception at Everett and Jones BBQ
OCTOBER 21ST (Friday) 9:00 am - 4:00 pm PT
OCTOBER 22ND (Saturday) from 9AM - 3PM PST - Oakland High School, Oakland, CA. Observe our 'Kings in the Making' Youth Conference. All In Person Attendees will automatically be registered for this event. (Please see link below to register students for this free event!)
Speakers and workshops will include:
A CEO fireside chat Ethan Ashley, New Orleans Parish School Board Member and Co-Founder & Partner with School Board Partners.
Virtual classroom visits of our Manhood Development Program classes, lead by Master Teachers Baayan Bakari and Sean Foster.
Plenary panel led by Dr. Rachelle Rogers-Ard, featuring a group of powerful women in the movement who are leading similar efforts within districts across the country, including Dr. Mia Williams, Assistant Superintendent of Seattle Public Schools.
Black Teacher Recruitment and Retaining panel discussion with industry leaders including Michael Simmons and Tristan Wiley.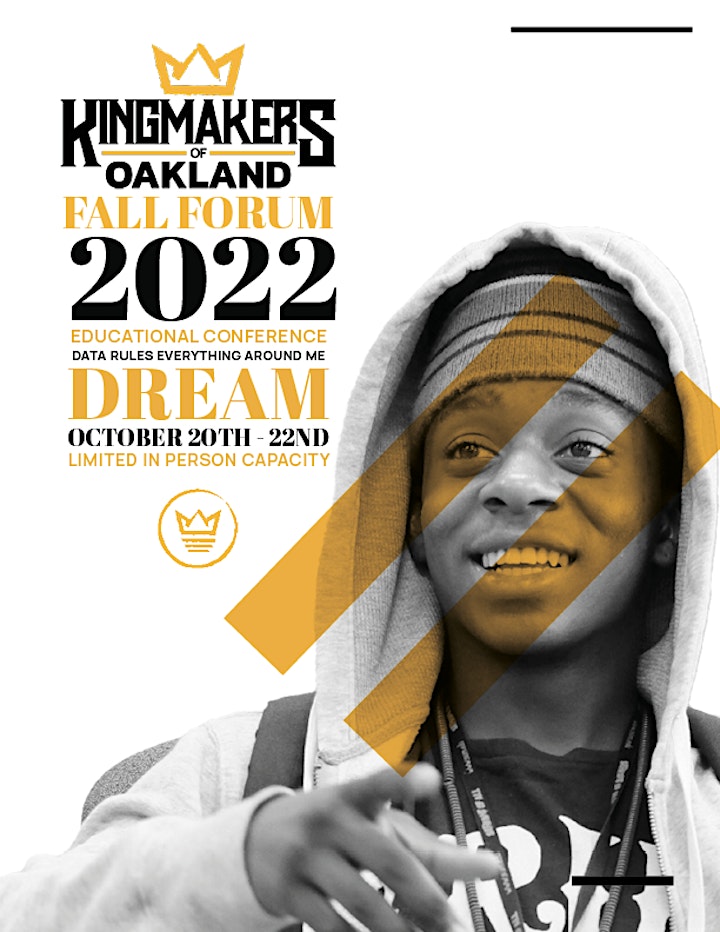 Teachers, Principals, Superintendents, Parents and Community members this dynamic learning event is for you!
We invite you to join us October 20th through the 22nd for our annual Fall Forum Conference. This year our theme - Data Rules Everything Around Me (DREAM) - highlights the value, utility and strategies to lead and transform systems with the data to consistently improve the academic and life outcomes for all Black students.
At this 3-day conference you will advance your leadership skills, strategies, tools and relationships to be more effective in your practice. You will finish refreshed, inspired and motivated by connecting to other professionals who have your back and want you and your students to succeed.
Kingmakers of Oakland and district leaders share best practices and proven strategies that you can incorporate directly in your practice to create thriving ecosystems of teaching and learning. You will also have opportunities to build with and learn from like-minded educators who work to cultivate an effective learning environment to educate Black youth.
DON'T MISS IT!
REGISTER TODAY! EARLY BIRD DISCOUNT AVAILABLE UNTIL OCTOBER 14, 2022.
In Person and Virtual Tickets available.
Registration closes Thursday October 20th at noon. Register now for the early bird discount.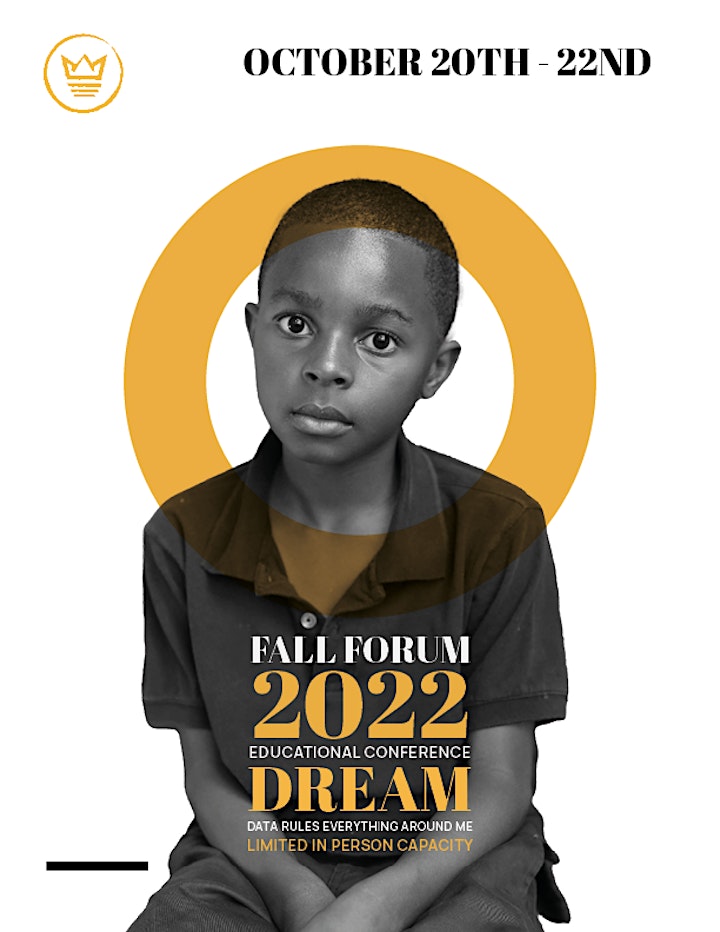 Payment Information:
Credit Card / Online Payment
The quickest and easiest way to pay your registration and secure your spot is by credit card right here on Eventbrite!
Check / Invoice Payments
If you need to pay by check, invoice, or purchase order, please email info@kingmakersofoakland.org and request a Check Registration Form and we'll return an invoice to you. All checks should be made payable to Kingmakers of Oakland,, 745 Arimo Ave, Oakland, CA 94610.
Refunds are not avaialble for any ticket types or payment methods.
Multiple Attendees/Registering On Behalf of Someone:
If purchasing multiple registrations or registering on behalf of someone else, you will be prompted to enter names and emails for each attendee.
It is critical that you include the actual attendee's email as this is how they will access the online content.
If your school district regularly blocks emails, we highly suggest using a personal email i.e. Gmail.
Again, each attendee's actual email address needs to be entered during registration or they will not be able to access the online conference.
*Please Note*
All checks should be made payable to Kingmakers of Oakland.
Registration is not complete and your space is not reserved until we receive full payment.
*TICKET PURCHASE IS NON REFUNDABLE *
Contact Information:
Kingmakers of Oakland at info@kingmakersofoakland.org