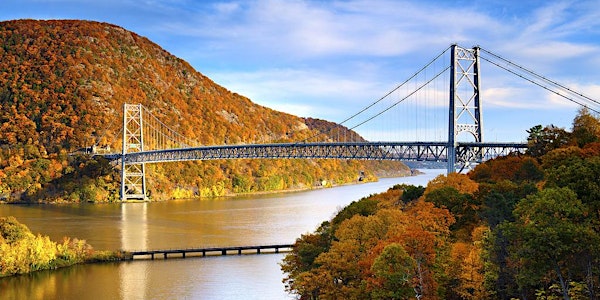 Fall Foliage Hiking Bear Mountain & Oktoberfest - 10/09/2022 Sunday
Bear Mountain State Park is situated in rugged mountains rising from the west bank of the Hudson River.
When and where
Location
Bear Mountain Administration Building Seven Lakes Drive Tomkins Cove, NY 10986
About this event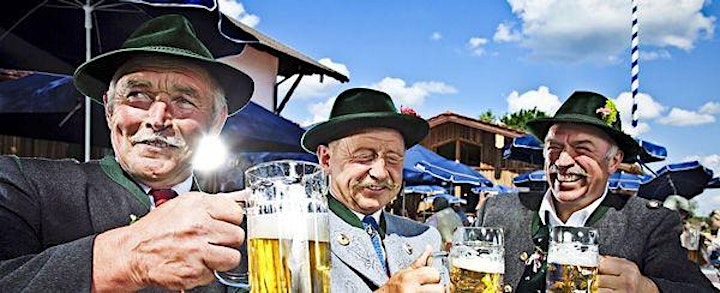 HIKING AT BEAR MOUNTAIN
Bear Mountain State Park is situated in rugged mountains rising from the west bank of the Hudson River. The park features a large play field, shaded picnic groves, lake and river fishing access, a swimming pool, Trailside Museums and Zoo, hiking, biking and cross-country ski trails. The Perkins Memorial Tower atop Bear Mountain affords spectacular views of the park, the Hudson Highlands and Harriman State Park. See more at:  https://parks.ny.gov/parks/13/details.aspx
Bear Mountain: Loop Difficulty: 3 (Moderate) Round trip: 3.4 miles Total climb: 1200 feet Internet Maps: GPSies
Park in any of the parking lots at the Bear Mountain Inn off Route 9W. The two trails that allow access to Bear Mountain are the Appalachian Trail and the Major Welch Trail. Anyone not familiar with the area will probably miss the point at which the Major Welch Trail leaves the paved loop around Hessian Lake. I recommend taking the Appalachian Trail up the mountain the first time and using the Major Welch to return. Head for the outdoor ice skating rink. As you walk from the rink to Hessian Lake, a paved trail leads up a hill. This was the access road to the old ski jump which has not been used for MANY years. Follow the white blazes of the Appalachian Trail as it winds its way up the mountain. In some spots there are some bare rock faces to climb up at angles over 40 degrees. Some people go around while others go right up the rock. 
See more at http://www.catskillhiker.net/Trails/trails_harri.shtml
After the hike, we will have food and attend the Oktoberfest at Bear Mountain.
GERMAN FOOD AND BEER, ENTERTAINMENT, CRAFT VENDORS AND MUCH MORE ...
Note: Oktoberfest will take place at Anthony Wayne Recreation Area this year.
Octoberfest Site: https://visitbearmountain.com/special-events/oktoberfest/
ACTIVITIES
Improvements for this year's festival! * Cash and credit accepted at all food and beverage stations * 4 party wagons with 16 taps each * More bartenders at each wagon * Additional mobile food carts * Expanded buffet lines
Live Music Schedule: 10/09 – Spitzbuam 12:30pm – 5:30pm
Depart Date: Shown above; Please arrive 15 minutes earlier.
Depart 9:00 AM from Midtown NYC: (ViVi Bubble Tea/formerly Fresh 2 Go) Northwest corner of West 43rd St. & 9th Ave, New York, NY 10036 (Map) Subway lines (Times Sq-42 St): A, C, E, 1, 2, 3, 7, N, Q, R, S.
Return: Departs at 3:30 PM & get back Midtown NYC around 5:00 PM.
Cost: $59
Trip includes: Bear Mountain hiking, admission to Oktoberfest, tolls, parking fees for both hiking & Oktoberfest, & round trip transportation from midtown NYC.
Buy Ticket Here: https://oct092022hikingbearmtn.eventbrite.com/ Your spot is not confirmed until your payment is received.
Group Size: 3 to 15
Refund Policy:* Full refund minus $15 processing fee if cancelled 2 weeks in advance;* Afterward, no refund for cancellation or no show; however, you can transfer your spot to other with $15 transfer fee.
Pictures from the previous trips: 2014: http://www.meetup.com/NYCAYS/photos/25205122/ 2015: https://www.meetup.com/NYCAYS/photos/26474370/ 2019: https://www.meetup.com/nycays/photos/30443705/
* Mask is required when transporting in the trip vehicle.
By RSVPing "Yes", you and your guest(s) are accepting the terms to the Waiver & Release of Liability set forth by NYC Active Young Singles.