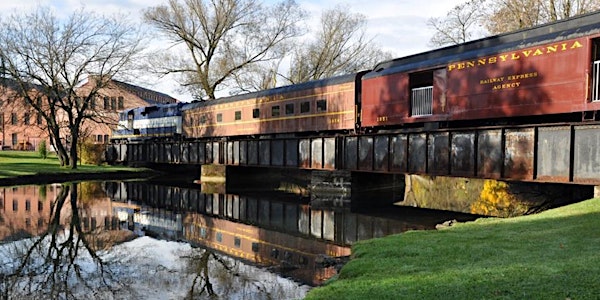 Fall Foliage and Halloween Train Rides October 19-21, 2018
Event Information
Location
Bellefonte Train Station
320 West High Street
Bellefonte, PA 16823
Refund policy
Refunds up to 7 days before event
Description
The Bellefonte Historical Railroad Society will be once again hosting our annual Halloween-themed and Fall Foliage train rides the weekend of October 19-21, 2018. Please read this entire description, as many of your question are answered below.
Please read our Frequently Asked Questions before ordering tickets.

The date you may see in various places is the start of the entire weekend of events. Please pay attention to the specific ticket type to know what ride your are purchasing tickets for, or have purchased tickets for. Once a ride is sold out we simply cannot exchange tickets.

There is no waiting list. Tickets are first-come first-served. Each ride has a fixed capacity. If tickets become available, they are immediately available for purchase again.

There is no reserved seating. We will do our best to seat your group together provided you all board together.

All tickets are round-trip departing from the Train Station in Bellefonte, PA, located at 320 W. High Street, Bellefonte, PA 16823. Please refer to the map on our Contact Us page.

Boarding begins approximately 20 minutes prior to departure. Trains leave on time.

Children 2 years old and younger riding on an adult's lap ride free and may request a free lap ticket in the Station on the day of the ride if you would like a souvenir.

All passenger cars have a small RV-style restroom aboard, but we encourage you to use the facilities in Talleyrand Park before departure to make the most use of your time aboard the train.
Halloween Rides
These spooky rides are approximately 1 hour long. Candy is given out by characters on the train. Destination is the Fish Hatchery along Axemann Road. Costumes are highly encouraged.
Fall Foliage
NOTE: Due to the usage of the Lemont branch line for car storage, we will not be going to Lemont, PA this year. Instead, this trip has been replaced with an additional trip to Sayers Dam. We apologize for any disappointment.

All trips are round-trip! All trains board and depart from the Train Station in Bellefonte, travel to the destination, then return to the Train Station.

The Tyrone trip includes a 1-hour layover where you will have a chance to de-board and visit the Tyrone Area Historical Society's museum, expolore downtown Tyrone,

purchase snacks and baked goods, and observe freight and passenger trains on the Norfolk Southern mainline.

Due to the nature of railroading, ride times are only approximate and may be shorter or longer than advertised - please plan accordingly. Events and situations beyond our control may result in rides being cut short or substituted.
Location
Bellefonte Train Station
320 West High Street
Bellefonte, PA 16823
Refund policy
Refunds up to 7 days before event