Event Information
Location
Elmwood Stock Farm
Paris Rd.
Georgetown, KY 40324
Description
For seasonal eaters, CSA members and farmers-market shoppers, autumn's cooler weather ushers in a whole new range of vegetables and a whole new range of what's possible in the kitchen. Chef Ranada West-Riley, owner of Lexington Diner and Creative Table Kitchen and Catering, will prepare a one-of-a-kind farm-food tasting and discuss the many organic, fall flavors that you can find growing at Elmwood Stock Farm. The Fall Flavors in the Bluegrass event will include a walking tour of the organic vegetable crops growing in the field, as well as the greenhouse and high tunnels where we keep vegetables growing well into fall and throughout the winter, followed by a dinner and what's sure to be lively discussion at our picnic tables.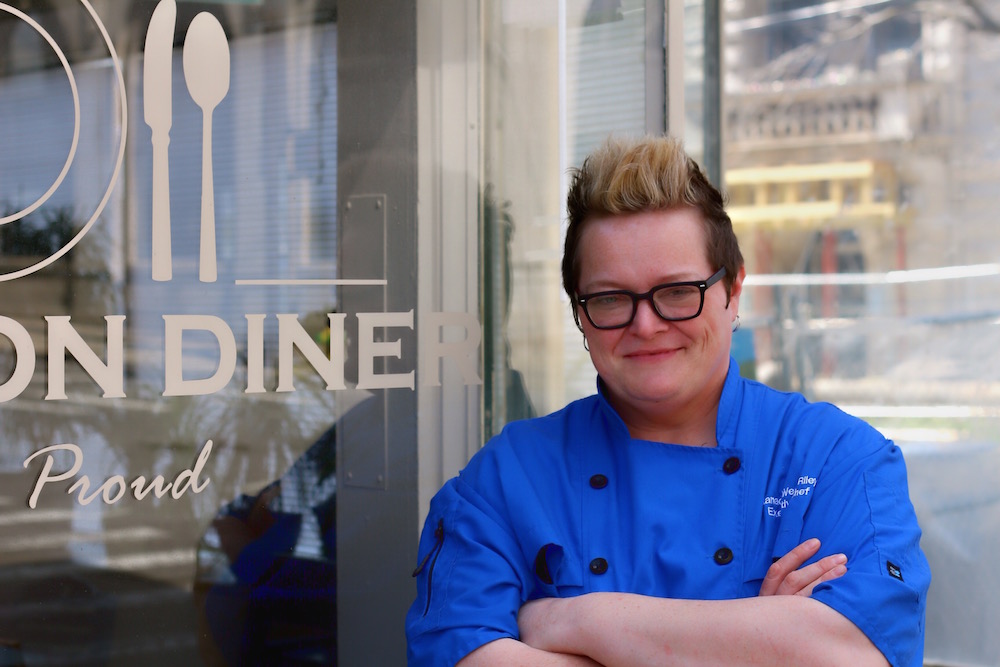 Ranada West-Riley opened Lexington Diner in early 2014, and since then, we have been wowed by her creative takes on traditional dishes, watched her on Guy's Grocery Games with Guy Fieri and Alton Brown's Cutthroat Kitchen, delighted in her Burger Week creations, and read about her successes in our local papers. Lexington Diner has won 7 awards in 2 years for its chef-driven and creative food. Creative Table is Ranada's catering kitchen where small, intimate dinners and pop-ups are also held during the month. They specialize in corporate catering and weddings. Ranada wasn't classically trained in a cooking school, rather her culinary career was prompted as a small child by her mother, Fern's, passion for cooking and unique foods. Through more than 20 years of professional cooking experience, Fern's recipes have remained stars in Ranada's lineup of dishes featuring local foods.
Root vegetables (such as beets, turnips and sweet potatoes), squash (like pumpkins, delicata, butternut and spaghetti), and greens (think kale, collards and Swiss chard) are all in abundant supply come late September. Guests will get to see these in the field and experience them in savory and sweet forms.
About Elmwood Stock Farm
Elmwood Stock Farm is a 6th-generation family farm that began as a producer of Black Angus breeding-stock cattle. The cattle are still an important part of the farm ecosystem and farm business, though over the past decade, the farm has branched out to produce a variety of organic vegetables, fruits, meats and eggs. Elmwood is committed to healthy and wholesome production of superior, high-quality, fresh farm products. Organic certification and close family involvement ensure that safe and sustainable farming practices are followed, livestock are well cared for, and land and water conservation remain a priority. Elmwood's produce, eggs and meats can be found at farmers markets, local restaurants and grocery stores, and through its CSA programs in Kentucky and Ohio.
About Fall Flavors in the Bluegrass
This event will be held rain or shine, except in the event of severe weather.
Please plan to arrive 10 minutes before the event start time so that the tour may begin at 6 pm.
To gain the full experience, wear comfortable shoes that you don't mind getting dirty, pants that allow you to kneel to examine the soil, protection from the sun (or rain), and clothing that will make you comfortable while sitting at the picnic tables for some discussion and the farm-food dinner. Please note that this is a working farm, so electric fences are on, children need to be supervised by the adults who brought them, and pets are not allowed.
Directions will be emailed to everyone who registers so that you can find the correct farm entrance and find the starting point for this event.
About Tickets
There is a limit to the number of guests we can host in this small-group setting, so preregistration is required.
A discount is offered to children under the age of 12 and Elmwood Stock Farm CSA members.
Date and Time
Location
Elmwood Stock Farm
Paris Rd.
Georgetown, KY 40324