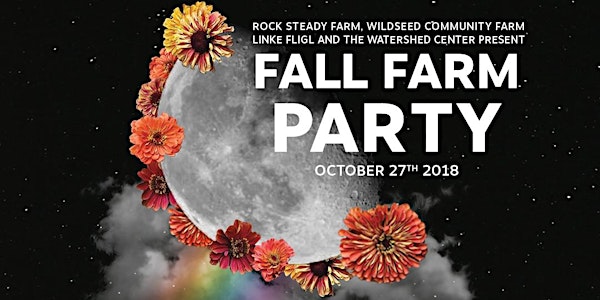 Fall Farm Party 2018
When and where
Location
Rock Steady Farm & Flowers 41 Kaye Road Millerton, NY 12546
Description
It is that time of year again! Our annual party is back! Join Rock Steady Farm, Wildseed Community Farm, Linke Fligl and The Watershed Center for a celebration of community, food, land and justice!
On Saturday, October 27th, local farmers and activists are coming together to celebrate the end of the growing season with friends, family, food, drink and music. Far more than a celebration, this is a vital fundraiser to support our work providing low cost and free nutritious food for our neighbors who cannot afford it. We are hoping that our friends and business partners will join us in supporting our community!
Please consider sponsoring our fall fundraiser at any of the following levels. If you choose to become a sponsor, you will receive recognition of your support of our community's health and well-being. Financial contributions to the event will be fully tax deductible.
If you would like to volunteer for the event, you can get a reduced rate ticket ($10). You can sign up and find more information here: https://docs.google.com/spreadsheets/d/1xL0RjCZ_ExTpW3YVMf1mW9_t1W966egiVB8njhIK12Q/edit#gid=0
3 - 5pm Hike: CANCELED! EVENT STARTS AT 5pm
5 - 8pm Food: The Watershed Center will be making a large amount of chili, salad and corn bread. Avocado Cafe is bringing tamales. There will be a taco truck the later half. AND apple crisp and icecream for 500!
5pm-11pm Music: We have a great lineup! We will have a mix of bluegrass, hiphop, spoken word, R&B and pop.
5pm- Cowboy Jim & The Juke Drifters
6:30pm - Compilation of short sets from My Gay Banjo, Farmystic, Aly Halpert & Buddah Da Great
7:45pm - Naima & Amani (from Katani) & Leah Penniman Book Reading
8:45pm - Truthworker Theater Company
9:20pm - Naima & Climbing PoeTree