Let's celebrate the Fall Equinox & the release of Debbie Nargi-Brown's new album!
About this event
Debbie will be singing selected tracks from her new album 2020 and she is hoping that you will be there to sing along! 2020 is a collection of 14 songs written during the pandemic and recorded, mixed and mastered by her husband Bill Brown who was diagnosed with a rare and terminal form of cancer in December of 2020. A deep bow of gratitude to Bill for this countless hours of work on the production of this album, the additional instruments he added and his help with crafting the songs.
When hope, courage, strength, and love was needed, these songs came through. Gratitude for the transformational power of music that helps sustain us even in the most challenging of times.
The ticket price includes a download of the 2020 album! You will receive an email within 48 hours of purchasing your ticket with the download that will be on Bandcamp. If you would prefer a CD mailed to you, email Debbie for details. Each CD has been individually hand painted and signed. She can be reached through her website: www. debbienargi-brown.com. A recording of the concert will be emailed to all those you have purchased a ticket to this event. There will be a limited amount of tickets available so get your tickets now so you can start listening to the new album!
You will receive an email with the Zoom meeting details when you purchase your ticket and the day of the concert. Log in early so that you don't have any issues accessing the event.
The Fall Equinox is a time to acknowledge both the darkness and the light, our grief and our joy! A time of harvest and a time to give thanks for all the blessings in our lives.
We are the darkness, we are the light, we are the darkness and the light. When we embrace both the darkness and the light, then we will know we are it all.
Here's what people are saying about the 2020 album:
This CD is the best medicine right now!! Ringing with hope and encouragement that we can make it through hard times, Debbie's songs never fail to capture the message and wisdom needed at the moment. She brings alive, through rhythmic harmonies and layers, prayers for the world and our own lives. These songs remind me that we can do it, that we are not alone, that life is beautiful and love will always see us through. This music is such a gift!
I am so grateful for the music that comes through Debbie. Something about the fullness of the sound of the recordings, makes it feel like Debbie is singing straight to me and surrounding me in love. She fills the room and the car!!! It's amazing!
We are so lucky that Debbie knows how to listen and catch these songs. Thank you for singing your service to the world!
These songs are so brilliant that I find myself waking up singing them! The positive affirmations get me ready to tackle the uncertainty of a new day with hope and strength.
Debbie's wild ride will carry you through all of life's ups and downs as the music comforts your soul and helps you breathe in and out with a little more ease. There is also a beautiful magic within the authenticity and vulnerability of the lyrics that connect us all. While listening (or singing along!), you feel wrapped in her love and inspired to move through the world with an extra dose of grace and courage in each step. Debbie and Bill's love and commitment shine through in this album as an everlasting gift to the world.
We are blessed to be sharing the planet with Debbie. Her prayers in the form of songs bring joy, comfort, depth and a light step into our lives. They transform what we might perceive as suffering into wisdom. We remember that we are held. It is so touching that Debbie and her husband Bill are birthing this gift at this time.
I am on my 4th listen of the album - when it finished, all I want to do is start again from the beginning. It is touching my heart so deeply. Here are a few thoughts that have been flowing around in heart and mind since my first listen-through yesterday. First of all I feel like this album rocks me. Nonono not like rock 'n roll (though I do rock out to I Can Do It!). Like I'm being rocked. That's the prevailing feeling for so much of it, and boy is it a welcome feeling. Also, I've been thinking about how your first CD is really so deeply engrained in me, and so the strength and power and "one Debbie voice + maybe a drum" is what I think of first when I think of you and song, and I love it so. And then with this one... what I am loving so much is that it has all that power and depth still, and then your voice(s) and the guitar - they soar, Debbie! You/the songs float up to this high-up lifted place but are still grounded in strength and depth. Oooof it's a powerful combo. And so these songs which maybe have more of grief in them are still soaring and floating up in this higher light/lifted place, and so the song can carry its depth while uplifting me at the same time, because of that quality of voice, melody, and music. I can feel it my heart, in the top of my head, and in my back body which just seems to open as I listen. And then the album will all of a suddenly offer up "Love No Matter What" and it just pierces my heart
I felt a welcome home hug as I listened to Debbie's latest CD, 2020. Her voice, guitar playing and background harmonies soared to new heights with state of the art mixing and recording by her husband, Bill. You can hear the labor of love in each and every song. She takes you through the Wild Ride of 2020. These Songs are filled with Debbie's glorious spirit as she brings us through the array of emotions we have all experienced. It is a blessing to be Together Again, surrounded by Debbie's heartwarming and uplifting voice. She was Born for this Moment and I am so thankful that she is sharing it all with us!
This is Debbie's best album yet!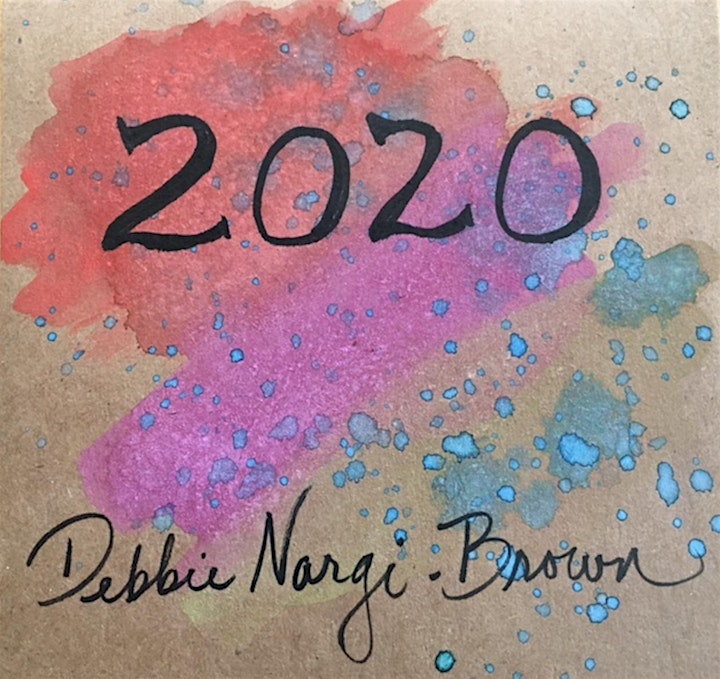 Date and time
Location
Refund policy
Organizer of Fall Equinox Album Release Concert & Sing!
Let's celebrate the Fall Equinox and sing! We will sing songs from Debbie Nargi-Brown new album 2020, which is a collection of 14 songs written during the pandemic. When hope, courage, strength, and love was needed, these songs came through. I am so grateful for the transformational power of music that helps sustain us even in the most challenging of times.