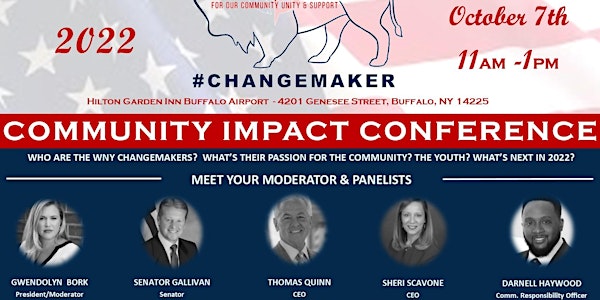 Fall Community Impact Conference
Who are the WNY Changemakers? What's their passion for the community? The Youth? What's next in 2022?
When and where
Location
Hilton Garden Inn Buffalo Airport 4201 Genesee Street Cheektowaga, NY 14225
About this event
Do you want to see what's possible when you make social impact a part of your business plan and can meet the needs of your community?
Are you in Non-Profit leadership and want to see what's possible when you engage business leaders in the community who have a passion for your cause?
Are you an Individual who wants to make a difference, loves giving back to the community but has yet to find that non-profit who speaks to your heart?
Whether you are a Business Owner, Corporate Leader, Non-Profit Director, or an Individual searching for a way to connect to the community, this is your opportunity to see what others companies are doing, what non-profits are out there to connect with at our Vendor Fair, and to strategize your purpose for making an impact in the community by helping others.
Social Impact, Cultural Impact, Environmental Impact, Social Governance, Social Enterprise...these are the buzz words to the new generation of workers, business owners, and community leaders. Millennials, Gen Z and Y, they want to know that in whatever they do they are making a difference. They'd rather earn less money working at a company who gives back to others. If you want to attract, retain, and engage the future generation this is it. If you want to see the needs of your local community be met, there is always a nonprofit with boots on the ground that can help.
Ticket includes sit down brunch and refreshments.
THANK YOU TO OUR LEGACY SPONSOR: (TBD)
Panelists are to include:
Senator Gallivan, NYS 59th District
Thomas Quinn, CEO, WNY Impact Fund
Sheri Scavone, CEO, WNY Women's Foundation
Darnell Haywood, Community Responsibility Officer, Bank on Buffalo
$35 per person / $250 VIP Table of 8
Legacy Sponsor: $500
Logo & Listing on Program, Honorable Mention, Local & Digital Press
Email us at: ForOurCommunityToday@gmail.com
Vendor Tables: $100
Includes 2 Tickets to Conference. Tables provided
Register using the Ticket Link for you and your teammate
TO REGISTER A VIP TABLE OF 8 OR VENDOR TABLE:
Select "Buy Tickets"
Then select "Add a Group" instead of "Individual"
Create a "Group Name", Ex: Your Business or Organization you represent
Proceed to payment section
All Vendor Table Groups and VIP Table Groups will be contacted after purchase to the names of people who will be joining them in their group. We will first and last names of your table attendees and emails.
THANK YOU