Fall CIE Speaker Series Featuring: Steve Blank

Wednesday, November 14, 2012 from 7:00 PM to 8:45 PM (PST)
Event Details

CIE Speaker Series
Welcomes

Steve Blank
The Center for Innovation and Entrepreneurship invites you to attend our upcoming CIE Speaker Series during Global Entrepreneurship Week.  We are pleased to welcome serial entrepreneur, author and Silicon Valley legend Steve Blank for a fireside chat with Leavey School of Business Dean Dr. Drew Starbird.   
Wednesday, November 14, 2012

6:30-7:00 pm Check In/Registration & Complimentary Desserts

7:00-8:30 pm  Program

 

Recital Hall

Parking available in the Parking Structure (parking permits required on campus until 8 pm)

My path has taken me from repairing fighter planes in Thailand during the Vietnam War, to spook stuff in undisclosed location(s), and I was lucky enough to arrive at the beginning of the boom times of Silicon Valley in 1978.
After 21 years in 8 high technology companies, I retired in 1999. I co-founded my last company, E.piphany, in my living room in 1996. My other startups include two semiconductor companies, Zilog and MIPS Computers, a workstation company Convergent Technologies, a consulting stint for a graphics hardware/software spinout Pixar, a supercomputer firm, Ardent, a computer peripheral supplier, SuperMac, a military intelligence systems supplier, ESL and a video game company, Rocket Science Games.
Total score: two large craters (Rocket Science and Ardent), one dot.com bubble home run (E.piphany) and several base hits.
After I retired, I took some time to reflect on my experience and wrote a book (actually my class text) about building early stage companies called Four Steps to the Epiphany. My latest book, The Startup Owners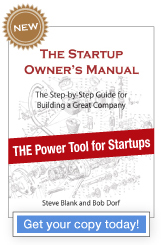 Manual integrates 10 years of new knowledge (and fixes lots of typos.)
I moved from being an entrepreneur to teaching entrepreneurship to both undergraduate and graduate students at U.C. Berkeley, Stanford University, Columbia University, Caltech and the Joint Berkeley/Columbia Executive MBA program. The "Customer Development" model that I developed in my book is one of the core themes in these classes.  In 2009, I was awarded the Stanford University Undergraduate Teaching Award in the department of Management Science and Engineering. The same year, the San Jose Mercury News listed me as one of the 10 Influencers in Silicon Valley. In 2010, I was awarded the Earl F. Cheit Outstanding Teaching Award at U.C. Berkeley Haas School of Business.
In 2011 at the request of the National Science Foundation I modified my Lean Launchpad class and it became the curriculum for the NSF I-Corps. Science wrote an article about the I-Corps and so did Nature, the Economist, and Forbes. National Public Radio did a story on the class here and so did the San Jose Mercury. I testified in front of Congress about the success and future of the program.
In 2012 the Harvard Business Review listed me as one of the "Masters of Innovation."
In 2012 I was the keynote at the National Governors Conference. My talk was on C-Span here, slides are here.
All my coursework, syllabuses, and presentations can be found here.
The NY Times had a few things to say about my work here,  here and here.
I also followed my curiosity about why entrepreneurship blossomed in Silicon Valley and was stillborn elsewhere.  It has led to several talks on The Secret History of Silicon Valley.
In 2007 the Governor of California appointed me to serve on the California Coastal Commission, the public body which regulates land use and public access on the California coast. (The NY Times described the work of the Commission here.)
I am on the board of the California League of Conservation Voters (CLCV). Recently I served on the Expert Advisory Panel for the California Ocean Protection Council as well as on the boards of Audubon California (and its past chair) and the Audubon National Board as well as the Peninsula Open Space Land Trust (POST) and as a trustee of the U.C. Santa Cruz foundation.
I was the commencement speaker at Philadelphia University in 2011.
In compliance with the ADA/504 please direct your accommodation requests to: Linda Jenkins via email at ljenkins@scu.edu at least 7 days prior to the event.
"The presence of a guest speaker on the campus of SCU does not necessarily imply approval or endorsement by the University of the views expressed by the guest speaker or by anyone else present at the event"
When & Where

Santa Clara University
Recital Hall, Music & Dance Building
500 El Camino Real
Santa Clara, CA 95053


Wednesday, November 14, 2012 from 7:00 PM to 8:45 PM (PST)
Add to my calendar
Organizer
Located in the heart of Silicon Valley, Santa Clara University is at the global nexus of high-technology industry, venture capital, and entrepreneurial talent.  Santa Clara's Center for Innovation and Entrepreneurship (CIE) strives to foster, promote, and strengthen this talent locally and globally by leveraging a unique combination of strengths and advantages:  our ideal location; a 450-year Jesuit educational tradition; state-of-the-art facilities; and distinguished faculty, staff, alumni and friends.
The CIE helps prepare students for entrepreneurial leadership through a variety of opportunities within diverse organizational settings. 
Learn more today at www.scu.edu/business/cie
---
About CAPE:
The California Program for Entrepreneurship is an initiative of the Leavey School of Business at Santa Clara University.  The CAPE accelerator provides education and mentoring to emerging entrepreneurs to help them develop and grow businesses that will contribute to the growth and well-being of the California economy.  During CAPE's first five years, 2010-2014:
-1,200+ Applications Received
-216 Accepted to the Program
-163 Participants Enrolled in CAPE
-141 Entrepreneurs Representing 117 Ventures Have Graduated from CAPE