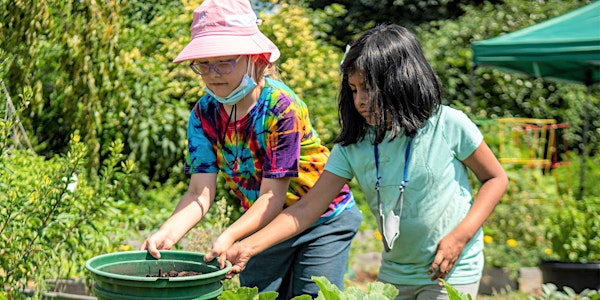 Fall Children's Garden
The Children's Garden is a fun and exciting place where kids spend time planting, playing, observing, and learning in nature.
When and where
Location
Queens Botanical Garden 43-50 Main St Flushing, NY 11355
About this event
The Children's Garden sponsored by HSBC is a fun and exciting place where kids spend time planting, playing, observing, and learning in a nurturing environment. From seed to table, our young gardeners have the opportunity to grow and harvest vegetables, put the garden to sleep for the winter, and explore their interconnected ecosystems.
This program is for drop-off only and takes place outdoors. Masks are required for all participants.
Your registrations supports Queens Botanical Garden, the place where people, plants, and cultures meet! QBG is a 501(c)(3) non-profit organization.
***Please read all program information below before registering. If you have questions and would like to speak to someone on our team, contact kidsprograms@queensbotanical.org or 718.886.3800, ext. 218.***
Schedule: Six weekly, two-hour sessions available | Saturdays OR Sundays | 1-3pm
Saturdays, Sep 24, Oct 1, 8, 15, 22, & 29 OR
Sundays, Sep 25, Oct 2, 9, 16, 23, & 30
Ages: 4–10
Cost: $300 Non-Member / $270 Family-Level+ Member
More Information:
Children's Garden is held entirely outdoors in the Children's Garden and under the covered gazebo, which serves as protection from rain.
The program runs rain or shine, except for inclement weather. Only in the event of cancellations by QBG due to weather do we host a make-up day, typically the weekend following the final session.
All participants and staff must wear masks.
Families have the option to purchase a Donation ticket at checkout to help support our Scholarship Fund for current and future Kids Programs.
QBG reserves the right to cancel the program due to unforeseen circumstances
QBG is dedicated to providing the best possible learning environment for our students. If your child requires any accommodations please email kidsprograms@queensbotanical.org.
Health & Safety
Although the event is outdoors, part of the program is taking place in an enclosed area with limited space. Mask-wearing is required to participate in this program. We may also go indoors during inclement weather. While exploring the garden independently from this program, you are not required to wear masks while social distancing from other guests. Thank you for your cooperation in ensuring this event is safe for everyone!
Discounts
Members with Family Membership and above receive a 10% discount by using the code "MEMBER". Siblings can receive a 5% discount by using the code "SIBLING". No discounts may be applied after your transaction is processed.
For information on membership, visit queensbotanical.org/membership.
Families can also buy a Donation ticket during registration to help support our Scholarship fund for future Kids Programs.
Refund Policy
If you must cancel after registering, notify the Kids Programs staff at 718-886-3800 x218 or kidsprograms@queensbotanical.org at least 30 full days before the start of the program and the Garden will refund your fee, minus a $25 administrative fee per child.
Refunds for cancellations fewer than 30 days prior to the start of the program will be issued only if a registrant from a waiting list will fill the space. Refunds and credits are not issued for partial attendance or after the program begins. Registrations are nontransferable.
Cancellations
During heavily inclement weather, we will bring the group under cover or indoors. Please note, programming will be conducted outdoors in light to medium rain, with outdoor shelter from the rain. In the rare case that an event is cancelled, you will be notified via email.
Garden Etiquette
QBG staff strives to provide a place of peace, beauty, and safety for the quiet enjoyment of our visitors. QBG is a living museum, a collection of gardens for the study, culture, exhibition, and display of plants. We encourage our visitors to explore, enjoy, and be respectful of our plant collections and to be considerate of fellow guests as well. For more guidelines on garden etiquette, click here.
Communications
By purchasing tickets and attending QBG events, you hereby opt in to receiving communications from the Garden. You may receive updates about future QBG events and news through the addresses you provide. If you do not wish to receive future communication, simply click the "unsubscribe" button at the bottom of an email or write to info@queensbotanical.org.
Getting to QBG
By public transportation, take the number 7 subway line to Main Street, the Long Island Rail Road (Port Washington line) to Main Street/Flushing, or the Q44-SBS or Q20 bus. For driving directions and more information, please visit our website.
Parking
On-site parking is available year-round during Garden open hours at the Parking Garden, located at 42-80 Crommelin Street, Flushing, NY 11355. For parking fees, please check our website or call 718.886.3800.
About QBG
QBG is an urban oasis where people, plants and cultures are celebrated through inspiring gardens, innovative educational programs and real-world applications of environmental stewardship. QBG is located on property owned by the City of New York, and its operation is made possible in part by public funds provided through the New York City Department of Cultural Affairs, Queens Borough President, the New York City Council, State elected officials, the New York State Department of Parks, Recreation and Historic Preservation, along with corporate, foundation, and individual supporters. For more information, visit www.queensbotanical.org or call (718) 886-3800.