About this Event
Cactus and Succulent Society of San Jose will be holding their Annual Fall Show and Sale on Saturday, Sept.21 from 9 am to 5 pm and Sunday, Sept.22 from 10 am to 4 pm. Please note there will be no early entry, we appreciate your cooperation. It will be held at Peterson Middle School, 1380 Rosalia Avenue, Sunnyvale, 94087. Bring your own boxes and your love of plants! We welcome extra boxes if you'd like to share them for others who forgot them.
Our sale will feature rare and unusual cacti and succulents, pottery, planting media, as well as related merchandise. Knowledgeable Society members will be available to answer your questions. We also will have a "plant hotel" available for your convenience.
You will be amazed by the our member's plants and photographs on the show side, and you'll be able to vote for your favorites. Voting ends on Saturday at 5 PM, and the entries receiving the most votes will be awarded prizes.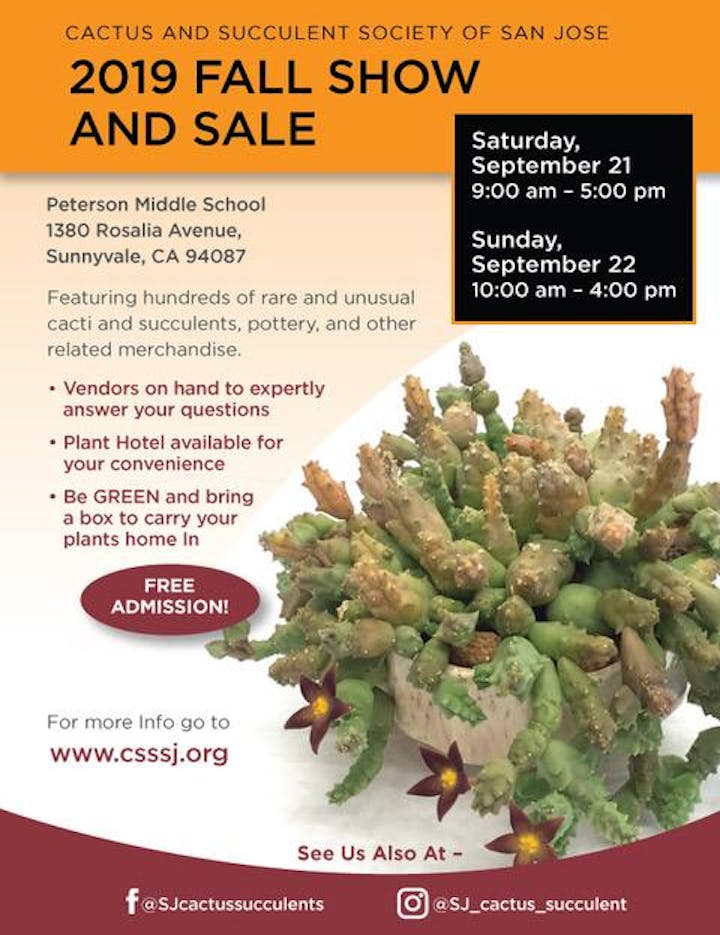 Helpful Hints for Attending CSSSJ Show and Sale:
Saturday morning tends to be extremely busy! If you'd like a quieter time to visit, we'd recommend Saturday after 2 pm, or Sunday.
For our Fall Show, which is "People's Choice", consider voting for show plants first, and shopping afterward. Voting is only until the end of Saturday!
If you are able to do so, please bring your own boxes or reusable containers. Boxes are sometimes in short supply; we appreciate any donations of boxes and newspapers.
You may want to take advantage of our "Plant Hotel" to hold your plants while you continue shopping. Be sure to hold onto your claim check, so you can retrieve your plants! (Please note that plants must be must be picked up 90 minutes before the end of each day's sale.)
Plants from the sale area are not permitted in the show area. However, you can leave your purchases at our welcome desk on the show side and receive a claim check while you enjoy viewing the show plants.
Pets, particularly dogs, aren't allowed in the show or sale areas. (We love dogs. It's just that the busy aisles and sharp spiny things everywhere can constitute a less-than-ideal environment for them. In any case, it's a policy of the building itself, indicated by a sign above the door.)
You can sign up for our mailing list in either the show or sale areas.
Ask questions! Many of our members are highly-regarded experts, and are more than happy to talk about cactus and succulent plants.
You may pay for your purchase using cash, a check, or a credit card. Our systems support Apple Pay and Google Pay. If you make your purchase with a credit card, please note that the sale will show up on your statement as "Northern California-Los Altos".