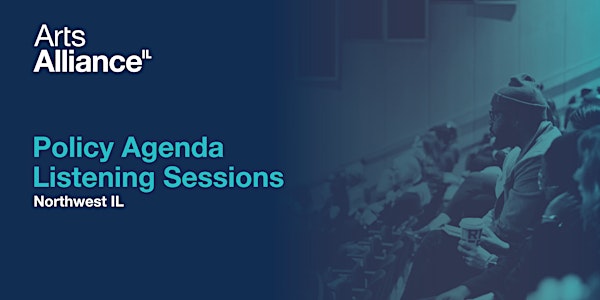 Fall 2022 Policy Agenda Listening Sessions - NORTHWEST IL
ARTS ALLIANCE ILLINOIS | Policy Agenda Listening Sessions
About this event
The Northwest IL Region will meet virtually.
Monday, October 17, 2022 from 1:00pm - 3:00pm.
Co-Hosts: Rockford Area Arts Council & Freeport Art Museum
Northwest IL counties: Jo Daviess, Stephenson, Winnebago, Boone, Carroll, Ogle, DeKalb, Whiteside, Lee.
- - - - - - - - - - - -
Arts Alliance Illinois is launching its first ever statewide policy agenda setting process this fall. Offered in partnership with local arts organizations, these listening sessions are your chance to make your priorities heard!
12 sessions are planned across the state this October and November. All sessions will take place virtually on Zoom, EXCEPT the Chicagoland Region session on Saturday, Nov 12th at the McAninch Arts Center at College of DuPage in Glen Ellyn.
Please complete the registration form to secure your attendance.
Is your county not listed above? Find all sessions listed by region and focus area here.
If you have any questions, please contact Erick at dorris@artsalliance.org.
Learn more about this series and view all our sessions on our website.