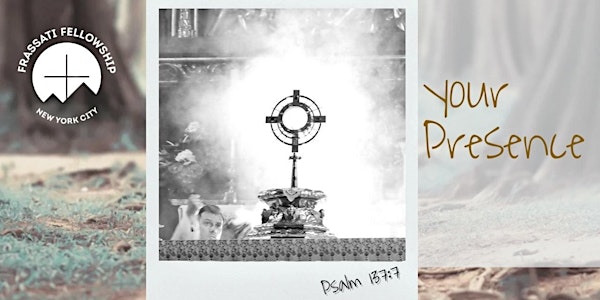 Fall 2022 Frassati Retreat - Your Presence
"Where can I go from your spirit? From your presence, where can I flee?" -Psalms 139:7
When and where
Location
Villa Maria Guadalupe 159 Sky Meadow Drive Stamford, CT 06903
Refund Policy
Contact the organizer to request a refund.
About this event
Come join Frassati Fellowship for our Fall Retreat, "Your Presence," September 16-18, 2022, at Villa Guadalupe with the Sisters of Life!
The weekend includes daily Mass, all-night Eucharistic Adoration, time for Confession, praise and worship, talks, workshops, discussion groups, outdoor fun, and plenty of fellowship.
Registration will open at 10:00 am on Tuesday, August 30. Retreat registration will close on September 13 at 12:00 noon. Tickets may sell out before then.
****PLEASE READ THESE INSTRUCTIONS BEFORE YOU REGISTER , AS OUR GUIDELINES HAVE CHANGED SINCE THE LAST RETREAT****
AGE LIMIT
This event is for individuals in their 20s and 30s. If you are not sure, you can email us to confirm. If you know you're not in the age range, you can find other great retreats and activities for Catholics at www.catholicnyc.com.
COMMITMENT TO ATTEND ENTIRE RETREAT
The retreat begins with check-in from 7:00pm to 8:00pm on Friday night, and ends at 4:00pm on Sunday afternoon. You must attend the retreat in its entirety. Please do not make plans or travel arrangements for Sunday afternoon since we cannot guarantee a return time to NYC.
FIRST-TIME ATTENDEE TICKETS
We are blessed to have a high level of interest in these retreats, and we are grateful for the fruit that has been borne of this ministry. In order to share this opportunity with new retreatants, we are reserving 10 women's and 10 men's tickets for first-time attendees. You may select this ticket option if you are local to the New York City metro area and have never attended a Frassati Fellowship of NYC retreat.
WAITLIST
If tickets are listed as sold out, please opt for a waitlist ticket, and we will contact you if and when spots open up. We will prioritize requests from retreatants who are local to the New York City metro area. Please do not make arrangements to travel to this retreat if you are on the Waitlist or have not yet registered.
RETREAT FEE
The retreat registration fee includes accommodations at the beautiful Villa Guadalupe on Friday and Saturday nights, as well as five meals, all retreat activities, the Eventbrite processing fee, bus transportation for up to 50 retreatants, and a generous donation of the religious who accompany us during the retreat. (There will be no additional charge for those who take the bus.)
If you desire to attend the fall retreat but are experiencing financial hardship, we invite you to apply for scholarship assistance. Prayerfully consider the amount you are able to contribute and email retreats@frassati.nyc to request a half scholarship ($125 scholarship, you pay $125) or full scholarship. Please briefly explain the specific financial reasons prompting you to apply for scholarship assistance and describe your past and present involvement in Frassati Fellowship. We will prayerfully consider all requests received and allocate funds in accordance with available resources. Please be assured that the information you share with us will remain confidential. We also encourage those who can to donate when they register. Your donations is what allows us to give the scholarships to those in need. When you purchase your ticket, you can also select the option to donate and enter the amount you desire to donate. Any amount you donate can help us to give partial scholarships. See the scholarship section below for more information, and thank you for your generosity!
TRANSPORTATION
Parking is available at Villa Guadalupe for those who plan to drive to the retreat.
Transportation by bus will be available to and from NYC for 50 retreatants. THERE WILL BE NO ADDITIONAL CHARGE FOR BUS TRANSPORTATION FOR THE FIRST 50 PEOPLE TO SIGN UP FOR THE BUS. If the bus fills up, remaining retreatants will need to make their own travel arrangements. Please email us and we'll be happy to give you direction to arrive by train.
If you indicate that you need transportation when purchasing your ticket, we will follow up by email to confirm your space on the bus or to offer other options.
Please plan to arrive at St. Vincent Ferrer Church (869 Lexington Ave, between 65th and 66th Streets) at 5:45pm to check-in since the bus will depart promptly at 6:00 p.m. on Friday from St. Vincent Ferrer to Villa Guadalupe. Please be on time if you sign up for the bus. We will return to the same location on Sunday evening.
SAFETY DURING COVID-19
If you are feeling ill, are experiencing any symptoms of COVID-19, have been recently exposed to anyone with COVID-19, or are waiting on your COVID-19 test results, please be kind to us and to the Sisters of Life and prayerfully discern not taking part of this retreat. The Sisters of Life work with vulnerable population that include newborns and elderly with delicate health conditions. Putting us at risk means you're also risking the lives of these vulnerable people. If you do not feel comfortable being around people yet, have personal preferences about certain safety practices that are not practical, we recommend you that you consider we will not be able to modify accommodations or make special arrangements on an individual basis, but we will continue to monitor COVID-19 regulations to ensure that our retreatants are well informed.
SCHOLARSHIP FUND
Under "Donation to Scholarship Fund," you have the option of donating to support our brothers and sisters who are experiencing financial hardship and need financial assistance to attend this retreat. If you are able to donate here, please do! We welcome any contribution, even the ones you would consider too small.
REFUNDS
Registration is non-transferable—only the person registered for the retreat can attend. Last-minute cancellations make it difficult to find someone to take your spot. Please be considerate of others who may want to attend and only sign up if you fully intend to come on this retreat. Nevertheless, we understand that sometimes plans change. If you cannot attend, please let us know as soon as possible for us to be able to change our sleeping, food, and transportation arrangements.
These are the deadlines for receiving a full or partial refund if you cancel:
Until September 4 at noon: Full Refund
Until September 10 at noon: Half Refund
No refunds after September 10 at noon
In the unfortunate event that this retreat needs to be canceled due to state restrictions related to COVID-19, retreatants will receive a full refund.
Thanks for your interest, and may God bless you!
Frassati Fellowship of New York City
retreats@frassati.nyc
www.frassati.nyc