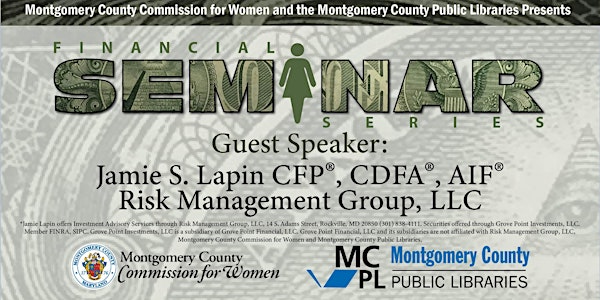 Fall 2022 Financial Health and Wellness Seminars
Need help with your finances? Join us for FREE financial seminars that cover the nuts and bolts of all things money. We're here to help.
About this event
The Montgomery County Public Libraries and the Montgomery County Commission for Women are pleased to offer a series of financial seminars to help walk you through the ins and outs of "all things" money. The seminars will be led by Jamie Lapin*, owner of Risk Management Group, LLC, along with Thiago Glieger, AIF, ChFEBC℠, Private Wealth Advisor, and will take place via Zoom, from 7:00-8:30 pm. The link will be provided after registering.
Our seminars will include insight on the immediate and long-term financial impact of the pandemic as it pertains to each topic. We'll provide information to help you navigate your financial life during this challenging time.
November 9: Financial Planning 101
Learn the basics of financial planning along with terms and tools to equip yourself with the knowledge you need to succeed financially.
November 16: Planning for Retirement
Not running out of money before running out of time is most people's biggest concern. Our goal is to maximize your resources and autonomy.
November 30: Social Security, Medicare and Estate Planning
Learn how to utilize and maximize the government programs you have invested in, protect yourself during your post-work years, and plan for the next generation. Attorney Meredith Hill will join the panel to discuss estate planning.
December 7: Divorce and Money
Divorce is a strain on your finances as well as your nerves. Will you be fiscally ok when it's over? What is your role in making sure of that?
*Jamie Lapin offers Investment Advisory Services through Risk Management Group, LLC, 14 S. Adams Street, Rockville, MD 20850 (301) 838-4111. Securities offered through Grove Point Investments, LLC. Member FINRA, SIPC. Grove Point Investments, LLC is a subsidiary of Grove Point Financial, LLC. Grove Point Financial, LLC and its subsidiaries are not affiliated with Risk Management Group, LLC, Montgomery County Commission for Women and Montgomery County Public Libraries.