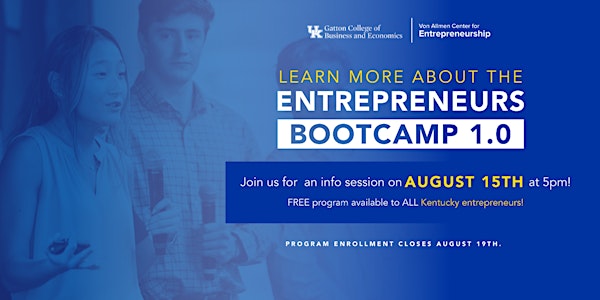 Fall 2022 Entrepreneurs Bootcamp 1.0 - Info Session & Orientation
Learn about the Entrepreneurs Bootcamp 1.0 Program
About this event
Virtual Event!
Date: August 15, 2022 (Monday)
Time: 5:00pm-6:00pm EST
Topic of Discussion: Fall 2022 Entrepreneurs Bootcamp 1.0 Info Session and Orientation
Meeting Overview
Have you ever wanted to start your own business, but didn't know where to begin? Join this webinar to learn more about the Entrepreneurs Bootcamp 1.0 program. This program is led by The Von Allmen Center for Entrepreneurship (VACE) at The University of Kentucky. The program is entering it's eight year, and is made freely available to any Kentucky entrepreneur or current student in the state of Kentucky. Join Bootcamp with a startup idea as a team leader, or join a team as a team member. Chose your adventure and get started on your entrepreneurial journey today!
Registrations will close on August 15th at 3:30pm!
A zoom meeting link will be emailed by Jared Magolan (jared.m@uky.edu) to all attendees by 4:00pm EST on the day of the event.
Open Enrollment for Fall 2022: Bootcamp Application
To read more about the Entrepreneurs Bootcamp 1.0 and begin the application process, click here to get started. We highly encourage that all Kentucky entrepreneurs review the time commitment requirements before enrolling. Bootcamp is an intense immersive learning experience. There will be an in-depth discussion outlining all Bootcamp requirements during the webinar. Feel free to review the Bootcamp Handbook prior to the webinar and bookmark any questions.
About the Von Allmen Center for Entrepreneurship
The Von Allmen Center staff is represented by Mariam Gorjian and Warren Nash at The University of Kentucky's Gatton College of Business and Economics. The center was established in 2006 and strives to educate Kentucky's future entrepreneurs & startup leaders.
Visit our Website at: https://vace.uky.edu/