Fall 2019 NSF CAC Center Industry Advisory Board Meeting
Description
Fall meeting of the Industry Advisory Board of the NSF Cloud and Autonomic Computing Center.
---
Venue
The Meeting (October 2 - 4, 2019) will take place at Embassy Suites San Marcos- Hotel and STAR Park of Texas State University. Please find the addresses below:
STAR Park Directions: https://www.txstate.edu/starpark/aboutus/map.html
Meeting location: Embassy Suites San Marcos Hotel, Spa & Conference Center
1001 E McCarty Ln, San Marcos, TX 78666
Lodging Arrangements

Event Hotel
Embassy Suites San Marcos- Hotel, Spa & Conference Center (1001 E McCarty Ln, San Marcos, TX 78666). Participants must book online by September 23 to receive the discounted rate of $96/night. Room availability cannot be guaranteed after that date.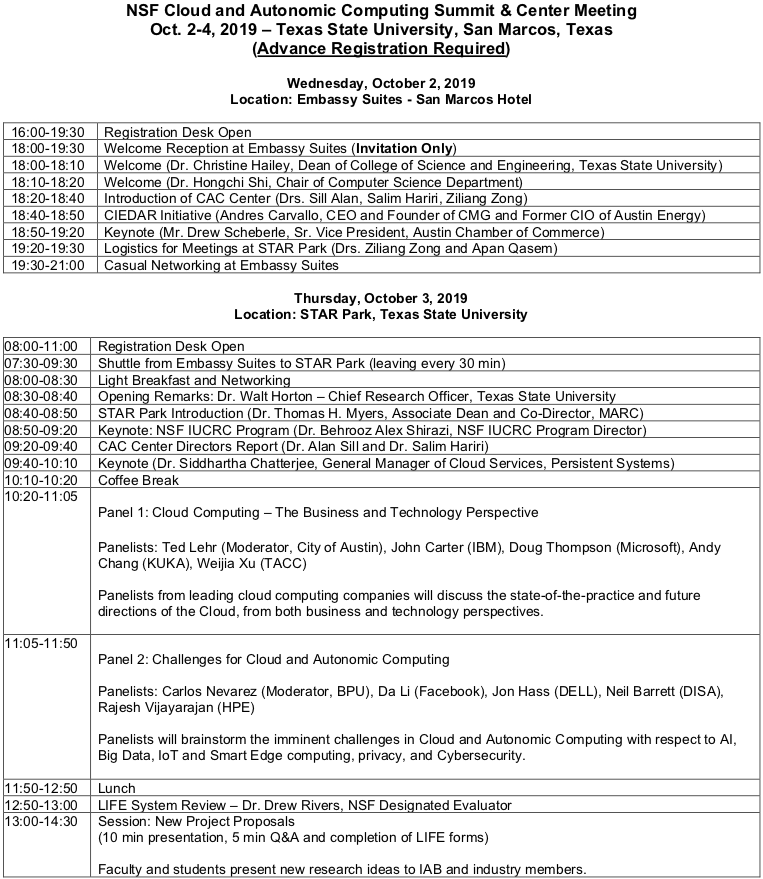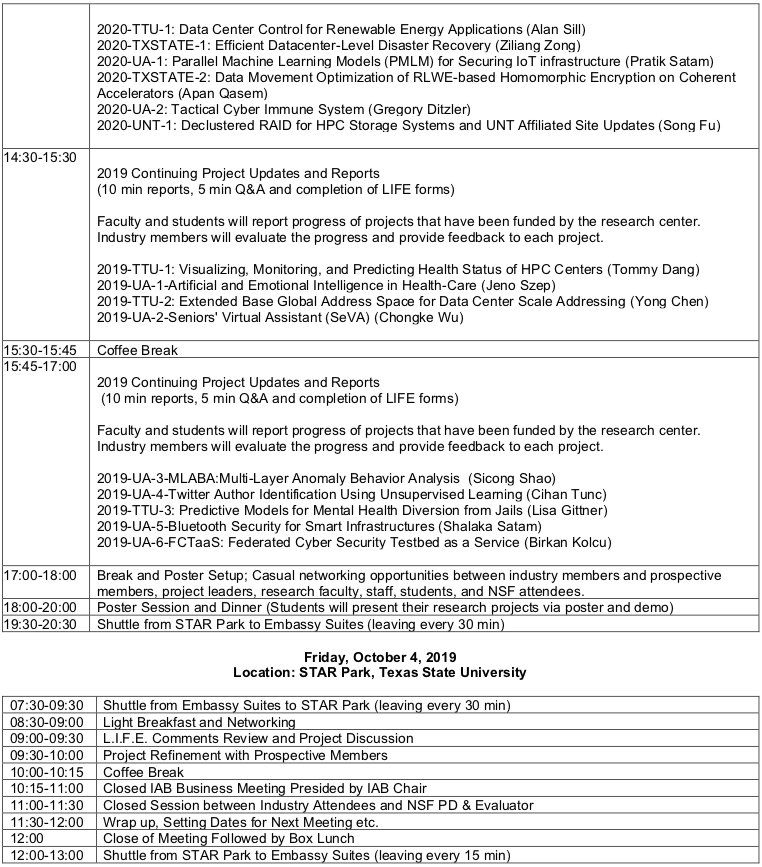 More Information
Who should attend this event?
Industry Advisory Board members from member companies and/or their designated representatives should attend. Note that voting will take place on industry-sponsored projects for the upcoming year for the center. National Science Foundation program officers or their appointed program evaluators are also welcome to attend, along with students and faculty members associated with CAC projects from all university sites. The CAC meeting is restricted to IAB members, NSF personnel and CAC university faculty or student project participants. Prospective members from companies or organizations interested in the CAC may request to attend the rest of the sessions of the meeting if desired, which requires signing a non-disclosure agreement.
What will happen at the meeting?
The primary purpose of the CAC meeting is to review progress on projects and proposals for new research projects to be presented to the Industry Advisory Board. The bulk of the agenda will be devoted to CAC site and project reports and on a prospectus for upcoming work to be conducted by the researchers of the center. The meeting will also include a review of the NSF I/UCRC program, discussion and explanation of CAC by-laws, election of the CAC IAB chair and vice-chair, and other IAB business.
Who can I contact for questions?
Send any questions regarding the meeting arrangements to Ziliang Zong (ziliang@txstate.edu) or Apan Qasem (apan@txstate.edu)
How long will the meeting last?
On-site check-in begins at 4:00 pm Wednesday, October 2. There will be a welcoming reception and introductory keynote talks beginning at 6:00 pm Wednesday. The IAB agenda will cover all day Thursday, October 3 until just after lunchtime Friday, October 4. Industry attendees are kindly asked to remain through the end of the sessions Friday morning. Please plan to arrive in time for an 8:00 am meeting start each day.
What is the cost to attend?
Attendance at the meeting is free for industry members, invited speakers, associated NSF program officers and evaluator, meeting sponsors, CAC-affiliated faculty members, researchers or students, but only limited to these attendees. The meeting requires advance registration using the form on this page. Due to space limits, a maximum of two participants from each company can register.

What meals will be provided?
Lunch and break refreshments will be provided each day at the IAB meeting for all registered CAC attendees. There will be an invitation-only reception Wednesday evening for NSF and evaluator attendees, existing and potential industry members, CAC researchers, invited speakers and meeting sponsors, and also a dinner Thursday evening for all registered attendees.