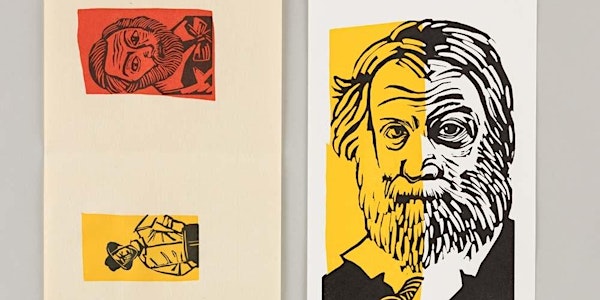 Fall 2019 Exhibitions Opening Reception
Join us at the Center for Book Arts to celebrate the opening of our three Fall exhibitions, 6:30-9:00pm.
When and where
Location
Center For Book Arts Inc 28 West 27th Street New York, NY 10001
Refund Policy
Contact the organizer to request a refund.
Eventbrite's fee is nonrefundable.
About this event
Walt Whitman's Words: Inspiring Artists Today
2019 is the 200th birthday year of Walt Whitman (1819-1892), who is known today as one of the most influential poets of the nineteenth century. In addition to his work as a poet, Whitman is also remembered as a book designer and printer, essayist and journalist. Calling himself "the Bard of Democracy", Whitman broke the mold in his prolific writings - calling for equality, inclusivity and a more humanist world for all to live in.
The Center for Book Arts is marking this bi-centennial by looking at how Whitman's writings have influenced contemporary artists working in the book arts. The exhibition follows several themes Whitman focused on in his writings, providing the connective tissue that links these works together. Geography, history, identity and immigration are a few themes that emerge from the works of art on view. Whitman's fascination with Ancient Egypt, photography as a branding tool, and his notion of the world as he imagined it are all evident in the art on view. These diverse objects range from books, drawings, photographs, sketches, broadsides and a scroll.
Artists Include: Isabel Baraona, Sasha Chavchavadze, Allen Crawford, Marianne Dages, Brian Dettmer, Daphne Fitzpatrick, Evelyn Eller, Anne Gilman, Donald Glaister, Sam Gordon, Barbara Henry, Meg Hitchcock, Timothy Hull and Paul Mpagi Sepuya, Sam Ita, Stefan Killen, Richard Kostelanetz, Karen Kunc, Sophia Le Fraga, Angela Lorenz, Russell Maret, Barry McCallion, Mark McMurray, Susan Newmark, Ilse Schreiber-Noll, Brian Selznick, Clarissa Sligh, Peter Spagnuolo, Elisabeth Tonnard, Walt Whitman, Rutherford Witthus, Marilyn Zornado
The Traveling Artist: Journals by Lydia Rubio
This exhibition features artistic documentation of artist Lydia Rubio's travel narratives across linguistic and geographic landscapes. The works record the artist's experiences across a variation of calligraphic, drawing and poetic compositions. This exhibition includes multiple series of work including The Genius Loci Book, Journal of a Trip to the Island, and Travel Journals.
Faculty Fellow: Clarissa Sligh
Clarissa Sligh is a visual artist, lecturer, and essayist. Her photo-text images, artists' books and installations have been exhibited in museums and Book Arts Centers across the United States. For over 30 years, Sligh has woven together the cultural, historical, personal and political to explore concepts of memory and transmutation, and perceptions of boundaries and identity: themes that have roots in her own experiences. She is known for her photographic series, artists' books and text-based installations to explore constructions of history, identities, transformation and change.
Exhibitions will be open to the public October 4 through December 14 , 2019
The Center for Book Arts promotes active explorations of both contemporary and traditional artistic practices related to the book as an art object. The Center seeks to facilitate communication between the book arts community and the larger spheres of contemporary visual and literary arts, while being a model organization locally, nationally, and internationally within the field. We achieve this through exhibitions, classes, public programming, literary presentations, opportunities for artists and writers, publications, and collecting.