Description
The Silicon Slopes Fall 2018 Entrepreneurship Lecture Series
Who is the Lecture Series for?
The Lecture Series is open to students and community members who are interested in learning from experienced entrepreneurs. If you've started a business, are thinking about starting a business, or just want to hear about the experiences of seasoned entrepreneurs, this lecture series is for you.
What is the Lecture Series?
The Utah Valley University Entrepreneurship Institute is teaming up with Silicon Slopes to deliver this series of talks from all-star entrepreneurs. Over 14 weeks the series will cover the following topics:
August 28 - Developing Your Strategy, lecture by Noel Vallejo President and CEO of TestOut
September 4 - Inclusive Leadership: How the Best Leaders Build Diverse and Winning Teams, lecture by Women's Tech Council COO and CEO of Burbley Sara Jones
September 11 - The Lizard Skins Story, lecture by Brian Fruit Managing Partner of Lizard Skins
September 18 - Entrepreneurs and Intrapreneurs: It's About the 'How' Not the 'Where' You Work, lecture by Mark Sunday, Chief Information Officer and Senior Vice President for Oracle
September 25 - Student Startup Experience, lecture by Trevor Larsen, Founder of PerkNow and Mark Newman, Investor and Board Member for PerkNow
October 2 - The Other Side Academy: Do Felons Make the Best Entrepreneurs?, lecture by Joseph Grenny, Co-Founder of The Other Side
October 9 - Shaun Ritchie, CEO and Co-Founder of Teem (Mike Morgan is not able to attend.)
October 16 - Smart Things I've Learned By Doing Stupid Stuff, lecture by Travis Hansen, Founder & CEO of Tesani Companies
October 23 - I Married an Entrepreneur, panel featuring Andrea Clarke and Christy Allen
October 30 - Franchising vs. Owning Your Own Business, Kim & John Robertson, Owners of ServPro of South Brevard
November 6 - What I Wish I'd Known, Karl Sun, Founder and CEO of Lucid
November 13 - You Don't Need Millions to Make Millions, lecture by Founder of Rags Rachel Nilsson
November 27 - From Startups to VC: Some Things Never Scale, lecturer Sid Krommenhoek, Managing Partner of Peak Ventures
December 4 - To Be Announced, Eric Rae, Founder, CEO, and President of Podium

When is the Lecture Series?
The lectures begin at 12 Noon on Tuesdays on the dates listed above. Each lecture will be approximately thirty minutes followed by ten to fifteen minutes for Q&A.
Where is the Lecture Series?
The lectures are held in the Science Building in room 134 right in the heart of the UVU Main Campus. Look for the chiral ring--the auditorium directly across from the ring is the room you're looking for. See below for maps.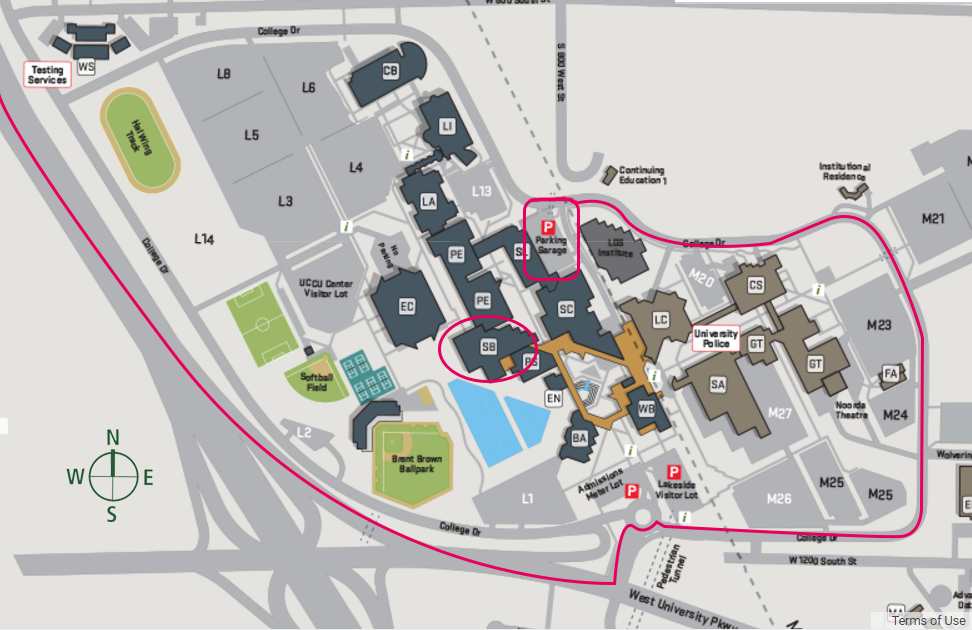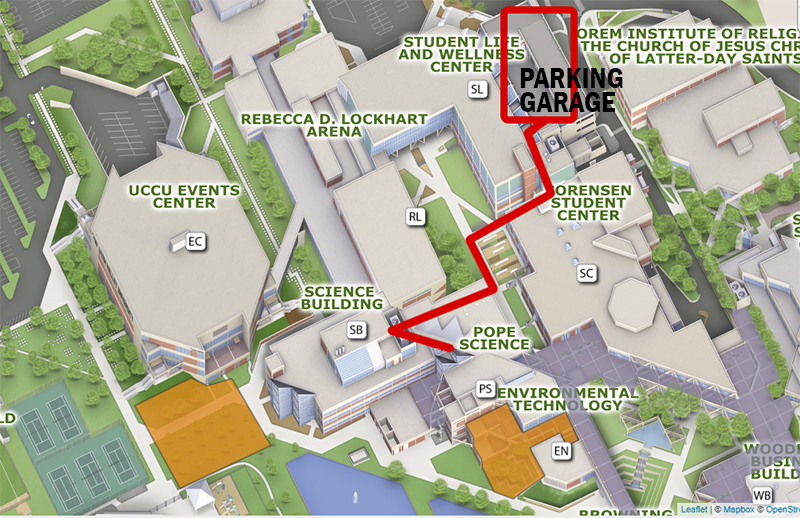 Parking
Visitor parking is marked with red Ps on the first map. Visitor parking is $1 per hour. The closest lot to the Science Building is the parking garage. We suggest you come a little early, pay for an extra hour, and enjoy lunch on the campus at one of the vendors on campus. Additional information about parking is available on the UVU Parking website.
Why should I attend the Lecture Series?
Because about 50% of small businesses fail in the first year. You owe it to yourself and your business (or idea) to learn as much as you can from people who have been where you are. You can learn from their mistakes and from their successes. The series is short and free and jam-packed with valuable information. Why shouldn't you go?
Contact
For any questions or concerns, please contact Meagan Sanders at msanders@uvu.edu or (801) 863-5354.