Description
EVENT UPDATE 11/2/18:
MEET EXHIBITING HEALTH TECH STARTUPS ON THE "INNOVATION BRIDGE"



As healthcare's conversation platform, Conversa delivers an easy and meaningful way for care teams and patients to communicate. Conversa has an extensive library of over 400 clinically-intelligent conversation programs that include asthma, chronic obstructive pulmonary disease (COPD), congestive heart failure (CHF), diabetes, hypertension, joint replacement, and many more. Using Conversa's innovative and scalable Conversational AI technology, healthcare organizations can deliver automated, personalized doctor-patient conversation experiences that lead to more meaningful patient relationships, effective population management and, ultimately, better clinical and financial outcomes.

Pieces Decision Sciences is a real-time AI system that streamlines clinician workflows, reduces time to critical interventions and improves clinical outcomes. Powered by machine learning (including NLP), Pieces surfaces real-world evidence and performs continuous surveillance of a health system's patient population for improved decision making. Our complementary software, Pieces Iris, allows providers to form a narrow network with community-based organizations to manage transitions of care and excess utilization among their vulnerable patient population.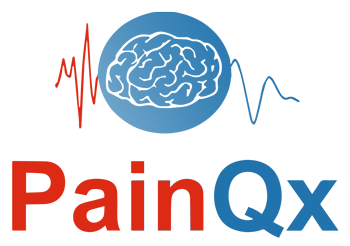 PainQx is an A.I. powered medical device company that has developed a method to objectively measure chronic pain. The PainQx platform achieves this by assessing neural activity using EEG from a patient's brain and processing and decoding the data through proprietary algorithms. The output is a scaled pain biomarker correlates to a patient's pain state. The PainQx platform will be used by physicians as a biomarker to gauge the dosage of medication and the efficacy of a treatment regimen. This is an especially pressing need given the opioid epidemic which in 2017 claimed 49,068 Americans.
---
EVENT UPDATE 10/31/18:
MEET EXHIBITING HEALTH TECH STARTUPS ON THE "INNOVATION BRIDGE"

Arterys was founded in 2011 to facilitate the global advancement of medicine through data, artificial intelligence andtechnology. Because a significant proportion of the world's medical data resides in medical images, Arterysset out to tackle several issues around the space, including the enormous workloads radiologists face, the lack of accuracy with many of today's tools, and the need for increased consistency across practices.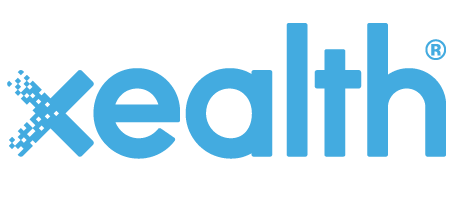 Xealth is a software platform that lets clinicians prescribe digital tools via their EMR charting interface. These services are presented via the provider-patient portal for easier patient adoption and utilization. The resulting compliance is then presented back to the clinicians for remote monitoring and interventions.


Silversheet is revolutionizing how healthcare facilities manage their workforce, and how healthcare professionals manage their own careers. They've started by tackling a complex and critical part of daily workflow – physician credentialing. Facilities can add a new physician in minutes, automatically verify their credentials, and invite doctors to join, empowering them to maintain their qualifications and keep facilities up-to-date and in compliance.


---


EVENT UPDATE 10/24/18:
Tom Cassels will be a featured speaker at the Fall 2018 Inova Discovery Series on November 7!
Tom Cassels brings 15+ years of management consulting, research and innovation advisory services experience to his role as Chief Strategy Officer of careC2, a Leidos business. Tom is responsible for strategy, business development, corporate development and innovation partnerships for the careC2 API-based Services Platform and related applications for health systems, health plans and retail health companies in both the public and private sectors.
Prior to joining Leidos Tom was the National Partner for the Strategy practice at Optum, a subsidiary of UnitedHealth Group, and the Advisory Board Company. In this role Tom led a range of transformational engagements including the development of a stand-alone Consumer Retail Division within an integrated delivery system; the merger of multiple regional hospital companies into the largest integrated delivery network in its state; and an experience design immersion to work with medical leadership and frontline nurses and physicians to build a culture of innovation and excellence across the clinical enterprise.
For ten years Tom served as the Executive Director for the Advisory Board Company's Research Division. During that time he led research teams serving CEOs, Chief Strategy Officers, Chief Clinical Officers, Chief Finance Officers and leaders in Marketing & Planning; authored and edited 60+ publications on topics ranging from governance and organizational behavior to high reliability clinical operations; and served as a retained external strategic advisor and Ex Officio board member for some of the largest health systems in the country. Additionally, in 2007 Tom founded an executive learning group for health system CEOs, CFOs, CSOs and CMOs from the nation's most prominent provider organizations. Known as the Health System Performance Initiative, this working group has grown to represent leaders from 75+ health systems convening over a dozen times a year to surface and pressure test "next practice" for the healthcare industry.
Tom earned a master's degree in public policy from the Georgetown Public Policy Institute and a bachelor's degree in psychology from Georgetown University. Before joining the Advisory Board in 2003, Tom was a project associate at The Urban Institute evaluating federal policies related to pediatric and adolescent health issues.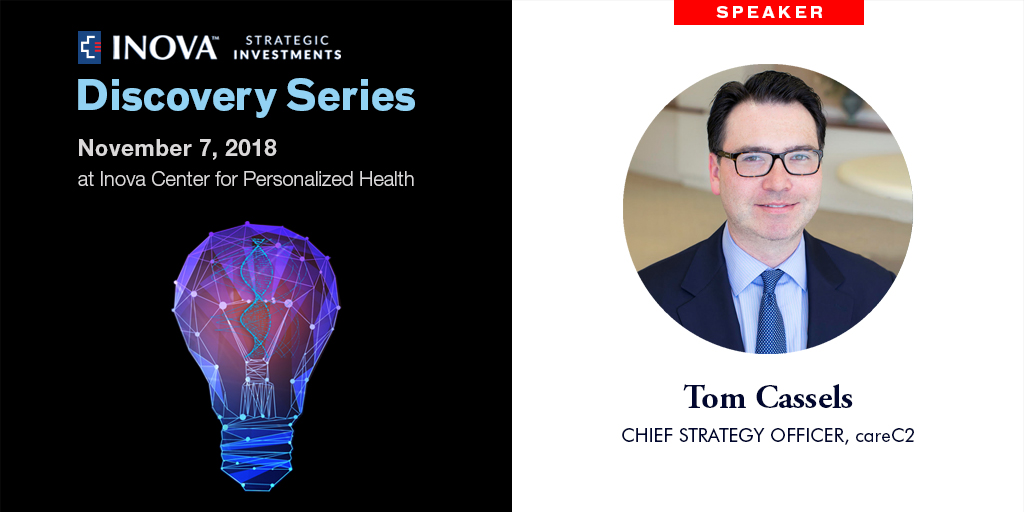 ---


EVENT UPDATE 10/23/18:
Juan Pablo Segura will be a featured speaker at the Fall 2018 Inova Discovery Series on November 7!
Juan Pablo founded Babyscripts in 2014 with the vision that internet-enabled medical devices would transform the delivery of pregnancy care. Since 2014, Juan Pablo has been named a Healthcare Transformer by the Startup Health Academy in New York and a Wireless Lifechanger by CTIA for his work in detecting problems in pregnancy faster. Juan Pablo is also the architect of the first "Prenatal Care Moonshot" focused on eliminating preterm birth by 2027 through mobile/digital technology and Babyscripts has been named Champions of Change in Precision Medicine by Barack Obama and the White House.
Juan Pablo has raised $14 million in venture/angel financing for furthering his vision of a data-centric model in prenatal care. He has orchestrated large partnerships with General Electric and their Healthymagination initiative and the March of Dimes specifically targeting the elimination of premature birth. He has also led the Babyscripts sales team, closing large hospital deals with more than 40 health systems around the country and successfully signing a co-development deal to build an at-risk product with Aurora Healthcare in Wisconsin.
Juan Pablo is a frequent speaker on the future of healthcare. He has spoken at the mHealth Summit on "How to Demonstrate Value in Digital/mobile Health", at the national HIMSS conference on "Establishing ROI and Forming Partnerships: Digital Health Dating", and at the Bio+Tech conference on "Collaborating for Patient Engagement". He has pitched and won Startup Competitions at SXSW at their Barracuda Bowl and the 1776 Healthcare Challenge Cup. He has also been invited to share his thoughts on podcasts and write op-ed articles on startup fundraising and the future of healthcare. He was the author of the "Retailization of Healthcare Begins With Women" article, was recently interviewed by Medistrategy and wrote "3 Musts for Raising Your First Round", and "Why Disruption in Health IT is like a Tiramisu Cake". To kick, Juan Pablo is also a Certified Public Accountant.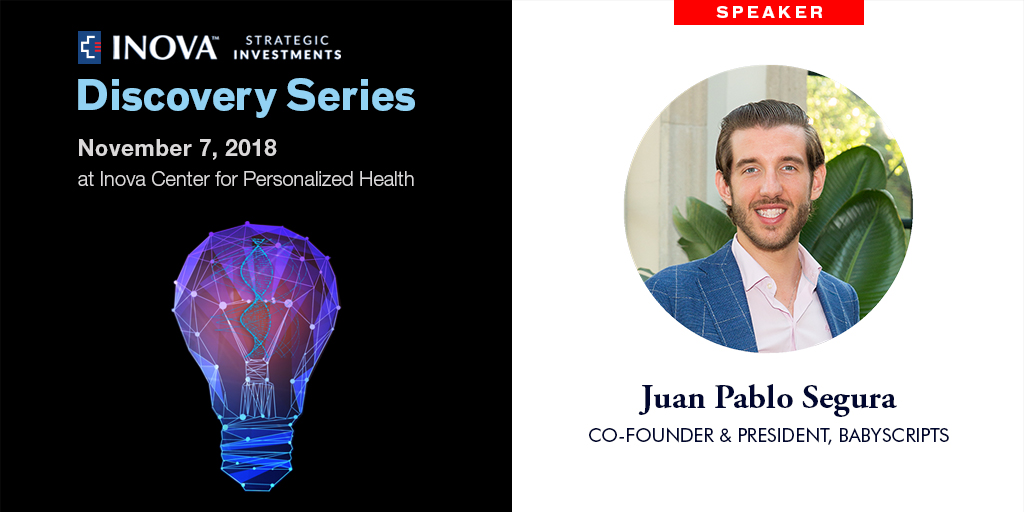 ---


EVENT UPDATE 10/20/18:
We're excited to announce Dr. Sunil Budhrani, Chief Medical Officer and Chief Medical Informatics Officer, Innovation Health, as a featured speaker at the Fall 2018 Inova Discovery Series!
Most recently Sunil co-founded CareClix Telemedicine, a pioneer in remote patient monitoring and telemedicine technologies. At the same time, he served as Co-Chair of the American Telemedicine Association's Guidelines Committee for Practice of Primary Care and Urgent Care Telemedicine. Throughout his career, Dr. Budhrani has authored many papers on telemedicine and speaks nationally about reducing hospital readmissions and employing telemedicine in medical practices.
Previously, as Chief Medical Officer for Evergreen Health Care, he led the clinical course for medical technology, network development, member engagement, and population health. After completing his residency training in Emergency Medicine at the Tufts University School of Medicine, he served as Chairman and directed Emergency Departments and Urgent Care Centers on the east coast for more than a decade.
Sunil earned his Medical and a Master's degree in Public Health from George Washington University. He also earned Bachelor of Arts degrees with honors in Neuroscience and English from the University of Pennsylvania.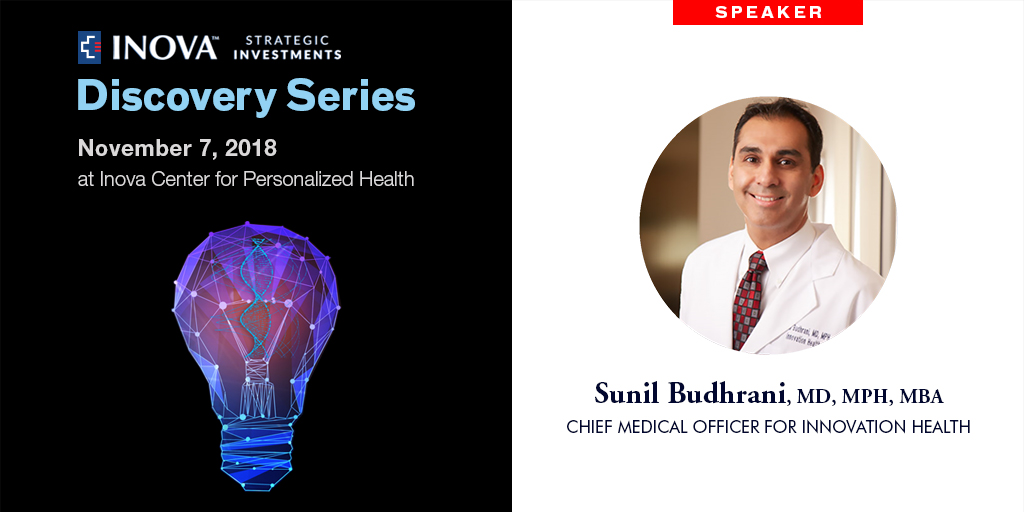 ---


EVENT UPDATE 10/20/18:
MEET EXHIBITING HEALTH TECH STARTUPS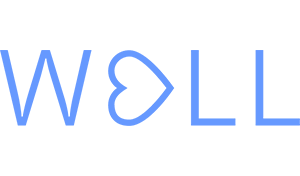 WELL has built a unified communication platform that allows health systems to manage all their patient interactions (text, email, live chat, phone, native app) from one place. We integrate with the EMR and downstream vendors to power all patient-facing communications across the enterprise, delivering a seamless patient experience and minimizing overhead on staff.
https://wellapp.com
---


EVENT UPDATE 10/17/18:
We're excited to announce Dr. Craig Cheifetz, Vice President Corporate and Premium Services at Inova Health System as a featured speaker at the Fall 2018 Inova Discovery Series!
Craig Cheifetz is currently the Regional Dean for the Virginia Commonwealth University School of Medicine Inova Campus and Inova's Vice President for Corporate Services for which services include: concierge medicine, executive healthcare, occupational health, employee assistance, and employee wellness programs.
Dr. Cheifetz has advised hundreds of companies, many of which are Fortune 100 companies, on effective and innovative strategies to optimize their health and wellness related workforce programs. Dr. Cheifetz also serves as a trusted medical advisor for the Inova Health System's Personalized Health Accelerator. His Inova VIP 360 practice currently serves more than 80 companies and more than 4,000 executive and concierge clients across 5 offices and 15 providers.



---


EVENT UPDATE 10/17/18:
MEET STRATEGIC VENTURES GROUP (SVG)

The Strategic Ventures Group is a closed consortium of nationally-ranked health systems who are pioneering a collaborative approach to strategic venture investing in healthcare technology.

With over 20 institutional Members - represented by more than 50 investment professionals - SVG has emerged as the natural ecosystem steward for forward-thinking healthcare organizations. Members of SVG meet monthly to share best practices related to strategic venture investing and evaluate proprietary deal flow for co-investment opportunities. Members crowdsource their shared priorities and open questions into an informal, dynamic "curriculum," which is used to curate the speakers and content for each meeting. Typically, each meeting includes one thematic discussion & at least one due diligence review led by a relevant SVG Member. When appropriate, external SME's and entrepreneurs may be invited to join a portion of an SVG Meeting. These meetings serve as a confidential sounding board for Members to bring their questions & internal obstacles and solicit feedback from trusted peers. Members also syndicate co-investment rounds and pursue de novo incubations opportunistically. As a natural ecosystem steward, SVG is exploring novel ways to educate their peers and influence the national conversation about healthcare technologies.

SVG Members Attending the Fall 2018 Inova Discovery Series:

Hospital for Special Surgery
Inova Health System
Johns Hopkins University
Mayo Clinic
MemorialCare
Mount Sinai Health System
New York University
New York-Presbyterian
Northwell Health
OSF Healthcare
Providence Health System
UNC REX Healthcare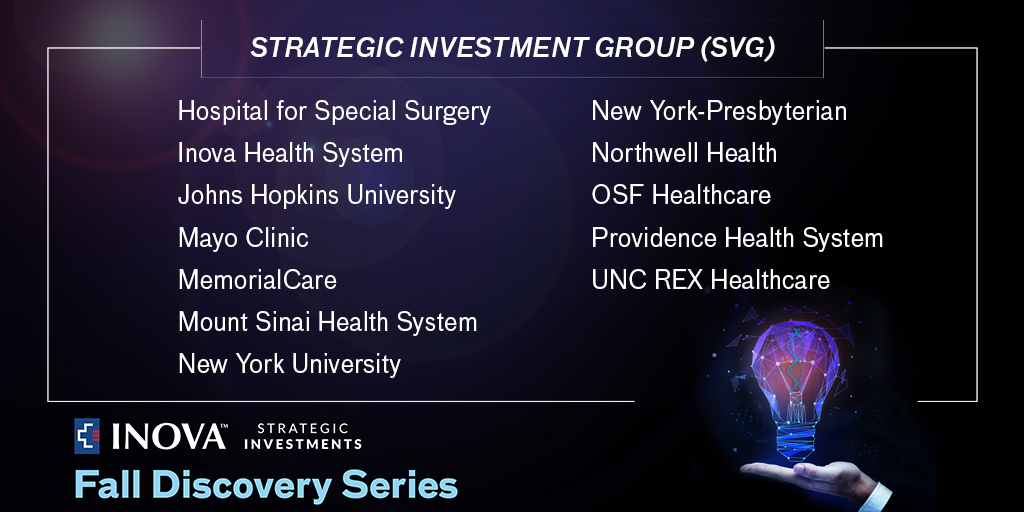 ---


EVENT UPDATE 10/17/18:
MEET EXHIBITING HEALTH TECH STARTUPS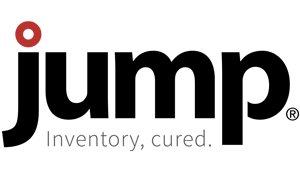 Jump Technologies creates modern solutions for supply chain and inventory management that help hospitals and health systems track supplies from the loading dock to the patient. The company's JumpStock solution reduces stock-outs, over ordering, and waste while increasing inventory turns, improving billing accuracy, and facilitating data-driven decision making across a facility or system.
https://www.jumptech.com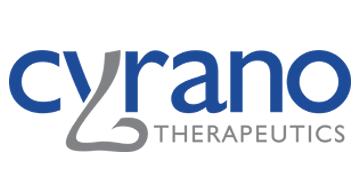 Cyrano Therapeutics is an early stage company developing and commercializing a unique, proprietary intranasal product to restore function in patients with a chronic loss of smell and an associated diminished sense of taste. This is a condition affecting at least 14 million people in the US and a similar number in Europe, having a significant impact on quality of life and well-being.
https://cyranotherapeutics.com


CoverMyTest is the only prior authorization (PA) service provider solely focused on assisting laboratories offering genetic and genomic testing. This PA software comes at a critical time in the advancement of precision medicine, with an average of eight to 10 new genetic and molecular diagnostics tests introduced every day.
https://covermytest.com
---
EVENT UPDATE 10/8/18:
We're thrilled to announce Molly McCartin, Partner, Drive Capital, will be a featured speaker at the Fall 2018 Inova Discovery Series!
Molly McCartin is an investing partner with a focus on healthcare at Drive Capital, a venture capital firm based in Columbus, OH founded by two former Sequoia partners. Molly started her career at JP Morgan Chase in Equity Research. She then moved to 7Wire Ventures investing in healthcare companies that empower the health consumer. Molly spent the last four years at Livongo Health, helping the company grow from 6 employees to over 150 and over 200 customers. Molly graduated from MIT with a degree in Applied Math and Economics.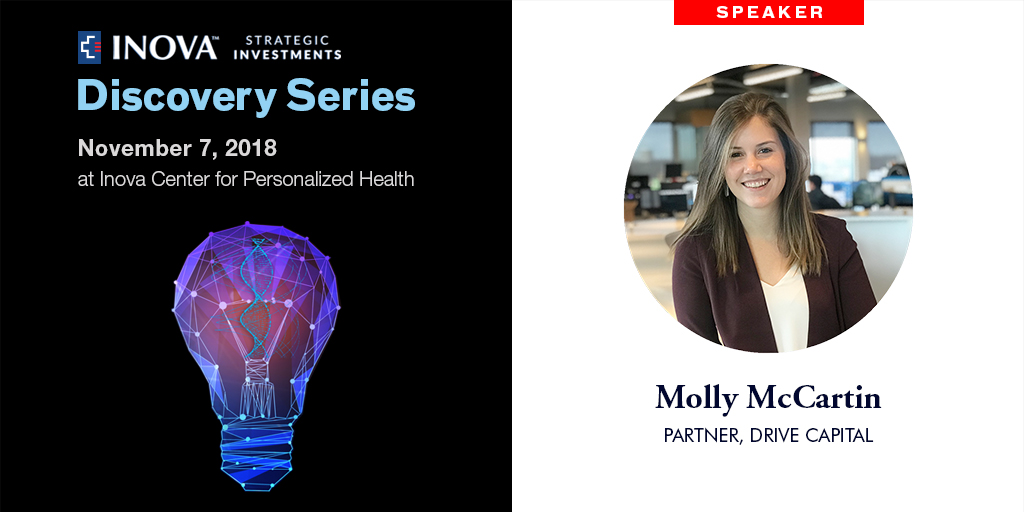 ---


Join us at the Fall 2018 Inova Discovery Series: The Impact of Changing Consumer Expectations on Healthcare Delivery on Wednesday, November 7 at 6 pm at the Inova Center for Personalized Health in Fairfax, VA.
Consumer expectations related to healthcare delivery continues to rapidly evolve, forcing health systems and health technology innovators to continually rethink how consumers view the traditional patient-provider-payor relationship.
How are consumers shaping the delivery of healthcare?

As health insurers are increasingly placing consumers at the center of decision-making, how is industry adapting?

How will services be delivered in an increasingly convenient and customer service-oriented manner?

What is the role of health systems in supporting the treatment and prevention of chronic conditions today and in the future?
In an effort to answer these questions, Inova Personalized Health Accelerator recently completed a 1,000 person survey on the expectations of consumers in its region.
At the Fall 2018 Inova Discovery Series, we will reveal the results of our survey, including how they impact our view of priority health technology segments.
Following a short briefing, we will host a discussion led by experts representing perspectives from the physician, health system, health tech entrepreneur and health system investor communities.
We hope to see you on November 7!
#InovaFunded
---
6:00 pm Registration
6:00-7:00 pm Networking Reception
7:00-7:30 pm Welcome, Early Stage Health Tech Report, Survey Results
7:30-8:30 pm Panel Discussion
*RSVP required.
FAQs
What are my parking options at the event?
Parking is FREE at the Inova Center for Personalized Health, and will be clearly marked on the evening of the event.
---
*NOTICE OF PHOTOGRAPHY AND FILMING ON NOVEMBER 7, 2018*
Photographs

and/or video will be taken at the Inova Discovery Series event on November 7, 2018.
By taking part in this event you grant the event organizers full rights to use the images resulting from the photography/video filming, and any reproductions or adaptations of the images. This might include (but is not limited to), the right to use them in their printed and online publicity, social media, and press releases.
If you do not wish to be photographed, please inform an event organizer.