Description
Embry-Riddle Aeronautical University's Commencement Ceremony will be held at 10:00 a.m. at the Ocean Center (101 North Atlantic Avenue, Daytona Beach, FL). For additional information about the Ocean Center Facility, please visit their website at www.oceancenter.com. To learn more about this semester's ceremony, please visit the Graduation Website.
Graduation tickets are not required for general entry to Embry-Riddle's Commencement ceremony. Nevertheless, there are a limited number of reserved seats available. This seating will be located in Sections 103 or 120 (risers not floor seating), directly to the right and left of the stage. A map has been posted below for reference. You may select your specific seats when you make your purchase on this site.

To keep your party together, please make sure you select seats in the same row. The seats face the floor where the graduates sit and not the direction of the stage.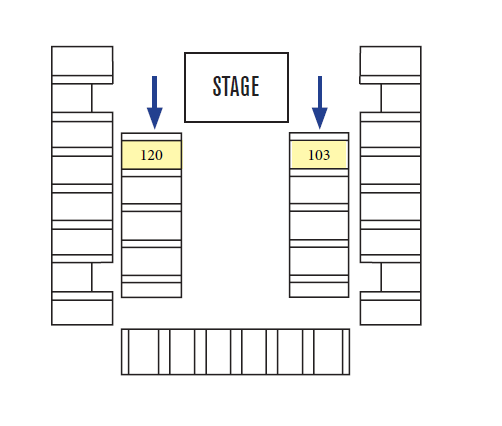 Upon arrival to Section 103 or 120, depending on which section in which you have purchased your seats, kindly provide all tickets to the Embry-Riddle staff member on duty. NOTE: Purchases must be made by noon on the Friday prior to Commencement. No refunds at any time.