Fall 2017 NSF CAC Industry Advisory Board Meeting

Monday, October 23, 2017 at 8:00 AM

-

Tuesday, October 24, 2017 at 1:00 PM (CDT)
Event Details
---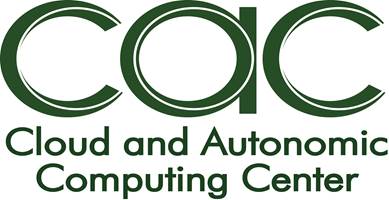 The National Science Foundation Cloud and Autonomic Computing Industry / University Cooperative Research Center will host a meeting of its Industry Advisory Board (IAB) Oct. 23-24, 2017 at Texas University. 
During this meeting, progress reports will be presented for ongoing projects and the IAB will vote on proposals to continue, advance, complete or add scope to projects carried out by CAC researchers and students at the new and existing sites of the center. The meeting agenda will be posted at this site and distributed to attendees shortly before the meeting is scheduled to begin.

All CAC IAB members are encouraged to send one or more representatives, and to check with the site directors at their supported CAC university sites to plan in advance for topics to be discussed and presented at this meeting. Prospective members and non-members interested in learning more about the CAC can request to attend the rest of the IAB sessions, which requires signing a non-disclosure agreement.
FAQs
Who should attend this event?
Industry Advisory Board members from member companies and/or their designated representatives should attend. Note that voting will take place on industry-sponsored projects for the upcoming year for the center. National Science Foundation program officers or their appointed program evaluators are also welcome to attend, along with students and faculty members associated with CAC projects from all university sites. 

The CAC meeting is restricted to IAB members, NSF personnel and CAC university faculty or student project participants. Prospective members from companies or organizations interested in the CAC may request to attend the rest of the sessions of the meeting if desired, which requires signing a non-disclosure agreement. 
What will happen at the meeting?
The primary purpose of the CAC meeting is to review progress on projects and proposals for new research projects to be presented to the Industry Advisory Board. The bulk of the agenda will be devoted to CAC site and project reports and on a prospectus for upcoming work to be conducted by the researchers of the center. The meeting will also include a review of the NSF I/UCRC program, discussion and explanation of CAC by-laws, election of the CAC IAB chair and vice-chair, and other IAB business.
Who can I contact for questions?
Send any questions regarding the center or the meeting arrangements to cac.info@ttu.edu or call Ms. Diana RIvera at 806-742-4350. For questions regarding lodging, please contact the hotel directly.
Where are the most convenient hotels, and how long should I stay? 
Attendees are welcome to stay at any convenient location and do not need to stay at the suggested locations. The ones suggested are relatively close to the meeting location, but beyond walking distance, so it is advisable to have a rental car. When making your lodging arrangements, please expect to arrive Sunday evening and to stay through at least Tuesday morning (see below).
How should I get from the airport or my hotel to the meeting location? 
The Overton Hotel has a shuttle from the airport; please contact the hotel for information and details. For other lodging locations, we suggest taking a taxi or booking a rental car. As mentioned above, the hotels suggested below are relatively close to the meeting location, but beyond a comfortable walking distance, so a rental car is suggested. Visitor parking will be available.
How long will the meeting last?
The IAB agenda will cover all day Monday, Oct. 23 through the morning of Tuesday, Oct. 24. Please plan to arrive in time for an 8:00 am meeting start each day. 

What is the cost to attend?
Attendance at the meeting is free for all CAC participants (IAB members, associated NSF program officers or evaluator, CAC-affiliated faculty members, researchers or students), but limited to these attendees. Attendance is also free at the Big Data symposium, and is open to the public.
What meals will be provided?
We will provide a light breakfast, lunch and break refreshments each day at the IAB meeting for all registered CAC attendees. There will be a reception and poster session Monday evening for IAB members, CAC researchers, and other CAC participants that we encourage all IAB participants to attend. The public Big Data symposium Friday will also include light refreshments.
Lodging Arrangements:
Convenient hotels near the university include the Overton Hotel, Staybridget Suites, and Courtyard Lubbock Downtown/University Area, for which the contact information is below. Other hotels are available in the city. The ones listed are the closest to the event.
Overton Hotel

2322 Mac Davis Lane
Lubbock, TX 79401

806-776-7000 
or toll-free: 888-776-7001 

StayBridge Suites Lubbock

2515 19th Street
Lubbock, TX 79410

806.765.8900

Courtyard Lubbock 
Downtown/University Area

308 Avenue V
Lubbock Texas 79415 

806.368.8403

 


When & Where

Industrial, Manufacturing & Systems Engineeering
905 Canton Ave
Texas Tech University
Lubbock, TX 79409


Monday, October 23, 2017 at 8:00 AM

-

Tuesday, October 24, 2017 at 1:00 PM (CDT)
Add to my calendar
Organizer
This event is organized on behalf of the National Science Foundation Cloud and Autonomic Computing Center, which is part of NSF's Industry/University Cooperative Research Center Program.
The mission of the CAC is provide a practical and collaborative work arena for development and coordination of industry-relevant software, standards and methods specifically applicable to cloud and other advanced forms of distributed computing. 
The CAC's goals in this arena are to identify and foster industry-academia-government partnerships, to identify and develop coordinated efforts on workable reference implementations of these methods, and  to create a trained workforce capable of sustaining the activities and opportunities created through this joint effort. 
The Center is governed through an Industry Advisory Board consisting of its industry members, which selects research topics and sets Center priorities. Participation is open to any industry member or government agency under the terms of the NSF-approved Membership Agreement.