Falcons Vs Packers NFC Championship Tailgate - Work Hard Play Hard Transpor...
Description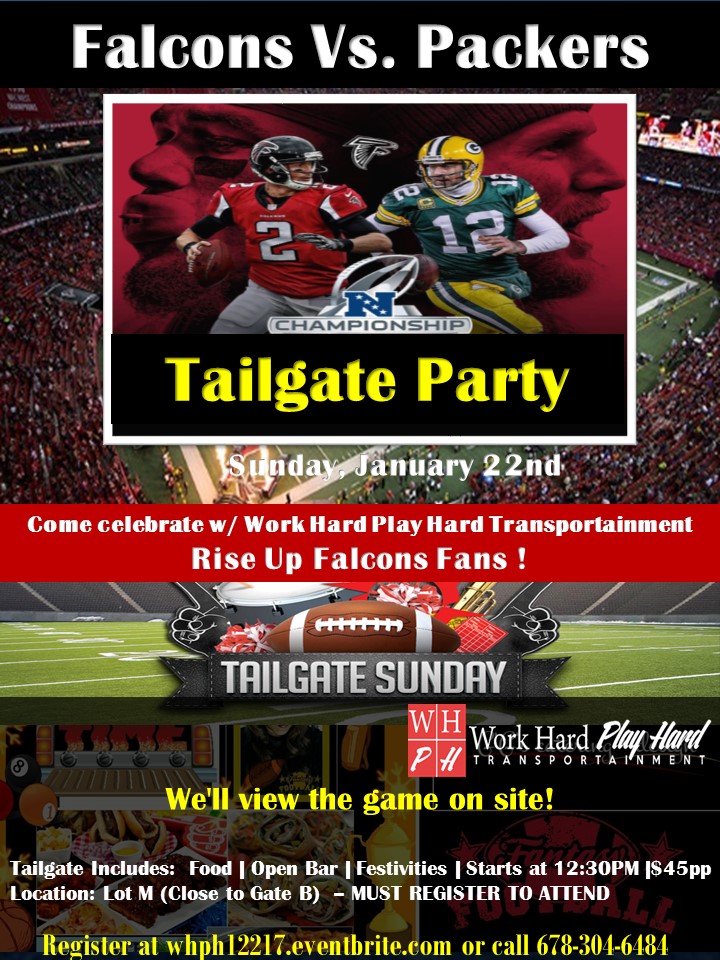 FALCONS Vs. PACKERS TAILGATE PARTY
Sunday, January 22nd
We're tailgating like a VIP!
Join us for the NFC Championship Tailgate Party! Regardless of what team you're rooting for, you'll enjoy an awesome day of Food, Festivities and Football with Work Hard Play Hard Transportainment!
Stop by before heading into the big game or if you don't have a ticket to the game, No Worries, you can still watch the game within the Dome environment in luxury!
Tailgate will include Food, Open Bar (Alcoholic and Non Alcoholic)!
Menu will feature: Taste of the South meets the Midwest!
Oh yeah and the Bar will be open for Adult beverage service! - Bloody Mary's, Beer, Spirits, Water and Non Alcoholic Beverages.
Cost: $45pp.
Location: Lot M - Northside Drive & Magnolia (Close to Gate B) Look for our Work Hard Play Hard Transportainment Tent! MUST REGISTER TO ATTEND
Time: Tailgate starts at 12:30 PM
***Guest Must Register in Advance
MUST be 21 to drink
WHPH Policies
-All Payments are Non-Refundable NO EXCEPTIONS
-This is a rain or shine event
-Guest are alllowed to consume as much food and drink as they choose at tailgate - No food is to be taken out of Work Hard Play Hard Transportainment's tailgate area!